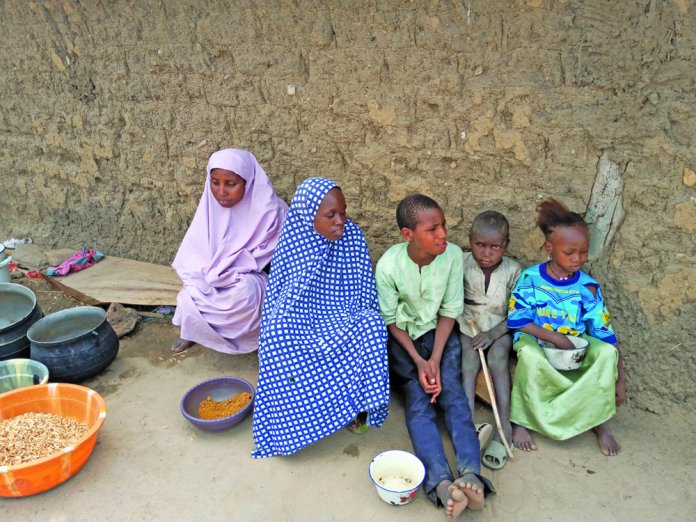 SPECIAL REPORT
Some of the Internally Displaced Persons (IDPs) in Zamfara State, who fled their ancestral homes in the wake of armed bandits attacks are battling with hunger, ailments and lack of shelter, writes Francis Sardauna, who was in the state on special assignment
Rabi Bilyaminu, a nursing mother, was excited when she discovered that she was pregnant. She had, several times, thought of how she would adore the day of her delivery.
Bilyaminu's expectation was however truncated when armed bandits invaded Asaula Village in Tsafe Local Government Area of Zamfara State. It was an agonising experience for her because she ran to protect her life and that of her unborn child.
Apart from Asaula, several other villages in Tsafe Local Government Area–namely Mandaba, Tabkin-Kazai, Gurbi, Takai and Gangare were attacked on the same day by the bandits who reportedly killed over 200 residents, rendering thousands homeless.
With befog eyes and body yet to be completely rejuvenated, Bilyaminu told our correspondent that she gave birth while fleeing from the pillaging bandits. She left her house in the wee hours of Friday, February 22, 2019 when bandits stormed their village.
Bilyaminu said after she ran for some minutes on that day, she went into labour and was delivered of her baby boy in the bush with the help of other fleeing women from her village (Asaula).
The nursing mother lost her husband and nine children to the attacks that night. But for her late husband's younger brother, who took her by the hand and made them jumped via one of the room's widows, he too might have been assassinated by the bandits, who she said brutally shot at anyone in sight.
"That day is unforgettable in my life, how the bandits invaded our home and shot my husband and nine children dead for reasons best known to them. It was my late husband's younger brother that grabbed me and said we should run for our lives. We jumped through the window in the room," the 46-year-old woman cried out.
After escaping from the attackers, Bilyaminu took her new born baby and the little things they had left and migrated to Tsafe Local Government to live with a cousin sister.
However, her relationship with the sister became alienated and she, together with her son, left the sister's house in search of where to live. With nowhere to go, Bilyaminu took abode in an unroofed shop in Tsafe market.
"We have stayed here for about two months and some weeks now. It is all we can afford because we don't have to worry about paying house rent. On market day, I do buy sachet water and sell in order to earn a living with my son," she said, weeping uncontrollably.
There are dozens of Bilyaminus in different abandoned and makeshift buildings all over Zamfara State. There are about 37,000 Internally Displaced Persons in the state, according to the State Emergency Management Agency (SEMA).
Hasira Sabo, a 55-year-old resident of Tangarla-Ardo Village in Shinkafi Local Government Area is currently a refugee at Shinkafi Model Primary School. She narrowly survived the bloody attacks, but at a great cost.
She lost three children, the husband of her daughter and their five children, who were wiped-out in the attack. Tangarla-Ardo was completely razed by the pillaging bandits, who also killed her aged husband.
Hasira Sabo is like a walking corpse. She has nobody to fend for her:  "I have nobody to help me, I was told that government wants to take us home; but how will the government take us home without rebuilding our houses that have been destroyed?
"I don't have a home where I can return to, the house was burnt with our entire foodstuff. I lost my three children; my daughter, her husband and five children. These are the people who were feeding me. Where will I start from if I am asked to go without adequate arrangement from the government?"
Sabo fell down at the Shinkafi Primary School, where she is currently taking refuge and sustained a fracture on her right leg. "I have been passing through unimaginable pain here, coupled with the trauma I had during the attack."
The pathetic story of Umaru Abdullahi is not different from that of Hasira Sabo. Abdullahi, 59-year-old, couldn't believe that he would one day flee his home. In fact, he would have taken such prediction with a pinch of salt even if a futurist had told him to expect such in future.
He was among the survivors who witnessed the mass burial of 21 victims of the attack at Bula Village, in Shinkafi Local Government. The incident changed the course of his life with only an option of escaping to save his life.
Abdullahi and others in the neighbouring villages fled their homes and are currently nursing their wounds from their close shave with death at Ungwar Sarki in Shinkafi LGA where internally displaced persons are competing for space.
Following the inability of the Zamfara State Government to provide accommodation for them and cater for their housing needs, Abdullahi pays N25,000 yearly for a single room self-contained shared with his wife and seven children.
When THISDAY visited his single-room apartment at Ugwar Sarki, two of his children (Yusufu and Aliyu) look sickly, apparently battling with different ailments. They look pale and cry uncontrollably for lack of food.
Abdullahi, who is sleeping on the floor with his wife and children, said he had no money to take Yusufu and Aliyu to hospital for treatment. "I have no money to take them to Shinkafi General Hospital.
"So, I give them traditional medicine but the medicine is not working. I beg for food and money daily to feed them. Where will I see money to treat my beloved children? Abdullahi asked in emotion-laden voice.
He called on the state government to offset the medical bills of Internally Displaced Persons (IDPs) who cannot fend for themselves and also ensure "our timely return to our homes by rebuilding our houses and providing adequate security."
Babangida Maigari, 17, from Kware, Shinkafi Local Government Area, who now resides in Gusau with his step-mother said the bandits killed his parents and his father's friend, who had paid a visit to them on the day of the attack.
He said four armed men entered their house and carried out the attack. "My brothers and I ran as soon as we heard gunshots. We saw many people running away too. I miss my parents a lot and I don't know how I would survive," he said, sobbing.
Similarly, Idris Maikaratu, who survived the March 5th armed bandits attacks on Majema Village in Zurmi Local Government Area told THISDAY that the attackers kidnapped 31 persons and injured dozens.
The bandits in their hundreds "stormed Majema Village at around 11p.m. and shot sporadically to scare the people away before they embarked on house – to – house search to take away their victims."
According to him, his mother, wife and two of his younger brothers were among those abducted. "The bandits shot one Sidi Abdulsalam on his hand and kidnapped his two wives and two daughters on the spot."
According to residents, barely 48 hours after Majema attack, seven men were also kidnapped after unknown gunmen struck at a sport viewing centre in Birnin Magaji town, the headquarters of Birnin Magaji local government.
Confirming the incidence, the Proprietor of the viewing centre, Sanusi Iliyasu Ishie, said the abductors, numbering about 20, invaded the centre, which is located in the outskirts of Birnin Magaji town around 10:00 p.m.
"They parked some distance away from the centre and demanded the whereabouts of the operator. I and the people around answered them in affirmative because we mistook them for security operatives, "Sanusi said.
He said the gunmen held him hostage and broke into the viewing centre and began to pick people indiscriminately and when the football viewers realised that they were under siege, they scampered for safety, screaming for help.
He added: "At the end, they picked seven of the viewers who tried to escape and demanded N100 million each before they could release the victims."
One of the atrocities of the kidnappers that also stirred fury was the abduction of a housewife, Safaratu Al-kali, while in labour pains.
According to her, she gave birth to a baby less than eight hours after her kidnap, in the adductors' den. She spent weeks in captivity, later released after undisclosed amount of money was paid by her husband (Al-kali) as ransom.
While narrating her ordeal to our correspondent, Maimuna Lawali of Maijiro Village in Wonaka district of Gusau local government said over 100 of them and their children were forced to flee to Gusau from their village just to save their lives from multiple attacks by the bandits.
The bandits set their food crops ablaze which were deposited in their local silos and raped many women during the attacks. "They killed three of my brothers during the attacks."
When asked to comment on the whereabouts of her husband, Maimuna said she does not know where her husband was as at press time. "We have no food to eat, no house to sleep and we have no options than to enter the street to beg for something to carter for our lives and that of our vulnerable children," she said in tears.
Another victim, Shafi'u Gidan from Gusami District of Birnin Magaji local government, said he has three wives and 10 children, but said that they relocated to Tsunami area in Gusau for over 60 days "without food" to feed his family.
He said they were over 600 who fled their ancestral homes to Tsunami, lamenting that since then, no assistance has come from the state, federal or local governments for them.
When contacted, the Executive Secretary, Zamfara State Emergency Management Agency (ZEMA), Eng. Sanusi Muhammed Usman, debunked neglecting the IDPs, adding that the agency takes clothing and food materials to them on a daily basis.
"For them to say they have not received any assistance from the state government is wrong. Even yesterday, we distributed food items to 5,000 IDPs at our headquarters here," Usman said.
The ZEMA boss admitted that the agency was unable to keep up with the alarming rate of displaced persons in the state. "As you are aware, this banditry' problem is too rampant in Zamfara State.
"What we did initially was to camp the IDPs. When we put them in the camp, the state government takes the whole responsibility of their eating and shelter at the camp."
Reacting to the predicaments bedeviling IDPs across the state, the Secretary to the State Government, Professor Abdullahi Muhammad Shinkafi, said the state government had done enough to cater for the well-being of the IDPs.
He claimed that not only does the state government provide reliefs for those in the camps, it also gives succour to families of displaced persons and those in uncompleted buildings in Shinkafi, Zurmi, Tsafe and Anka local government areas.
"Government set a formula that a minimum of five hundred thousand naira to a maximum of one million naira is given to the family. For those who lost their property, they were given N250,000 each to rebuild their lives.
"For anyone who had been injured, if the injury level is such that he can take care of himself, he will be given N250,000. But if the injury level required special attention we move them to Yariman Bakura Specialist Hospital.
"Since the beginning of Abdul-aziz Yari Abubakar administration up to date, we gave out 570 brand new Hiluxs vehicles to security personnel to fight bandits. We also recruited 5,000 Civilian JTF from each of the 17 Emirate Councils totaling 8,500 to assist security agencies in the state," he explained.
He, however, said over 5,000 lives were massacred and over 9,000 persons were injured since the beginning of the attacks in the state. "This resulted to having over 10,000 orphans, 20,000 widows and 10,000 houses were set ablaze by these criminals."  While admitting that the crisis had gone beyond farmers/herdsmen clash, Professor Shinkafi affirmed: "We have more than 10,000 bandits occupying different camps in the forests."