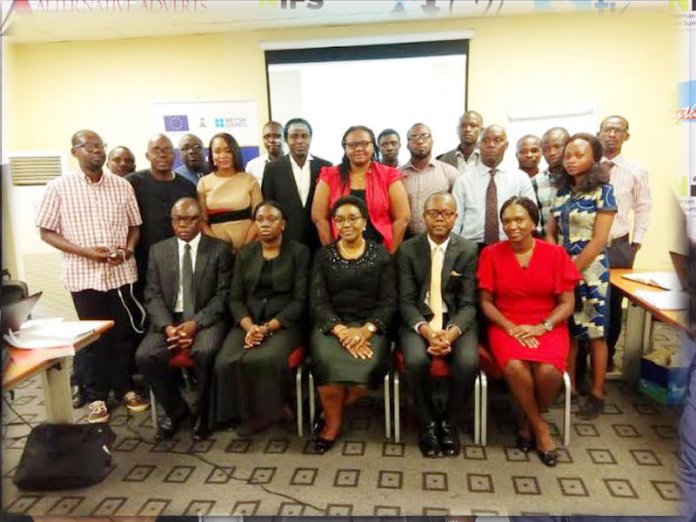 Sunday Ehigiator writes that the European Union's National Indicative Programme recently partnered the British Council Rule of Law and Anti-Corruption to organise a one-day media workshop on plea bargaining in Lagos
As a follow up to its successful security and justice interventions in Nigeria, the European Union's National Indicative Programme (NIP), recently partnered British Council Rule of Law and Anti-Corruption (RoLAC) to organise a one-day media workshop on plea bargaining in Lagos.
The workshop which is the 11th European Development Fund (EDF) Rule of Law and Anti-Corruption (RoLAC) programme aligns with the Nigerian government's commitment to fighting corruption and reforming the criminal justice system.
In her welcome address, State Project Coordinator, British Council Rule of Law and Anti-Corruption, Mrs. Ajibola Ijimakinwa said, in collaboration with key Nigerian institutions and partners, RoLAC will "contribute to measures to improve economic governance, consolidate rule of law and enhance security in Nigeria".
According to her, "the global objective of the project is to enhance good governance in Nigeria by contributing to strengthening of the rule of law and curbing corruption.
"We aim at achieving four key results with this. First is to ensure that the dispensation of criminal justice at the federal and state level is more timely, effective, and transparent. Second, is to ensure that access to justice is improved at the federal level and in selected focal states for women, children, and persons with disabilities.
"Thirdly, is to enhance the ability to address corruption in the criminal justice sector, public procurement and the extractive industries, including through improved performance and coordination among target Anti-Corruption Agencies (ACAs).
"And lastly to ensure that civil society, public and private sectors are empowered to constructively engage on criminal justice reforms and the fight against corruption."
Defining plea bargaining, a special adviser on legal matters, Dr. Anthony Oluborode said, it is "an alternative means of disposing a criminal matter other than a trial and/or other than the original charges(s) filed or contemplated. It is a negotiated arrangement or agreement between the defense and the prosecution. It may result in the defendant entering a plea of guilty to a lesser offence and/or receiving a lesser sentence, but must reflect offending".
Delivering the keynote address, Hon. Attorney General and Commissioner for Justice (CJN) Lagos State, Mr. Adeniji Kazeem (SAN), who was represented by Mrs. Iyabo Olugasa; who likewise represented the office of Director of Public Prosecution, Lagos State, lamented the drought in taking the plea bargain option by lawyers, and why lawyers don't advice their clients to do so till the last minute, since its existence in Lagos in 2007.
According to her, "plea bargaining started from the United States of America (USA) in 1810. The provision of plea bargaining has also being in Lagos state for a while. It came into being in Lagos in 2007 and since then, we have received at DPP over 230 applications for a plea bargain contract, from which only about 80 has been adopted in court.
"Plea bargaining is opened to every case and everybody is entitled to apply, though not everyone will get it. It is much more easier to be adopted for cases not involving murder or defilement. The more serious offenders can be in prison while the minor offenders may be plea bargained.
"But, it still surprise me why lawyers don't settle for this option of plea bargaining. Some don't even reveal it to their clients at all, until when the whole court processes is about to be concluded and perhaps the case is just awaiting verdict from the Judge, and they feel it may not go in their favour, and then they quickly apply for it. That most times contributes to why court processes are everlasting and sometimes, the application for the plea is always turned down if unnecessarily delayed.
"It is simple, the earlier you apply for it, the better chances for it to be adopted. And note, even if a plea bargained is accepted at DPP, the final say still rest on the court's discretion. If the Judge is not convinced with the agreement contained in the plea bargain, he/she rejects it and the case is handed over to another Judge. All this contributes to why court processes delay's as some lawyers could be using the late application as a delay tactics intentionally. And note, the earlier the culprit takes the plea bargain option, the better chances he stands for his punishment to be reduced by at most a 1/3 of the maximum punishment."
In a concluding remark, a member of the Lagos State Judiciary, Hon.Justice Yetunde Adesanya expressed her support for the plea bargaining options for criminals with fewer offenses. According to her, "this will help us de-congest our prisons. If everyone that commits an offence be reminded in prison, all our prisons would be congested and this is a dent on the nation. We must learn to exploit other convenient, yet effective way to resolve matters.
"Note that in criminal cases involving properties, the major reason of bringing the case to court is to try and recover all what was illegally collected back for the victims. And if the culprits can restitute what he/she had acquired illegally, then it is fine to plea bargain that he is fined as a lesson not to do such again, instead of sending them to prison".