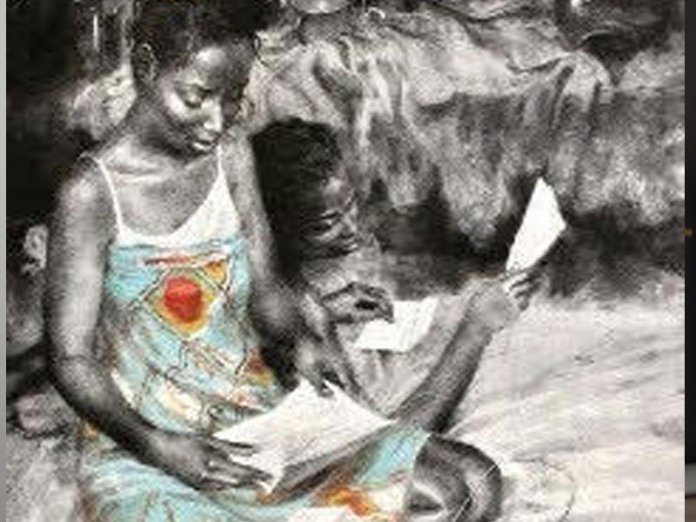 Rebecca Ejifoma writes that 11 fine artists recently displayed their pencil works at the one week Conformed Divergence exhibition in Lagos
It was astounding how pencil art was applauded on its return into the contemporary art scene after a group of 11 fine artists displayed their pencil works at the one week Conformed Divergence exhibition in Lagos.
When this group of 11 avant-garde displayed their arrays of 31 pencil arts, it was as though vague. But the closer art aficionados went the more appealing it became. Their diversity in creativity was expressed on large canvases at the Onedraw Gallery, Ikoyi Lagos from March 24 to April 7.
The artists and draughtsmen included: Adeyinka Akingbade, Duke Asidere, Muyiwa Akinwolere, Uchay Joel-Chima, Yadichima, Olusegun Adejunwo, Ibe Ananaba, Ajobiewe Samuel, Umoh Akanimo, Stanley Dudu and Raji Mohammed.
With the theme 'Conformed Divergence', their aesthetic pieces are: 'STEVE PAUL JOBS', 'Exertion', 'Conviction', 'Integrity', 'Lies have a Lifetime', 'Untitled', 'Fighting Temptation 1&2', 'Able Bodied Men II', 'Friends', 'Blokes III', 'Untitled I&II', 'Okeoghere', 'Steve' and 'Evening Gist'.
Others are: 'Birthscape Series', 'The Gathering I&II', 'Horsemen', 'Quiet Time', 'Searching', 'Heartstrings', 'To Yearn and be Yearned for', 'Strength from within I&II', 'Brotherly Connection', 'Sister's Support', 'Fixed', 'Quiet Reflections', 'Reflective', 'Figure I&II', 'Free', 'Love Aspirant', 'Those Love Letter Days'.
Interestingly, their conceptual pieces dated from 2017 to 2019. They included paintings of charcoals, ink, gouache, pencil, monoprint, string on canvas and conté.
Although these artists share one thing in common – the use of the colour black natural resources like charcoal and pencil, they were able to express their contents.
The first harmony of works that will engross you is Akingbade's monochromatic pieces. The composition of his works – STEVE PAUL JOBS, Exertion, Conviction and Integrity – climaxed the various phases of life. His portraits will leave clusters of thoughts entangled in your mind's eyes.
With the expressions on the works, the award-winning artist skillfully showed the tenacity of life and the many experiences people traverse. The focus of his scary portrait monoprint mirrors focus, belief, worries, and all efforts put in to make things work both in the present life and the future.
For Dudu, it is different. His art is narrative. Although drawings with pencil, he breathed some colourful light into it with the use of turquois and orange. That is his accent.
His art work is prehistoric and realism. The arrays of girls illustrates the very stone age of letter writing and delivery, an era devoid of mobile phones or no phones for the rural dwellers and indigents as well as use of traditional light sources like lantern at night.
Swiftly on the heels, Dudu's second piece, reminisces about the past and how lovers and suitors expressed their feelings to their prospective brides, offering them gifts.
In his drawings, 'Love Aspirants' and 'Those Days of Love Letters', it was easily showed how men of all sizes and shapes wooed ladies and the reactions of butterflies reflecting as invincible blushes on their cheeks.
With Dudu's dexterous use of iconography with just images and brushwork, it is vivid that every girl in her lifetime has or will experience the feel of having a handful of admirers and suitors from all walks of life and traditions trying to win her heart like a prize. With just pencil strokes, the artist conveyed his message.
Interestingly, these drawings are unique; no replica. They remind you of Fine Art as a subject in secondary school, how all students were coerced to draw both still life and fictitious works using just pencil to make strokes and shades.
Now, the curator, who doubles as an artist, Mrs. Ronke Akinleye-Bolanle expressed enthusiasm about the return of drawings. "Drawing in the form of a preliminary sketch or line has preceded every artwork; it is in effect the basis of all visual arts".
According to her, drawing offers the widest possible scope for the expression of artistic intentions and expresses the draftsman's personality spontaneously in the flow of the line.
"A draughtsman incorporates all types of images in their compositions. Each drawing has its own story and reflects larger tendencies in the world of modern and contemporary art," she enthused.
Flowing with the theme of the exhibition, 'Conformed Divergence' – is a selection of strategic choice of drawings that will allow discussion of some of the most influential approaches in draughtsmanship.
Indeed, these works are also meant to emphasise the attention needed for draughtsman and show how close looking can reveal the depth and eclectic power of drawing. It is, truly, an exhibition to remember.