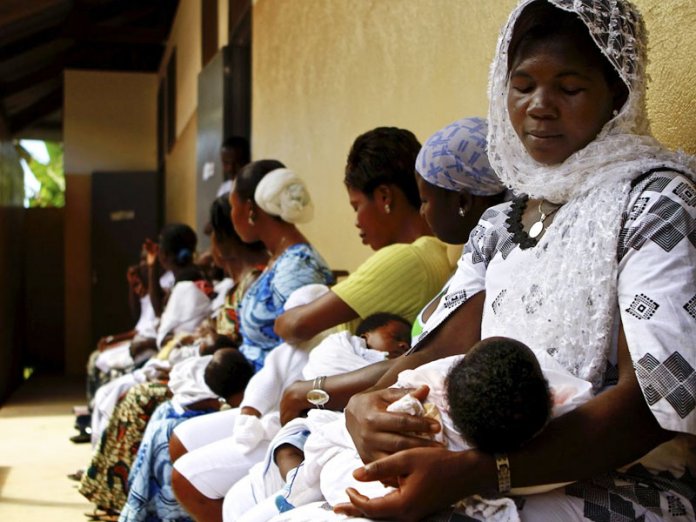 With Nigeria contributing 19 per cent to the world's maternal mortality index, and 58,000 women not having the opportunity to experience and share the joy of motherhood after childbirth yearly, the country is leaving on borrowed time. But a community-driven intervention by a consortium of health initiatives designed to be driven in Lagos, Bayelsa, Ebonyi, Bauchi, Niger, Kebbi and Abuja, hopes to change the narrative. Martins Ifijeh and Ayodeji Ake write
According to the World Health Organisation, every day, approximately 830 women die from preventable causes related to pregnancy and childbirth with the ratio of 99 per cent of all maternal deaths occuring in developing countries, including Nigeria.
WHO reported that while the developing countries experience higher maternal mortality, cases of maternal deaths are common in women living in rural areas and among poorer communities. However, young adolescents face a higher risk of complications and death because of pregnancy than older women.
Between 2016 and 2030, as part of the Sustainable Development Goals set by the global health body to reduce maternal mortality ratio to less than 70 per 100, 000 live births, experts believe developing countries who takes the target seriously can achieve them.
In Nigeria, with the poor record of maternal deaths of about 60,000 annually and about 160 daily, it is believed that 56 per cent of mothers did not receive any postnatal care within six weeks of child birth because they refused to visit healthcare facility during pregnancy for quality care, while only 35 per cent of birth in Nigeria took place in health facilities.
According to the National Demographic and Health Survey (NDHS) 2013 report, Nigeria's maternal mortality statics was 576 maternal deaths per 100,000 live births.
Move by Consortium
Thus in a bid to reduce the high maternal mortality rate, a consortium of health initiatives; EpiAfric, Nigeria Health Watch, and Africare, moved for maternal mortality reduction, especially in the rural areas in Nigeria where more maternal deaths are recorded.
The consortium recently launched a 'Giving Birth in Nigeria' project in Lagos, designed to be driven in seven states of the country; Lagos, Bayelsa, Ebonyi, Bauchi, Niger, Kebbi and Abuja, with the aim of developing and implementing novel approaches that will incorporate community in maternal death reporting and surveillance efforts.
During the first project launch in Lagos, the consortium in collaboration with the Lagos State Ministry of Health stormed rural communities in Epe local government for maternal education and death preventions to reduce mortality rate.
Power of Communities
Speaking at the launch of 'Giving Birth in Nigeria' themed ' Catalysing Accountability for Maternal Deaths in Nigeria', in Epe, Lagos, recently, Chief Executive Officer, EpicAfric, Dr. Ifeanyi Nsofor noted that the initiative was being designed to penetrate rural communities in a bid to know the scores of women dying due to pregnancy and childbirth, and to preach prevention of maternal health issues or deaths.
He said: "This project is about ensuring accountability for maternal death. From the data, almost 60,000 women die every year in Nigeria, and about 160 everyday. We hope to find out we are still having deaths, and we believed the information gathered can be used in areas of advocacy and prevention.
"The project will be in seven states; Lagos, Bayelsa, Ebonyi, Bauchi, Niger, Kebbi and Abuja. We chose Epe in Lagos because from the data we have, Epe records a lot of maternal death which is why working with the state ministry of health, we have agreed to come down here to tackle the scourge," he said.
The Director of Programmes, Nigeria Health Watch, Vivianne Ihekweazu explained that it has been discovered that just about 35 per cent of pregnant women visit the healthcare facility. While 65 per cent conceive in the community which is why the initiative was bringing to the fore the gospel of importance for every pregnant women should visit the healthcare facility.
She said: "This is a very important project we are bringing to the forefront because Nigeria is one of those countries many women are dying during child birth. We think it is preventable because 35 per cent of women give birth in hospital facilities and 65 per cent are giving birth in the communities. What that means is that when a woman gives birth outside the health facility, we will have no record of what happened to her.
"What we are doing is that people in the community report when women die. We encourage them to take pregnant women to clinics so that they can get the necessary care. When they go through health facilities, they go through antenatal care, and then they are appropriately monitored. When such women give birth in health facilities, they have contacts with midwives who in turn then advises them on breastfeeding, immunisation, among others,'' she said.
Providing Critical Assistance
Primary Healthcare Coordinator, Epe Local Government Area, Dr. Nure Aiyeola applauded the initiative, saying it will be provide critical assistance in the reduction of maternal mortality.
He said: ''We are talking about every attempt to reduce the very high maternal and child mortality in Lagos and Nigeria as a whole. We are launching one of the projects that will help us in achieving that. Epe LGA has been identified as one of the areas contributing to high maternal mortality figure in Lagos State, and hence the decision to choose it for the project.
"This project brings to the fore, an angle that showcases the role the communities in addressing the healthcare issue. The truth about this is that out of 10 women, only about four visit the health facility that means the remaining women deliver within the community. The solution readily is with the community," he added.
Commitment from Lagos Govt
The Surveillance and Response Program Coordinator, Lagos State Ministry of Health, Dr. Victoria Omoera, pledged the state's commitment to support the initiative to, if not eradicate mortality rate, reduce it to the minimal level.
She said: "This is very important to us and we are supporting the processes. We have done a lot of work in the facilities. This is very critical. Going into the communities to understand the numbers of women been lost will help in addressing the causes and contributing factors. When data and information are available, we can plan appropriately.
"We have done a lot of work with the general hospitals and primary healthcare centres. We know that maternal deaths are preventable and when we have information, itis Key. It will help us as a government and our partners to plan to ensure the right interventions are implemented within the community. When the communities are informed, they know where to go to during pregnancy. They will also know the dangerous signs to look out for."