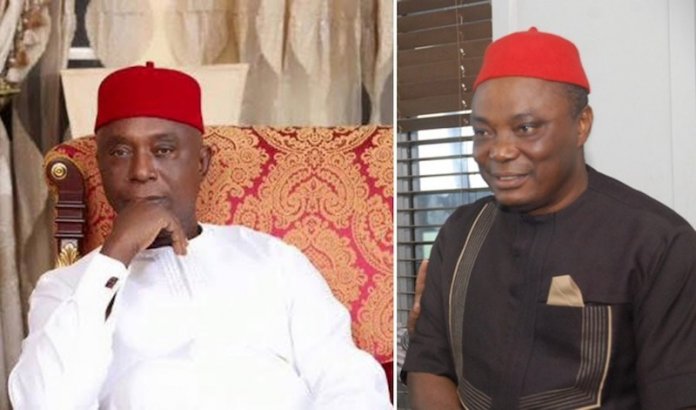 Rogers Edor Ochela hails court verdict on Delta North Senatorial dispute
"A bully holding up an object that belongs to a child, would usually bring it down to the child when his hand starts to hurt'' — Wise saying
Recently, the legal tussle between Prince Ned Nwoko and Senator Peter Nwaoboshi over who won the primary elections of the Peoples Democratic Party (PDP) for the Delta North Senatorial District ended in favour of the former. Recall that the legal battle ensued after Ned Nwoko had won the senatorial primaries of the party with 453 votes as against Peter Nwaoboshi's 403 votes. But in a move that left all lovers of justice in stupefaction, a PDP cabal in the state, for reasons best known to it, jettisoned Ned Nwoko's name and instead forwarded that of Nwaoboshi to the Independent National Electoral Commission [INEC] for publication.
So, in a bid to right the wrong perpetrated against him and to strengthen the wheels of the nation's democratic project, Ned Nwoko, a renowned philanthropist and apostle of the rule of law, who initially absorbed the shock of this grievous disappointment and endured its attendant pains with stoic equanimity, headed for the temple of justice to seek legal redress with a view to nailing this blatant impunity.
Happily enough, on Wednesday April 3, 2019, the goddess of justice decided to smile on him when Justice Ahmed Mohammed of the Federal High Court, Abuja delivered a landmark judgment that has thundered across the length and breadth of the nation and left all lovers of justice in Delta North senatorial district reeling in ecstasy and back-slapping. In his judgment, the erudite judge did not mince words when he declared with judicial lucidity that Senator Peter Nwaoboshi was not the winner of the PDP primary held on October 2, 2018, to nominate its senatorial candidate for Delta North district in the 2019 general election.
Consequently, the judge gave a marching order to INEC to publish the name of Prince Ned Nwoko as the rightful candidate of the PDP, having scored a majority of the lawful votes in the primary. He also went further to order Senator Nwaoboshi to stop parading himself as the candidate of the PDP for the Delta North senatorial district.
In a suit filed by his legal counsel, Ahmed Raji (SAN), Nwoko, who had predicated his suit on seven grounds supported by 20-paragraph affidavit evidence and five exhibits, averred that he was screened and cleared for the Delta North senatorial district by the PDP electoral committee. He declared among other things, that at the end of the primary election, he scored 453 votes to defeat his closest rival, Nwaoboshi who scored 403, while Paul Osaji who came third pulled 216 votes.
Expectedly, this pace-setting judgment has continued to elicit positive responses, with several legal luminaries describing it as having the potential of furthering the cause of the nation's jurisprudence, especially as it concerns electoral matters. Again, what resonates from this fundamental judgment is the fact that it will continue to serve as a reminder to desperate politicians and political parties that engaging in wilful impunity and breach of electoral process does not pay as a day of reckoning will surely come.
What stands this judgment out and places it on a very strong pedestal is that it is a veritable indication that Nigeria's democratic project is alive, kicking and progressively inching its way to a sustainable level. It will for a long time to come serve as a rude reminder to those who have refused to part ways with business-as-usual mantra especially as it relates to electoral matters, that impunity does not pay. The nation's political terrain is littered with victims of flawed party primaries nomination who were cheated through allocation of false figures! It is gratifying to note that a decisive nail on the coffin of this abuse of electoral process has been delivered by Hon. Justice Mohammed.
A critical interrogation of the nation's electoral processes over the years clearly shows that rigging, manipulations and other forms of electoral malfeasances are usually perpetuated during party primary election. The ugly trend often results in the emergence of several unpopular candidates with questionable credentials and fraudulent mandates. That trajectory negates the true essence of democracy as both a cultural and attitudinal thing requiring certain dispositions and set values for it to have relevance and meaning, which is very healthy for the growth and sustenance of the nation's democratic process itself.
It is demoralizing that even with all the allure of democracy, especially its capacity to reflect the collective will of the people through periodic elections, what you find on these shores is criminal conspiracy by some political party apparatchiks and desperate aspirants to circumvent the rules and foist pretenders on the people. Most often, what you find are deliberate efforts by politicians and some influential persons in and out of government to sabotage these pristine values without which democracy would lose its relevance.
Ned Nwoko is a real man of the people who has touched many lives in his Delta North constituency. He has built roads, awarded scholarship to many, built a university in the area, promoted sports and tourism as well as assisted several widows and indigent families to have their sustainable means of livelihood. He loves his Anioma [Delta North] home base and the people with uncommon passion and is ever ready to fight for them.
So, with the ruling of Justice Mohammed affirming Prince Ned Nwoko as PDP's rightful candidate for Delta North Senatorial District, the people of the district can now heave a sigh of relief. They have every reason to celebrate that Nwoko, the man with the Midas touch and towering national and international image is set to represent them at the red chamber of the National Assembly.
Ochela, a journalist, wrote from Abuja