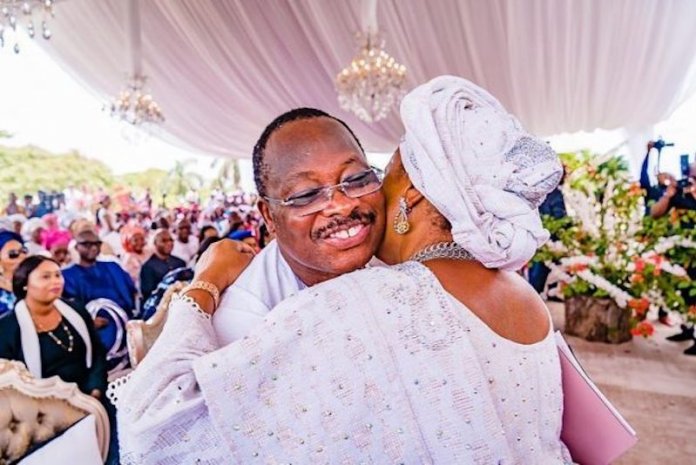 It was a scene of revelry and opulence as the crème of high society converged on Government House Ibadan to felicitate with the wife of Oyo Governor Abiodun Ajimobi, Florence, as she celebrated her 60th birthday anniversary in grand style.
Being the last party to be thrown by the Ajimobis before vacating the Oyo State seat of power for good, there was a sense of urgency and closure on the occasion. No wonder the Who's Who of politics, business, and the social scene were all on hand to serenade the first lady as well as informally bid their adieus to the outgoing executive couple.
However, one person conspicuously missing at the high-powered event was Ajimobi's protégé and candidate of the APC in the governorship election, Adebayo Adelabu. The invited guests who were expecting to engage in some banter with the former deputy governor of the Central Bank of Nigeria were in for a rude awakening as he ruthlessly shunned the event.
Even as Governor Ajimobi maintained a calm and happy façade on the big day of his jewel of inestimable value, those close to the couple squealed that he was privately fuming at what he considers a great betrayal from someone he nurtured and supported to aspire for the state's premier seat.
Adelabu's no-show at the event might not be unconnected with the recent rumblings within Oyo APC over who gets to pick the state's ministerial slot in the incoming central government. The battle is between Ajimobi, Adelabu and a former APC governorship aspirant, Joseph Olasunkanmi Tegbe.
Those in the know disclosed that the battle has become more heated in recent days as the governor insisted he should be compensated with the ministerial slot after losing his senatorial bid while Adelabu and Tegbe are also spoiling for a fight as they regard the slot as their divine right. Adelabu might also be unhappy with the governor's performance during the governorship campaign. He has allegedly accused the governor of not doing enough, thereby making him lose the elections to Seyi Makinde of the PDP.