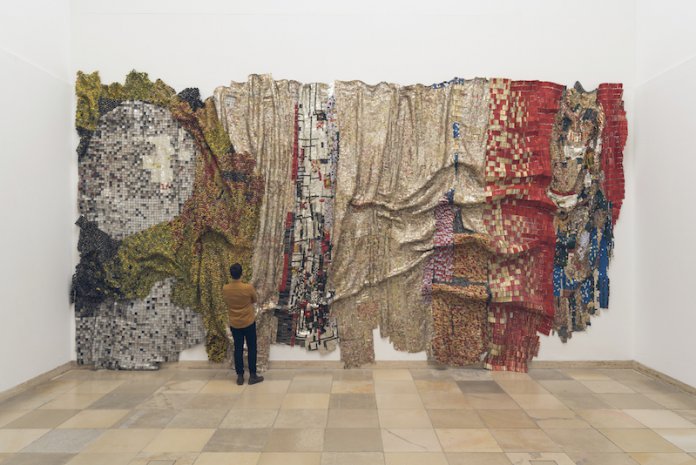 The works of two promising artists, Promise Onali and Chibuike Uzoma are illuminating the luxury store, Temple Muse in Victoria Island, Lagos in more ways that the scented candles in the building can ever do. It is the first show of the year curated by SMO Contemporary Art featuring 45 unique pieces by the duo. The works, mostly in large format, amplify the theme, "Diffusion", in the physical, spiritual and emotional sense of the word by exploring consciousness, individual and collective identity as well as socio-cultural cultural evolution.
Expectedly, both artists worked with different techniques. Onali who studied fine art at the University of Nigeria, Nsukka created a creative vent with his mixed media expressions. He deployed a visual storytelling technique, rendering some of the works in series, using unusual fabrics, metal, wire, polystyrene, paper, fibre, amongst others to recreate his thoughts on canvas.
Sporting dreadlocks, Onali revealed how he sourced for some of the materials and how his creative process evolved in the course of producing each work during a press preview of the works which had been available for public viewing and patronage since its opening on March 30. Onali recounted how his preferred fabric- the white lace- became more expensive as he increased his demand for it. Away from the market blues, Onali dips his creative ink in history and philosophy. On his colour schemes for some of the works, Onali dared to break the rules by working with black.
"I never bought black as a painter. I decided to explore black and red. Red is an emotional colour. I just wanted it to be an intrinsic part of the work. It was a struggle initially but I have improved on it," he revealed.
It was not just the choice of colours that posed a little challenge for Onali. His ambition to use difficult materials kept him on his toes.
"It was hard fusing the wire gauze into the canvas but now a lot of people find it interesting," he noted, relishing his layered metaphors.
His works at the show include, "Daydreams of A Pedestrian", "Millennials for Sale", "Portraits of an Artist", "Tainted Perception", "Landscape of Unconventional Dreaming," and "Intentions series".
Uzoma, on his part prefers not to be predictable. With pieces tilted towards abstraction, Uzoma's pieces activate the thinking faculty on sight.
"I don't like doing portraits. I don't like photographic painting. I give clues and open it up to a broader audience," he said. After his return to Nigeria from Delhi, he became fascinated with colours even more. A near-nomadic artist, Uzoma works between Ife and Benin city, perhaps drawing inspiration from his proximity to nature in the two places. He romanticised nature in pieces such as , "From Monkey to a Flower" and "An Evening Bloom" among others.
"My art making process is organic," said Uzoma during a tour of the building where his works were lined up. He is heading to Yale University later in the year for a Master's degree in Fine Art. Like Onali, he has some series that are rooted in a narrative. The story is a little game he played with friends that inspired the title of the work, "Did You Sin Last Week?". Additionally, racial discrimination is questioned in his works. A case in point is "Graphic Violence". In the piece titled, "Dolphin", he probes materialism using a pair of designer lens to view the world of selfishness and how cheap human life is rendered in the absence of humanity.
As the curator Sandra Mbanefo-Obiago observed, "Uzoma references contemporary politics in Africa and the Diaspora and questions popular culture against the backdrop of global conflict. By asking "maybe we know nothing?"
The 26-year old artist creates visual poetry which reflects our universal struggle with identity.
"I try to makes images that express the basic and necessary elements of human experience: freedom, love, joy, possibility, hope and even tragedy," he said.
Prof. Frank Ugiomoh, a Professor of art history and theory, formerly at the University of Port-Harcourt remarked in a statement that "Diffusion comes against a backdrop of contemporary social consciousness and how it connects to history as certainty lived out."
Diffusion runs from March 30 to May 17 and is supported by Veuve Clicquot.