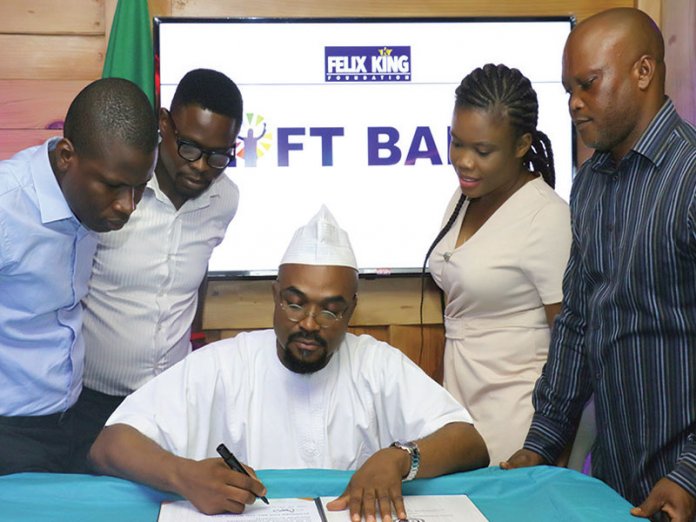 Mary Nnah
Piqued by the growing poverty rate among the widows in the rural communities, attendant government's neglect of this very important socio-economic group, and the important role they play in the development of their families and communities, the Governing board of Felix King Foundation, has affirmed the operation of Lift Bank, which will help lift 10,000 widows and active poor women in Nigeria's rural communities within five years period into prosperity.
Lift Bank will help in areas of small business capital access, training, mentorship and network. The Lift Bank, which is scheduled to be officially launched in May 2019, will focus its operations in Edo , Lagos and Ogun States.
Lift Bank, is an added component of Felix King Foundation and will operate under the arm of the Felix King Rural Initiative in partnership with Lift Bank accredited community banks.
The initiative will support widows and active poor women, who are willing to undertake business enterprise such as artisanship, trade and farming.
According to a statement by Felix King Foundation, "it is unimaginable what these women had to go through to access as low as N10, 000 from local money lenders and the penalty they had to endure for a day default in repayment due to stringent conditions.
"These women are harassed and chased around like common criminals; some abandon their homes to take refuge in the bush just to avoid arrest or confiscation of wares, tools, etc.
"Most times, what they require to initiate a trade or farming business is what some people spend over a bowl of pepper soup. But the irony of it all is that with as little as N10, 000, these women can train their children up to the university.
"To access as little as N10, 000 to be able to lease a parcel of land or buy and sell and so on could be a difficult and/or impossible task for them."
The founder of the foundation, Dr. Felix King said, "We will be partnering community bank / financial outfit for better output and sustainability. The role of community banks is to disburse the capital, supervise the repayment and manage the re-disbursements as well as progress monitoring of beneficiaries.
"The Lift Bank is a zero free loan access capital for widows and active poor women who are breadwinners of their family. And it is meant to support widows and active rural women in the enterprise such as trading, farming, and artisanship.
"Beneficiaries are open to access between N10, 000 to N30, 000 and repayable in 36 months (three years) without interest. The system is planned as a rotational one, whereby when a beneficiary returns what they borrowed, the money will be given to another woman."
King stated that "investing in women is vital for our collective economic prosperity and national stability of any country. When we empower women, communities prosper, thenation thrives and peace prevails.
"Therefore, to enhance our community's security, as well as our national stability and growth, there is need to encourage the full and free participation of women in the national economy."
"This is the foundation of Lift Bank," he said, adding that "simply put, Lift Bank is prosperity and progress for widows and the forgotten women in rural communities."
In Nigeria today, three out of every four people who live on less than N500 a day are in the rural areas and this class of people are mostly forgotten and with Lift Bank project, this circumstance will gradually change and the economic prosperity and peace in their communities will be restored.
For transparency and accountability, the foundation has identified some strategic partners for efficient implementation and disbursement of the fund. These community banks would be responsible for disbursement of the capital at a zero interest rate.
According to the arrangement, King said, "the fund will be domiciled at these community financial outfits for effective disbursement and measurement".
Speaking on the repayment arrangement between the foundation and beneficiaries, the founder highlighted that any woman who pays back after a year window, will have the opportunity to reapply with a chance to earn 100 per cent above initial fund collected.
For instance, "if a woman has collected N30, 000 and repays after a year's window, she stands a chance of collecting N60, 000 for more economic lift," he said.
Stressing on the importance of focusing on active poor women in the rural communities rather than just widows, which the foundation had made its objective, Dr. King said, "The work of the foundation has always been focused on indigent widows, but over time, we have come to realise the need to include the active poor whose situations are as unfortunate as that of the widows.
"This category of women includes single mothers and women whose spouses are incapacitated, hence putting the responsibility of providing for the families upon their shoulders.
"In 2017/2018, the foundation supported thousands of widows in farming and trading concerns and the progress report from these women, who believe so much in the works of their hand has become a great example of how strong small businesses are the backbone not just of our economy, but of our communities. Today these women feel dignified and their neighborhoods stronger."
Unlike the WIFARM and WEPROGRESS initiatives already promoted by the foundation for widows and financed solely by Dr. King's companies, Lift Bank will be opened for public collaboration.
"We are putting the initial startup funds to the Lift Bank project and hopefully, we will encourage other well-meaning individuals to support the Lift bank so that more women will benefit," he enthused.
"He further stated that "no matter how passionate the foundation could be about these challenges; we cannot change the world alone, so together with people of like interests, we will be able to collaborate for the good of these forgotten women and the communities they live".
The lift bank will operate in Lagos, Edo and Ogun states during the 2019 calendar with a possible geographical expansion in 2020 calendar.