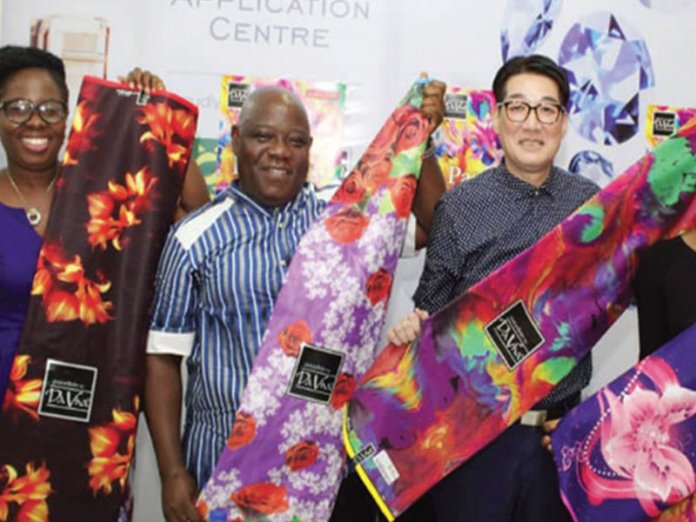 Mary Nnah
After over a decade of wooing Nigerians, nay African markets with its colourful, vibrant and quality fabrics, Da Viva, one of the leading fabric outfits in Nigeria, recently launched a new product, Paradisio, into the Nigerian market. The new star from the stable of Da Viva was unveiled during a press conference at its head office in Marina, Lagos Island.
Da Viva, which constantly re-invents itself once again, is poised to capture Nigerian market with its newly introduced fabrics called Paradisio. The new star, which draws inspiration from nature, is colourful and 100 per cent cotton.
Throwing more light on what the new brand stands for, Product/Project Development Manager, Da Viva, Mrs. Wendy Ata said Paradisio is a new innovative, colourful and creative fabric for both fashionable men and women.
"Paradisio by Da Viva is an innovating brand using a new printing concept with half tone effects showing the effect of light. Its rich and vibrant colours remind one of impressionist paintings which show more of nature than exact details and its instinct of photography of Art.
"Our aim is to create a business/market niche, and in achieving this, the difference in higher grade of cloth, quality finish and better printing quality is given so much attention. Paradisio by Da Viva is proud of its Natural identity, colourful and creative style.
The name Paradisio is an Italian name which means paradise and in paradise there is purity, love and beauty, Ata said the concept behind the nature 'design' is to create something different from other designs.
"As you know that we set the pace for others to follow. We just want to be natural, we want to be homely by creating a relax atmosphere we find ourselves. 'Africans loves culture and at the same time like nature and that is why we cherish our historical monuments."
The pocket friendly Paradisio she said though colourful, caters for both men and women and can be sown into either shirts, up and down, dresses, tops and so on.
On measures being put in place to avoid counterfeits, Sales/Network Manager, Mr. Babalola Olatubosun assured loyal customers that the quality and standard will not be compromised and because it is a unique fabric which draws its inspiration from nature, it will be difficult for 'fakers' to copy.
In its bid to win back its customers and to continue to improve and encourage customers' experience to shop more, Da Viva is planning to introduce loyalty card. 'It enables customers to get rewards for their loyalty as they earn points and enjoy discounts on items bought.'
To cater for the ever growing appetite of our customers, Da Viva has recently re-launched its garment line (in all their shops), which will cater for men and women of all shapes and sizes. With its new innovation, loyalty card and ready to wear line introduced both the company and its customers are going to have a blast as 2019 unfolds.