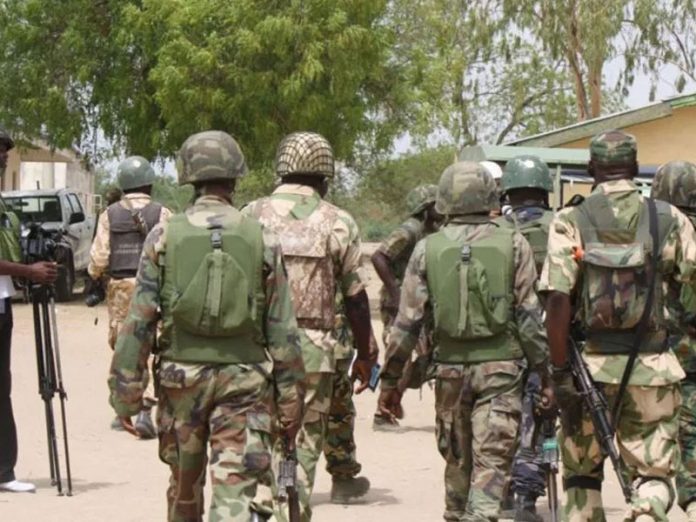 By Michael Olugbode in Maiduguri
The President of the Military Court Martial in the North-east, Major General Yakubu Aura, has said the court was established to promote professionalism among the soldiers and build civil military cooperation.
He said the establishment of the court, which has handled many war crimes and disregard for military professional ethics, is "a clear indication that no military personnel will not be spared if he or she is found wanting in the discharge of his or her duty".
Auta said this on Tuesday after giving judgment on a three-count charge on a case involving the Nigerian Armed Forces and Flight Lieutenant Martins Enweren who was arraigned before the court.
He noted that the military is always determined to principally protect the territorial integrity of the country as enshrined in the constitution of the Federal Republic of Nigeria by way of protecting the lives and property of the citizens of Nigeria.
He said: "What happened today is a continued occurence in the military where disciplinary measures are taken against erring personnel through the instrumentality of a court martial.
"The court that just passed judgment is a Special Court Martial convened by the Theatre Commander to try offences committed in the course of fight against Boko Haram insurgency.
"The military as an institution that believes in discipline and regimentation, attaches much consideration to the conduct of troops during peace and war times. Service personnel of whatever rank are expected to conduct themselves in an organised manner and must mention the highest level of discipline expected of them at all times."
He maintained that in a situation whereby a service personnel is found to be violating the sanctity of the people that we undertake to protect, such act will not go umpunished.
He said the legally stipulated punishment must be brought to bear in such situations, after complying with the extrant laws of the country pertaining to the principles of natural justice.
"This is a signal to the public that the armed forces is always commited to protect human rights of the citizens as we are saddled with the responsibility to protect . We shall continue to operate within the confines of the constitution of the Federal Republic of Nigeria," he said.