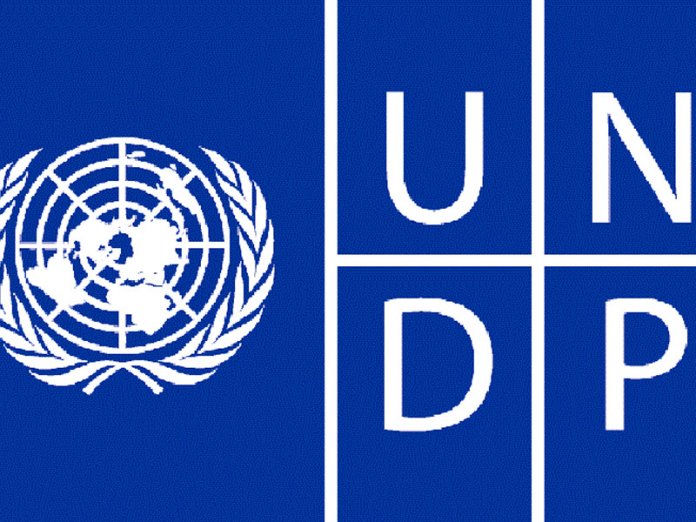 Michael Olugbode in Maiduguri
The United Nations Development Programme (UNDP) and European Union have spent €1.4 million on building of infrastructure in some crisis-affected areas of the North-east.
The fund — €1 million from EU Humanitarian Aid Operations and €400,000 from the UNDP — was expended on drilling of boreholes, building of clinics and drainages as well as setting up vocational training centres and supporting community school projects in the affected areas.
According to a statement on Sunday by UNDP, the 20-month project, mostly funded by European Union Humanitarian Aid Operations – DG ECHO — improved the effectiveness of the international crisis response by establishing and availing systematic and critical information on key aspects related to coordinated early recovery interventions for North-east Nigeria to Humanitarian and Early Recovery actors.
The statement added that: "Specifically, it improved the effectiveness and sustainability of water resources management in areas of IDP concentration and prospective return in Borno State; enhanced the social protection of the conflict-affected population in North-east Nigeria through an assessment and piloting of linkages between humanitarian cash-based interventions, community-based social safety nets as well as formal social security systems, and strengthened the coherence of humanitarian interventions and recovery planning through the establishment of a single recovery database informing recovery planning and monitoring in Borno State.
"Under the project, water needs assessment and water facility review were conducted in areas of IDP concentrations and returnee communities. Five boreholes that feed water from Gumsuri to Damboa, a town that is host to over 20,000 IDPs in Southern Borno were rehabilitated or drilled. The entire water network in Damboa was also rehabilitated and pipes extended to four IDP camps within Damboa. This is meant to address water challenge in the camps and provide IDPs with access to safe and potable water for domestic use."
The statement further revealed that in order to ensure sustainability of water networks across Borno State, over 70 senior managers, field area managers as well as technical staff from Borno State Ministry of Water Resources and Rural Water Supply and Sanitation Agency (RUWASSA) were trained to bridge capacity gaps, while 28 community members from Damboa were also trained in water facility monitoring and maintenance to ensure sustainability of intervention.
The statement said: "Establishment of 'Village Savings and Loan Associations' (VSLAs) were supported as Community-Based Social Safety Nets (CBSSN) mechanism to promote recovery and resilience of conflict-affected people in 10 pilot communities of Borno, Adamawa and Yobe States. This mechanism was established to amongst other things, i) reduce dependence of conflict-affected people on humanitarian assistance; ii) enhance sustainable livelihoods through provision of access of conflict-affected people to loan for agricultural and entrepreneurial business initiatives; and iii) support community ownership process of economic recovery and development.
"Under this scheme, over 4,000 IDPs and their hosts who are members of the VSLA received revolving soft loans which helped them start or revive their businesses. A grant of over N80 million for social fund was provided to the communities by UNDP, while communities complemented the contribution with over N11 million.
"The joint social fund was utilised by VSLAs for community projects such as rehabilitation and drilling of boreholes, clinics and drainages as well as setting up vocational training centres and supporting community school projects. Under the project, members of VSLA also benefitted from agricultural inputs to support their livelihoods.
"To ensure community ownership, management structures were established by VSLA groups and training workshops organised to enhance efficiency and effectiveness. So far, the VSLA mechanism has recorded an aggregate of over 80% repayment rate of Loan Funds."
Speaking at a project close-out ceremony held in Maiduguri at the weekend, Ms. Mizuho Yokoi, Head of UNDP North-east Sub-Office, said: "Due to the findings of the assessment, UNDP, together with the ministry and with funding from ECHO, established a recovery database to enhance coordination of recovery interventions.
"Twenty-seven data collectors and five data assistants were identified, trained and engaged to collect existing data on recovery intervention activities in 24 accessible local government areas out of 27.
"The database captures information related to all facilities damaged by the crisis, including rehabilitation/reconstruction carried out by different humanitarian and development actors including displaced persons and returnees amongst others."
Yokoi noted that the Recovery Database will support government to effectively coordinate recovery intervention activities in the state, which is expected to reduce incidences of duplications and over concentration of intervention activities in certain areas.
In a remark, the Executive Chairperson of Borno State Emergency Management Agency, Hajiya Yabawa Kolo, who spoke on behalf of the state government, said: "We are delighted with this database which will go a long way in helping us plan recovery interventions as a state."
The statement said the database has the capability of using GIS technology to locate where interventions have taken place and its App can be installed on smartphones to be used offline and data uploaded later.
In addition, UNDP supported the ministry with 10 desktop computers and 10 tablets to facilitate effective recovery coordination, data analysis and management of information and to deepen project impact.
UNDP also launched three major knowledge resource materials at the ceremony-Handbook on Water Resource Management, Handbook on VSLA as CBSSN Mechanism in Northeast Nigeria and the Recovery Database.