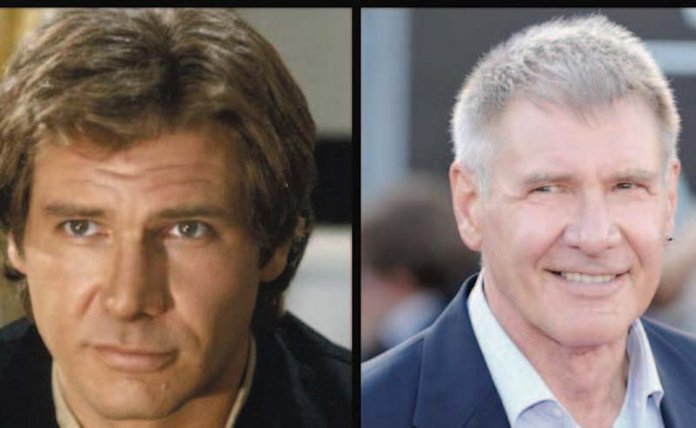 What memories do you have of movie stars of the 1980s who blew the minds of their fans away with exhilarating and spectacular artistry, grits and showmanship? Here THISDAY presents you a list though not exhaustive of movie superstars of the 1980s that kept your hearts racing while watching them do what they know best to do
Harrison Ford
Harrison Ford was born on July 13, 1942, in Chicago, Illinois, to Dorothy (Nidelman), a radio actress, and Christopher Ford (born John William Ford), an actor turned advertising executive. His father was of Irish and German ancestry, while his maternal grandparents were Jewish immigrants from Minsk. Raiders of the lost ark, The Empire strikes back, Blade Runner, Indiana Jones and the last crusade, Working girl, Witness, The return of the Jedi, etc.
Ford is vice-chair of Conservation International an American nonprofit environmental organization headquartered in Arlington, Virginia. The organization's intent is to protect nature.
In September 2013, Ford, while filming an environmental documentary in Indonesia, interviewed the Indonesian Forestry Minister, Zulkifli Hasan. After the interview, the Presidential Advisor, Andi Arief, accused Ford and his crew of "harassing state institutions" and publicly threatened them with deportation. Questions within the interview concerned the Tesso Nilo National Park, Sumatra. It was alleged the Minister of Forestry was given no prior warning of questions nor the chance to explain the challenges of catching people with illegal logging. Ford was provided with an audience with the Indonesian President, Susilo Bambang Yudhoyono, during which he expressed concerns regarding Indonesia's environmental degradation and the government efforts to address climate change. In response, the President explained Indonesia's commitment to preserving its oceans and forests.
Eddie Murphy
Edward Regan Murphy was born April 3, 1961, in Brooklyn, New York, to Lillian Lynch (born: Lillian Laney), a telephone operator, and Charles Edward Murphy, a transit police officer who was also an amateur comedian and actor. After his father died, his mother married Vernon Lynch. Eddie Murphy was known for his raucous stand-up during the 1980s. After leaving the cast of "Saturday Night Live" he made multi-platinum comedy records. During this time, he starred in 48 Hrs., Beverly Hills Cop, and Trading Places. Murphy continues to act. He co-starred in Tower Heist. It is rumoured that he will star in the latest instalment of Beverly Hills Cop. In addition to acting, Eddie Murphy has raised money for various causes. Starred in Beverly Hills Cop I & II, Trading places, 48 Hours, and Coming to America.
Robert De Niro
One of the greatest actors of all time, Robert De Niro was born on August 17, 1943, in Manhattan, New York City, to artists Virginia (Admiral) and Robert De Niro Sr. His paternal grandfather was of Italian descent, and his other ancestry is English, Dutch, German, French and Irish. He had starred in The Untouchables, Once upon a time in America, Ranging bull, The king of comedy, The mission, Brazil, Midnight run.
Michael Douglas
An actor with over forty years of experience in theatre, film, and television, Michael Douglas branched out into independent feature production in 1975 with the Academy Award-winning One Flew Over the Cuckoo's Nest (1975). Since then, as a producer and as an actor-producer, he has shown an uncanny talent and starred in movies like Wall Street, Fatal Attraction, Romancing the stone, The War of The Roses, Black rain.
Tom Cruise
In 1976, if you had told the14-year-old Franciscan seminary student Thomas Cruise Mapother IV that one day in the not too distant future he would be Tom Cruise, one of the top 100 movie stars of all time, he would have probably grinned and told you that his ambition was to join the priesthood. Tom Cruise's long career started in the 1980s. He ran a brothel in Risky Business. He fought in the skies in Top Gun. He served cocktails in Cocktail. Each of these roles paved the way for him to become a full-fledged celebrity. The actor has starred in movies like Risky Business, Top gun, Color of money, etc.
Sean Connery
The tall, handsome and muscular Scottish actor Sean Connery is best known for being the original actor to portray the character of James Bond in the hugely successful movie franchise, starring in seven films between 1962 and 1983 starring in The Untouchables, Indiana Jones and the last crusade, In the name of the rose, Never say never again, among others. With age not on his side, Connery is watching the new generation of actors take the centre stage.
Sylvester Stallone
Sly Stallone was one of the biggest action stars of the 1980s. He starred in the hugely successful Rocky franchise. In 1982, he started a new bad-ass franchise as Rambo. These roles cemented him as a superstar. Stallone can't get enough Rocky or Rambo. In recent years, he's financed productions of sequels to both franchises. They've been moderate successes. Stallone's biggest successes have been alongside other action bad-asses in The Expendables series.
Bruce Willis
Bruce Willis became a household name during the 1980s as David Addison on "Moonlighting." He shifted gears and focused on action as John McClane in Die Hard. This franchise made him an international superstar – and made everyone forgive him for the album he'd released. Willis continues to star in big-budget productions. He has co-starred in the Moonrise Kingdom, The Expendables 2, and Looper. He is set to star in the film adaption of the video game Kane & Lynch.
Arnold Schwarzenegger
Schwarzenegger was an '80s muscle man. He starred in classic films like Commando, Conan, and The Terminator. In each of these roles, he showed the world he was truly an Austrian bad-ass. Schwarzenegger took a hiatus from acting because he was busy as governor of California. Since leaving office, Schwarzenegger has returned to the screen. He's been in The Expendables and a Terminator reboot. He also spends his time advocating for causes that he promoted during his governorship.
Denzel Washington
Denzel Washington, (born December 28, 1954, Mount Vernon, New York, U.S.), American actor celebrated for his engaging and powerful performances. Throughout his career, he has been regularly praised by critics, and his consistent success at the box office helped to dispel the perception that African American actors could not draw mainstream white audiences.
After graduating from Fordham University (B.A., 1977), Washington began to pursue acting as a career and joined the American Conservatory Theater in San Francisco. After several successful stage performances in California and New York, he made his screen debut in the comedy Carbon Copy (1981). He first began to receive national attention for his work on the television drama St. Elsewhere (1982–88). For the film Cry Freedom (1987), he portrayed South African activist Stephen Biko, and he received an Academy Award nomination for best-supporting actor. Two years later he won the Oscar for best-supporting actor for his performance as a freed slave fighting in the Union army in the American Civil War film Glory (1989). In 2016 Washington received the Cecil B. DeMille Award (a Golden Globe Award for "outstanding contributions to the world of entertainment").
Al Pacino
Oscar-winning actor Al Pacino has kept moviegoers riveted since the 1970s, with roles in films like 'The Godfather,' 'Dog Day Afternoon,' 'Serpico,' 'Dick Tracy' and 'Scent of a Woman.'
He began studying acting in his teens and eventually made his way from the stage to the big screen. During his career he has brought a brooding seriousness and explosive rage to gritty roles, including those of gangster Michael Corleone in The Godfather (1972) and drug lord Tony Montana in Scarface(1983).
A versatile performer, he has starred in a diverse range of projects during his prolific career, appearing in countless stage productions and directing several films as well. He received an Academy Award for Best Actor for his portrayal of a blind man in Scent of a Woman (1992) and in 2007 received a Lifetime Achievement Award from the American Film Institute.