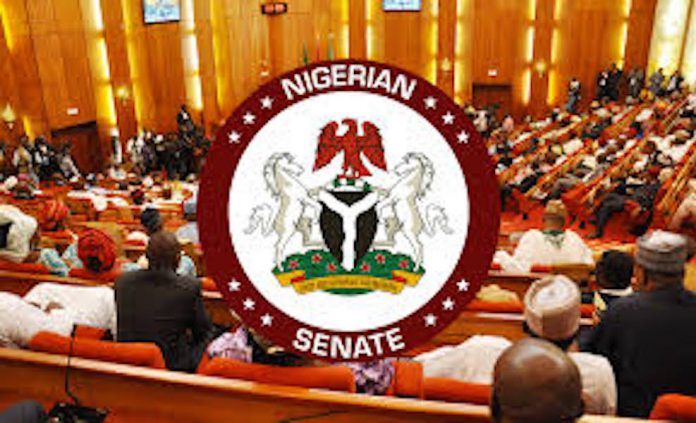 Saturday Plus 
While the 35 per cent affirmation which sought to give that percentage of representation to women appear to have taken a back seat, only six women have booked their berth in the ninth Senate. However, the quality and personalities appear to compensate for their scant number. Charles Ajunwa and Ahamefula Ogbu present them to you
Uche Ekwunife
This is one fearless woman, not easily deterred by setbacks or controversies. She has a bag full of experiences, legislative and otherwise. Ekwunife was born in 1970 in Nri in Anaocha when her surname was Ogudebe. She studied Business and accounting at the University of Calabar before proceeding for an MBA at Nnamdi Azikiwe University. Ekwunife worked in the banking sector and rose to be an area manager.
Prior to her election as a senator in 2015 for Anambra, she had failed twice to realise the dream. In 2019, she won senatorial seat representing Anambra Central area. In 2015, she won the senatorial election but it was declared null and void and later in a repeat election; the contest was resolved in favor of Victor Umeh.
The banker-turned politician was a two-term member of the House of Representatives, where she represented Anaocha/Njikoka/Dunukofia Federal Constituency of Anambra State. She was deputy Chairman of the House Committee on Public Accounts in her second term.
In 2010, she contested for the governorship of Anambra State on the platform of the Progressive Peoples Party (PPA) and lost. She also lost the race on the platform of the All Progressives Grand Alliance (APGA), in 2014. She married a businessperson from her home community, Chief Larry Ekwunife.
Oluremi Tinubu
A fiercely loyal party woman, she is politically and emotionally attached to the central idea of the dynasty and by extension, Nigeria. She has been a lawmaker who silently worked behind the scene. Wife of the strong man of Lagos politics, she was born on 21st September, 1960 and hails from Delta State. She shares the same passion in politics as the husband.
She is the youngest of 12 children and was brought up in Ogun State. She obtained a Bachelor of Science B.S. in Education from the University of Ife, and a National Certificate of Education in Botany and Zoology from the Adeyemi College of Education.
She was first elected into the Senate in 2011 on the plank of the Action Congress of Nigeria (ACN). Again in 2015, she re-contested and also won the seat for Lagos Central on the platform of the APC, a feat she repeated at the last election.
Rose Oko
She comes very resilient and cerebral; she is expected to make her mark not being new to lawmaking. Rose Okoji Oko was born 27 September 1956 to Thomas and Agbo Ojeka from Opkoma; Yala LGA, Cross River State. She was her mother's first child and seventh of 15 children from her father. She passed her first School Leaving Certificate in 1977 from WTC Primary School Enugu and in 1975, attended Federal School of Arts and Science, Ogoja in Cross River State for her Higher School Certificate. In 1981, she graduated with a 2nd Class Upper in B.A. (Hons) Linguistics from the University of Calabar, Cross River State. She later proceeded to The University of Wisconsin, Madison, USA for Graduate Course in Linguistics.
A career Educationalist, Okoji Oko returned to University of Calabar and graduated with M.A. Linguistics in 1984. By 1990, she graduated from The University of Port Harcourt in Rivers State where she acquired her Doctorate in Linguistics. In 2007, she enrolled in The Management Institute of Canada where she acquired an M.B.A.
Oko served as a tutor in Edgerly Memorial Girls Secondary School, Calabar in 1981 during her National Youth Service Corps. Between 1982 and 1983, she taught at St. Patrick's College, Calabar and in the same year became a lecturer at the Cross River School of Basic Studies, Akampka till 1984 when she moved to the University of Calabar as an Assistant Lecturer in the Department of Language and Linguistics. She was later promoted to Lecturer in the same department. In 1989 she was appointed as Commissioner of Education, Cross River State; a position she held till 1991 and doubled as Chairperson Better Life Programme, Cross River Chapter from 1990–1991.
In 1993 she was appointed Director General, National Defence and Security Council, Cabinet Secretariat under the military presidency. She held this position simultaneously with the National Commissioner, National Electoral Commission (NEC) now known as Independent National Electoral Commission (INEC).
When civil rule was reintroduced in 1999, she joined the People's Democratic Party (PDP) and later, National Democratic Party (NDP) where she was the Deputy Chairman South, Board of Trustees, and ran for the Senate, Cross River State North Senatorial District and lost. She later joined the gubernatorial race in 2007 and lost. Thereafter, she returned to the PDP and won a contest for House of Representatives from where she has now been elected into the red chambers.
Stella Oduah
Bold, brainy, beautiful and rich; she blinks last and can lead a charge for any cause of her conviction. She has been a lawmaker and therefore not new to the red chambers. Princess Stella Oduah-Ogiemwonyi was born January 5, 1962 to a royal family of Igwe D.O. Oduah of Akili-Ozizor, Anambra State. She holds Bachelors and Master's Degree in Accounting and Business Administration respectively from the United States. Part of her working experience was with the Nigerian National Petroleum Corporation (NNPC) from where she struck out to establish the Sea Petroleum and Gas Company Limited (SPG), an independent marketing company.
The former Minister of Aviation is one of the three female senators that got re-elected. She won the Anambra North senatorial seat for the first time in 2015 and has repeated the feat.
She has thick skin and has demonstrated capacity to weather the storm as well as thread where men fear. A development-driven being, she is bound to make her mark in the ninth Senate and is easily remembered for the remodeling projects and instilling standards in Nigeria's aviation sector.
Aishatu Ahmed Dahiru
Aishatu Ahmed Dahiru comes with experience and prepared educationally especially from a clime women are often neither seen nor heard. Born on the 11th of August 1971, she is a holder of Higher National Diploma in electrical electronics Engineering and Computer certificate from the University of Southampton UK. She was chairman of the House Committee on Constituency Outreach, member committee on Appropriations, Land Transports, Millennium Development Goals and Petroleum resources (Downstream) Public Service Matter.         
Popularly known as (Binani), she is an entrepreneur. She was a member of the 7th National Assembly where she represented Yola North, Yola South and Girei Federal Constituency of Adamawa State, from 2011 to 2015. She won Adamawa Central Senatorial seat on the platform of the APC.
Akon Eyakenyi
Beauty and brains, Akon Eyakenyi, smiles through circumstances with a kind heart. She was born on 24th February 1960 into the family of Chief and Mrs. Uweh Isangedihi of the Oro-Ukpabang stock in Mbokpu Eyo-Akan village, Urue-Offong/Oruko Local Government Area of Akwa Ibom State. She attended Government Primary School, Uko-Uyukim, Oron and later proceeded to Methodist Teacher's Training College, Oron for her Teachers Grade II Certificate (TC II).
Akon holds a Nigerian Certificate in Education (NCE), a Bachelor of Education (B. Ed) degree from the University of Calabar, a Master of Education (M.Ed) and Doctor of Philosophy (Ph.D) in Curriculum Education. She also holds a Certification (Special Class) from the Akwa Ibom State Civil Service.
She has held several appointments including Mistress I & II by the then Cross River State Education Board. She was also President of the Better Life Programme, Oron Local Government Council. Dr. Eyakenyi was also appointed as Supervisor for Education, Youths, Sports and Culture in Oron Local Government Council in 1991; Education Officer in Akwa Ibom State Ministry of Education in 1993 and subsequently, Senior Education Officer from 1994 to 1999. Thereafter, Eyakenyi was appointed to serve as a Member, Akwa Ibom State Secondary Education Board from 1999 to 2000, where she contributed to the laudable improvements in secondary education in the state.
She was appointed Commissioner for Industry, Commerce and Tourism in 2000, by Governor Obong Victor Attah and she revitalised moribund Champions Breweries, was instrumental to introduction of the Le Meridien Ibom Hotels and Golf Resort, as well as other laudable projects In 2013. She was appointed as Chairman, Akwa Ibom State Technical Schools Board by Governor Godswill Akpabio until her appointment as Minster of Lands, Housing and Urban Development in 2014 by the then President Goodluck Jonathan.
By June 2015, Dr. Eyakenyi was appointed into the Technical Committee on the Realisation of the Ibaka Deep Seaport; and in October 2016, she was appointed as Chairman, Governing Council of the Akwa Ibom State Polytechnic, Ikot Osurua. Dr. Eyakenyi is married to Mr. Etim Eyakeny.