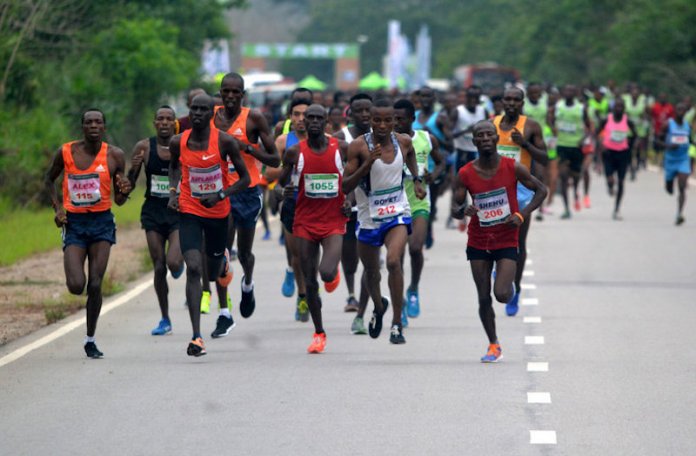 The seventh edition of the International Association of Athletics Federations (IAAF) Silver label Okpekpe international 10km road race which holds on May 25 received a boost from the host state governor,Obaseki during the recent National Council of Sports meeting in Benin,capital of Edo state.
At the meeting,Governor Obaseki told the gathering which had the Sports Minister,Barrister Solomon Dalung in attendance as well as the directors of Sports from the 36 states of Nigeria and the Federal Capital Territory that this year's race will serve to benchmark subsequent editions.
Obaseki,who has been a strong supporter of the first road race in Nigeria and West Africa to get an IAAF label rating since its inception in 2013 also used the opportunity to invite the Sports Minister to this year's race which holds on Saturday May 25 in Okpekpe,a rusty town in Etsako East local government of Edo state.
'I am using this opportunity to invite the Honourable Sports Minister as well as the whole world to world class road race holding on May 25 in Okpekpe town here in Edo state,'said Obaseki while extolling Barrister Dalung for reviving the National Sports Festival.
"For whatever you did or did not do, history will be fair to you for rescuing the National Sports Festival.Today you have spoken about retirement and the imminent dissolution of the National Executive Council, but before you go, permit me to invite you to come and race with me at the Okpekpe Road Race.'
In his response,the Sports Minister promised to be present at the only IAAF Silver label road race that will be run in West Africa this year.
"I will always be part of the Okpekpe Road Race whether I am in office or not.It is a well organized event that has helped to elevate and dignify the organizational prowess of Nigeria,"said Dalung.
The Okpekpe international 10km road race is one of the races across the globe the IAAF has designated as one of the "leading road races around the world."
The classification was first introduced for the 2008 running season, upon the suggestion of the IAAF Road Running Commission.The Okpekpe race was accorded a bronze label status in 2015 and last year,after meeting the stringent criteria listed for a would-be silver label race which also included the required number of the international elite field,the race was elevated to a silver label status which is also the first in Nigeria nay West Africa.