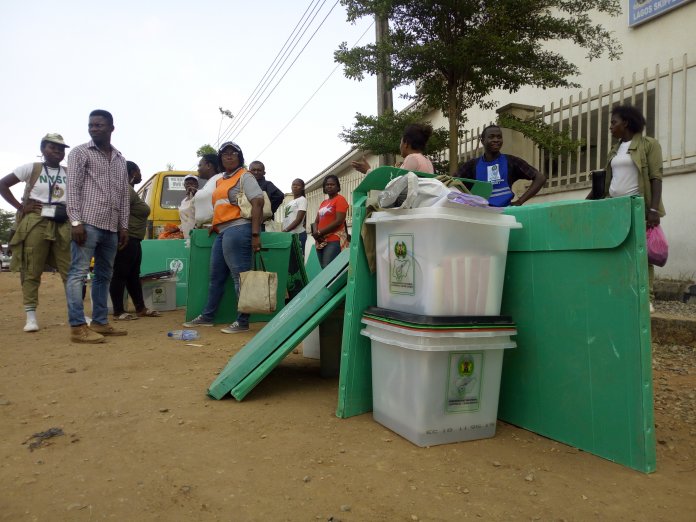 Ring True
BY YEMI ADEBOWALE
TELL: 07013940521; EMAIL: yemi.adebowale@thisdaylive.com
Nigeria swims in illegality. Those who swore to defend the constitution of the country breach it with so much impunity and many of their followers celebrate them. The level of lawlessness in this country is indeed sickening. One of such is the deployment of soldiers for security duties during elections. Like his predecessors, our dear President Muhammadu Buhari also deployed the military for security duties with so much fanfare during the 2019 elections. He celebrated this illegal deployment and added a further criminality to it by directing the military to shoot ballot box snatchers – extra-judicial killing. We also saw army chief, Tukur Buratai, issuing directives to the soldiers as they moved out for illegal election safety duties. I am still struggling to recover from the shock of these shenanigans.
The soldiers did not disappoint the President and Buratai as they went beyond their illegal election policing job, to snatching ballot boxes, attacking opponents of their favoured party and committing all sorts of infractions across the states. In Rivers State, they took their interference in politics to an unprecedented height, while allegedly working for Transport Minister, Rotimi Amaechi. The European Union Election Observation Mission to Nigeria complained bitterly that these soldiers barred them from monitoring elections in Rivers State. The Chief Observer, Maria Arena faulted the entire elections. She said: "Observers, including EU observers, were denied access to collation centres in Rivers, apparently by military personnel. This lack of access for observers compromises transparency and trust in the process. There is no doubt that the electoral process there (Rivers) was severely compromised."
It is an embarrassment that the All Progressives Congress that went to court when in opposition and got judgments barring the military from participating in election security duties, went ahead (now that it is the ruling party) to deploy soldiers for elections. There is no way Buhari would say that he is unaware that the deployment of soldiers for elections has been outlawed. Today, I have decided to remind our dear President, Buratai and the ruling APC (in case they have forgotten) about the numerous judgments to the effect that the military should not be involved in election security duties. Perhaps, this recap would touch their hearts and put an end to this baloney.
Recall that early in 2015, a suit was filed by an APC member in the House of Representatives, Femi Gbajabiamila, challenging the deployment of military for elections. The then President Goodluck Jonathan, Chief of Defence Staff, Chief of Army Staff, Chief of Air Staff, Chief of Naval Staff and the Attorney General of the Federation were joined in the suit. Gbajabiamila argued that it was illegal to deploy the military to supervise election in a democratic setting. The Federal High Court sitting in Lagos agreed and restrained the Jonathan-led Federal Government from deploying the military for elections. The presiding Judge, Justice Ibrahim Buba, in his ruling, declared that it was unconstitutional to deploy military for the supervision of election without the approval of the National Assembly.
Earlier, a Federal High Court in Sokoto State on January 29, 2015 outlawed this same use of the military for elections across Nigeria. The suit was instituted by the then Deputy Speaker of the Sokoto State House of Assembly, Bello Goronyo. Justice Mohammed Aikawa ruled that other than for the purposes of protecting the nation's territorial integrity, there was no constitutional provision that allowed for the deployment of the military for election security duties.
Justice Aikawa added that for the Federal Government to do so, it must have taken recourse to the National Assembly, which would enact such law. I remember that the then Director, Legal, APC Presidential Campaign Council, Chukwuma-Machukwu Ume (SAN), wrote the Jonathan government, arguing that by virtue of both decisions, it had become illegal for the President and INEC to involve members of the armed forces in electoral security matters without the National Assembly's permission.
A Court of Appeal in Abuja on February 16, 2014, also outlawed the unilateral deployment of soldiers for the June 21, 2014 Ekiti State governorship election.
Years back, there was also the leading judgment of the Court of Appeal in Yussuf v Obasanjo (2005) 18 NWLR (PT 956) 96, in which the court held: "It is up to the police to protect our nascent democracy and not the military, otherwise the democracy might be wittingly or unwittingly militarised. This is not what the citizenry bargained for in wrestling power from the military in 1999. Conscious step or steps should be taken to civilianize the polity to ensure the survival and sustenance of democracy."
Legalities aside, I can clearly remember Buhari, back in January 2015, as the presidential candidate of the APC, warning Jonathan against deployment of soldiers to cities and towns during elections. He said then that the soldiers were meant to defend the territorial integrity of the country and not for policing elections.
Section 215 of the 1999 Constitution is very clear about security during elections. It makes the maintenance of internal security, including law and order during elections, the exclusive responsibility of the police. Our President and his service chiefs must desist from usurping the constitutional responsibility of the Nigerian Police Force.
Memo to Sanwo-Olu
My dear Babajide Sanwo-olu, I don't intend to congratulate you on your election as governor of Lagos State. I believe your election is just "same of the same." I fear that it is the usual bad deal for the hapless people of Lagos State as they have had in the last 36 years, post-Jakande. However, I am hoping that you will prove me wrong with your actions when you assume office.
It is pertinent to note that my family has a longer history with Lagos than most of those claiming to be Lagosians today. My late father relocated to Lagos over 84 years ago. You can now understand why I write about my beloved Lagos with so much passion.
One of the areas in which previous governments in the state have performed abysmally in the last 36 years is the construction of inner roads. The Jakande era remains golden in this area. It was an era when equal emphasis was placed on arterial and inner roads. This motivated development and enhanced the value of property in several communities in the state. Thriving small businesses also emerged in these communities, thanks to paved roads.  My treasured Mende in Kosofe Local Government profited from this. Jakande provided us paved roads with standard drains. But the reverse has been the case in the last 36 years as blighted communities emerge across the state. Sanwo-olu, Lagosians yearn for the return of the Jakande era; an era when development was inclusive and people-oriented; an era when government touched the lives of the masses of the people  directly with quality healthcare, education, water supply and quality inner roads. You must strive to return Lagos State to this golden era.
When you assume office, you must differentiate between Lagos City and Lagos State. In the last 36 years, the metropolis gulps the bulk of the revenue of Lagos State. This is one of the reasons Lagos State is in a big infrastructural mess. The tattered state of communities in Ikorodu West and Ikorodu North, Igbogbo-Bayeku, Ayobo, Ipaja, Abule Egba, Okokomaiko, Ojo, Ijora-Badiya, Ipaja and several others testifies to this.
Ikorodu West and Ikorodu North LCDAs are like war zones with very little government presence. Sanwo-olu, please, visit these areas unaccompanied. Come in through Isawo Road. Link Efunlaruja Street through Ori-Okuta Road and go out through Ojokoro Road. With this, you will understand the magnitude of the crisis in these areas. In the entire Ikorodu West LCDA, there are only three roads with asphalt. Over 500 other inner roads are ragged. Many in these areas have relocated and abandoned their buildings.  Sanwo-olu, you need to construct more inner roads with drainages in order to regenerate these blighted communities. That was what Jakande did to open up many parts of Lagos like Mile 12, Ketu, Ojota, Mende, Onigbongbo, Palm Grove, Onipanu.
Your predecessors have been spending money on mundane things while Lagos State wallows in poverty. The huge resources of the state are squandered amidst decaying infrastructure. Just imagine Ambode voting money for the construction of cinema houses in a state where over 99% of homes have no access to public water supply. The Lagos State Water Corporation is one big mess. Many communities that enjoyed public water supply during the Jakande era no longer have it. You need to rejig the state's water corporation aºnd return to the Jakande era of constructing mini-water works for communities.
Billions of Naira is spent on gigs and carnivals in a state where public hospitals, roads and schools are in tatters. Drains across the state constantly emit stench, while humdrum things guzzle the state's money. It is heart-wrenching seeing public funds being wasted attending carnivals abroad in the name of searching for tourists for Lagos State. Tourists will come looking for Lagos State if we put our house in order in terms of security and quality infrastructure. You must avoid spending state money on mundane things.
You also need to tackle the infrastructural challenges in public health institutions across the state. The 27 general hospitals in the state are in very bad conditions. They are over-crowded, poorly equipped with dilapidated structures and unmotivated staff. Patients pay for virtually everything in these hospitals. You have to rejuvenate the primary health centres across the state.
In Lagos public schools, classes are still overcrowded with dilapidated structures. The temporary school structures put in place by the Jakande administration 33 years ago have still not been replaced in many schools. You will find these dilapidated Jakande buildings even in places like Apapa and Ikeja. Many will be shocked to know that pupils in some Lagos schools still sit on bare floor in classrooms. Please, pay a surprise visit to schools like Isawo Primary School, Ipakodo Junior School and Farm Settlement Primary School, Odogiyan, all in Ikorodu, to understand the level of decay. This is replicated in other parts of the state. There has to be a holistic programme to replace all Jakande structures in public schools within two years of your administration.
Lagos State has become a dangerous place to live in with high crime rate. Cult groups are constantly terrorising the populace. Your predecessors have spent billions of Naira providing equipment for security agencies with very little result to show for it. Lagosians persistently live in fear. My dear Sanwo-olu, the security architecture of Lagos State has to be redesigned. It should not just be about spending billions of Naira on equipment for security agencies.
Founder of Microsoft Corporation, Bill Gates, recommends that governments should spend more on human capital development if they want to attain development. Sanwo-olu, you must not engage in building posh bridges and multi-lane aristocratic roads in the metropolis as your predecessors did, while hospitals and schools are in tatters. Citizens lack access to things as basic as public water supply and drivable inner streets; yet, you will find governors building theatres, stupendous offices/fly overs, multi-lane city roads, buying bullet proof cars, hopeless foreign trips and all sorts of rubbish. Sanwo-olu, you must invest in people for Lagos State to prosper.