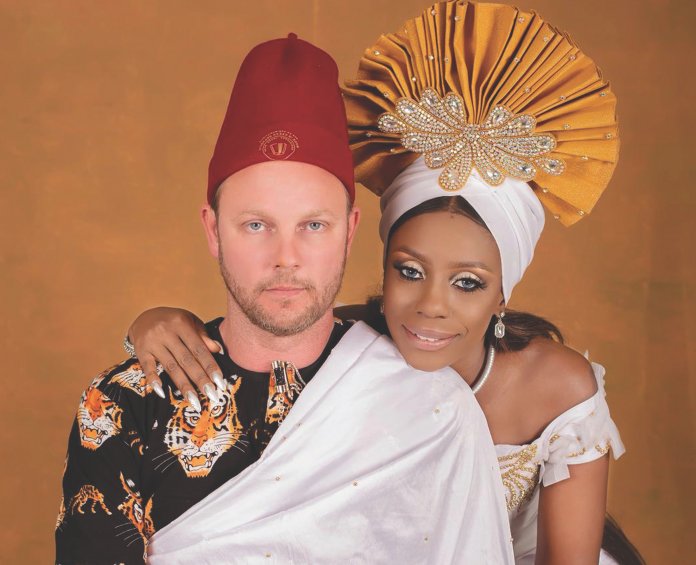 Plus
Actress, Nollywood filmmaker and television host, Ada Aronu (Adaslim), is not your regular celebrity. The ebony complexioned actress does not "make noise" on the social media. She does her things quietly. Ada made her movie debut in her early 20s. Her early interest in acting was met with some form of resistance by her father but was later permitted on certain condition. Ada has since grown to become one of the best in the industry, both in acting and production. Many will always remember her for movies like Gallant Babes and Thanks for Coming 1 & 2.  Ada who is married to a Swedish, shares the story of her life with Ferdinand Ekechukwu  
The temperate atmosphere suits the setting at the Eko Hotel and Suites in Lagos on this particular evening. A flopped comedy show dubbed 'Shakara and The Gang' would soon commence. Seated just opposite was Ada  Aronu. She appears effervescent with a fashion sense that exudes a cosmopolitan mien. Noteworthy is that she is not your regular celebrity. "You know there wasn't much of myself out there," she quickly tells you. "And that was why I wanted to be behind and understand what I'm doing and do it as an adult and not as a child."
As a budding actress and movie producer, she made her first movie in her early 20s but feels after then, she was distracted. Or may be wasn't focused. "I wasn't really focused or I had distractions, either way you want to put it. I came for acting and I was considered too young; so can only play as someone's daughter and I had to go back to school. I came  after my WAEC and I had to go back for university education; after that, I produced. That was when I did my first movie. And then I was off again and now back fully in front of camera.
"For me, at that point, it was distractions but right now being older at 34, I realised I wasn't focused," she said smiling. Her early interest in acting was first met with some form of resistance but was later permitted on certain condition by her father. That one condition was to see her work with a mentor, an acting legend Pete Edochie, who is like a father figure to her. With Edochie, Ada worked as his personal assistant while understudying the craft. Somehow, she has been on and off the scene and hadn't had two years consistency in the industry.
At the moment, she says this is the longest stretch she has had in Nigerian showbiz straight on since last two years. This is her third year. Since her comeback in 2017, she has made two movies. The last movie Ada made was "Ignition" (not released yet). She shot it end of last year just before her wedding. Also, she produced and starred in "Temple's Mansion and Ignition." Ada decided to come back as a producer to do her own thing; explore and understand the business more.
Just musing some weeks back on her new status, she had written on her Instagram page thus: "I officially welcome you to 2019! Year of fulfillment for us all. I thank God for the gift of life and health in 2018, my best year so far. . . 2018 I got married in full to the most perfect man on earth! Wow that's a great achievement". It is not unusual to have such profound post written especially when you feel fulfilled.
For Ada Aronu who now goes by the name Ada Karl, marriage was truly an achievement for her and a lifelong dream accomplished in a sense. "What I wrote on my page about marriage was an achievement for me because I made it very clear that what you call an achievement is what you are praying for. You can't have a prayer point and God answers your prayer and then it's not an achievement. So why was it a prayer point? Marriage was a prayer point for me and God answered it. And then that was an achievement for me."
Married to a Swedish, Karl Fredrik Skargard, (Karl SK), interestingly, Ada had always wanted to marry a white man. "And basically I keep saying 'I will marry a white guy, I will marry a white guy'… I always say I wanted to marry a white guy and that I was bent on. And I'm not going to say I didn't have good proposals from Nigerians….cool guys, medical doctors, lawyers (not people I dated) but basically family friends that we all grew up. So when I took home a white guy, it wasn't a big surprise'. And he was very relaxed, he was ready to go to my village in Anambra State, he did everything."
Ada shares some more fascinating tale about herself. "As a US citizen, because I grew up here, I didn't have job licenses and much job opportunities. Usually, I will go for holidays, come back and spend time with family. As I'm getting older, I realised I need to make more money and as a US citizen (…born in the States) why can't I go to America and work, make some more money while I'm studying before coming back to Nigeria? Why should I just stay three months…six months in America and playing around? So, I studied for my Real Estate license in the US which took me two years. I was studying for my masters. But I didn't set out to study for masters really."
Ironically, she had spent five years studying in US and back home to Nigeria before meeting her man in New York. "He is from Sweden, Caucasian was the name they gave my husband online and some people think he is from American because we met in New York. No, he is Swedish. That's the funny thing. I was having that conversation with somebody few days ago. But you know, when we say five years it's not like I stayed five years in the States and hadn't come back," she said, professing her love for the country in a light manner
"I love Naija. Every Christmas I was back. But I was saying it that how come I have been back and forth with the States all my life and from when I got to marriage age or had my eyes or ready to be married, how come nothing happened? And just when I went back for three months, to just go chill and then I met my husband how come? It's funny! To be honest, at the point I met my husband, I wasn't thinking much about marriage. That's when I signed up for my doctorate. I'm like 'okay sebi na book I don't need it but make we dey read na no be America I'm not paying international students fee.' I was hiking my mood to be back to the academic mood. So I was even a little bit off social media."
Since her marriage, Ada has been having a different feel she describes as nice. She acknowledges life after marriage is a different thing. "You know how we are in showbiz. You just cuddled up everybody, play with everybody, and feel free. Being married, you have to be more cautious."
The Nollywood actress opens up about her husband and where she lives at present. "I live in both places. I just came back from Sweden last month. He was on a business trip when I came to Nigeria. Sometimes, we come to Nigeria together. He loves Nigeria if you want to know more about him. He loves our food, eats pepper soup, everything our traditional food."≠≠≠The fifth child out of seven, growing up in Enugu under a strict parent denied her childhood fond memories. With a tinge of excitement lighting up her face as she explains. "No fond memories o. I can't remember any fond memory because my dad was very difficult. He's a very typical Nigerian dad, very strict. My father was not so educated. In fact he wasn't a graduate. My mum was educated; well-studied in America, teacher, banker and all of that.
"You know typical Igbo man that has money but did not go to school and went to marry a woman that went to school. And because he wasn't so educated, he believed so much in education and was very obsessed with education. So growing up, I remember him investing more and putting more effort and being more difficult with us on anything academic. Growing up wasn't really fun like having so much pleasure, no. My father was very rich, he had a lot of money but I never grew up as a rich kid. Maybe it's an Igbo man's thing."
Some of her movies like Irreplaceable and Secret Pain have been aired on South Africa's pay television platform Africa Magic and other television stations within and outside the country. Earlier in her career, in a quest to develop and encourage fresh talents, who didn't have the privilege to fulfill their dreams, Adaslim created a talent hunt programme titled "Adaslim Talent Bank" which sought to promote many young talented artistes  by providing platforms and exposure for them to explore their potentials and reach for their dreams.
The effort produced one of the most successful and sought-after actress in Nollywood, Tonto Dikeh, as she was cast for a huge supporting role being the debut of her movie career, Secret Pain 1&2 which was followed by Irreplaceable 1&2 and others, all from the stable of Adaslim Productions Ltd. Adaslim achieved a great media footprint early in her career; and once received accolades as the Most Creative Young Producer in Africa.
She studied Broadcasting at the University of Nigeria, Nsukka (UNN), Real Estate at New York Real Estate Institute (NYREI) Manhattan, New York and Communication Arts at the New York University. In a bid to adapt with the ever-changing global trends and boost her insight and competence in TV presenting, Ada Slim received an international training in TV presenting at the Los Angeles Film School, California, USA, before launching the flagship TV programme – Celebrities with Adaslim in 2010.
Elizabeth Osho
Growing up in England was Tough at First…I Looked Different, Spoke Differently, Acted Differently
Elizabeth Osho is Head Strategist/founder of So.Me Solutions, a Lagos-based communications firm. Elizabeth's biggest asset is her ability to quickly establish rapport with people from diverse backgrounds for long lasting relationships. The founder of So.Me Solutions and her team have helped numerous brands across different industries to portray their unique stories in a way that positively influences the opinions and behaviours of their target market. Elizabeth, fondly called Liz, was on the list of top 100 most inspiring women in Nigeria in 2017.  Liz talks to Azuka Ogujiuba about her formative years in England, factors that shaped her life and lots more
I
was relocated to England at age 8
I was born in Lagos, Nigeria, and relocated together with my father and siblings to England at the age of eight. I was in England for over 20 years and completed primary education at Hanford School for Girls in Dorset, England, and went on to another all-girls school – Sherborne School for Girls where I completed secondary education. I went to the University of Birmingham where I studied Classical Civilisation and Literature. I started my career as a recruiter; I worked at a company called Monarch Recruitment in Birmingham for a career that would stretch eight years in recruitment.  
My passion was never far away though, as in between, and on the sides, I was engaged as a television presenter, where I interviewed various Nigerian celebrities who visited England. I went to host "The Magazine Show" for Ben Television – UK for over three years. I relocated to Nigerian in 2012 where I joined Genevieve Magazine as their Online Manager. I helped to build and shape their digital platforms, and held the position for four years. In 2016, I set up So.Me Solutions.
Growing up in England was tough at first
Growing up in England was tough at first. You know everything was different. I was the only black girl in my primary school. I looked different, spoke differently and acted differently. It was a feat acclimatising, but I eventually got there. It took some time. I remember on my first day at school, I had short hair. My step-mother having taken the decision to cut off my hair saying I wouldn't be able to look after my afro hair during the harsh winters. I remember vividly one of the students asking if I was the kitchen boy. There they were, with long locks, and I just didn't fit in. I spent eight years at both primary and secondary school in Dorset (about a three hours' drive from London)
I do not remember life ever being a struggle
I was privileged, yes. I do not remember life ever being a struggle at the early stages of my life. Prior to the relocation to England, we had visited often; most summers were spent in England where a range of activities and summer schools were planned for us prior to arrival. I was indeed privileged to attend the schools that I did. I played a big part in the school's public speaking team, I did theatre. I learnt to play the piano, play the guitar and oboe. I was big in sports, I went horse riding, was on the athletics team, played netball hockey, and played Lacrosse at County level for my school.  But it's not like everything was handed to me on a plate as an adult. I've used the privilege to my advantage in later years and I've worked extremely hard to build, achieve and forge my own path/success in life. Absolutely, none of what I've been able to build (career wise) was handed to me. I worked hard for it all!
The opportunities I had in the past molded me
I believe in destinies, and that my path was already ordained. The opportunities I had in the past moulded me and allowed me to forge the path that I am now on. My life experiences are my principles and goals in life, without my background, my existence is baseless. I have experienced so much joy in my lifetime: new life, high moments, unique achievements, once-in-a-lifetime senarios, grand opportunities in business, giving back, spreading love and joy in my own unique way.
On the flip side, I have experienced pain and heartbreak, loss of friends and families, being misunderstood, estrangement and things not working out like I thought they would. My lists are not exhaustive, and I haven't gone into details about each particular experience, but these are all part of my background and like everyone else, they have helped to mold me and shaped my life. My goal is to continue to strive to live my best life!
My mother is an enigma, with a larger than life personality
My Father, Chief Simeone Olatunji Awoliyi was a property developer, a writer, with a way with words. During his life time, he would always tell us that he had read the bible twice, from the front page to the back – word for word. My mother Anthonia Omolola Odulana is an enigma, with a larger than life personality. She is my best friend and my biggest cheer leader. She attended University in England for law, but didn't quite finish, having met my father and got pregnant with me. I'm proud of her because she has been studying to complete the said degree in recent years. She is very smart and extremely good with numbers and business! The best gift I remember receiving as a child was a BMX bike. It was for my 10th birthday! I wanted it so badly!
My grandmother – Dr. Elizabeth Yewande Abimbola Awoliyi was the first female Doctor in West Africa, specialising in Gynaecology. She received an O.B.E from the Queen of England at the time. I was named after her, as I am also Elizabeth Yewande Abimbola Osho (nee Awoliyi).
The permanence of death is heart and gut-wrenching
I would say the most difficult thing that has ever happened to me is dealing with death. I was fortunate enough not to have lost those closest to me till recently in life. The permanence of death, knowing you will never see the person again in this lifetime is heart and gut-wrenching. I've been able to understand it because of Faith. I rest assured that I will meet my loved ones in the after life.
Every point where I've made my parents proud remains incredible
Every point where I've made my parents, especially my mother proud has been an incredible high point. Graduating from university and being able to finally fend for myself for the most part; getting my first television show. My mum isn't too soppy, so she would never explicitly say, but I just knew that she was very proud. I knew she was proud because she was always and still is ever so supportive. There was a time even my mum began to be recognised on the streets of London as I would share pictures of us so much online.  My wedding day was a proud moment, and I savoured it up, nothing was going to steal my joy! Setting up So.Me was a proud moment. The CNN feature was also a very proud moment.
I have very big dreams and I want to really live
I know its clique, but my biggest fear in life is failure. I have very big dreams, and I want to really live. I want to die empty because I've explored my talents and knocked many things off my bucket list. I believe I experienced all the sides of life, the good, the bad, and the ugly a lot earlier than many of my peers. This allowed me to be absolutely resolute on the things I want for myself, and I stand affirmed and unshaken with my goals in life. My biggest fears are to be held back from achieving them.
So proud of So.Me Solutions
I'm incredibly proud of what we've been able to build with So.Me.  We are a communications agency trusted by brands to influence opinions and behaviour. Our strong relationship with the media ensures we are able to communicate effectively in building, maintaining and managing the reputation of our clients. I still want to continue with my passion, which is TV presenting, interviewing and discussing varying topics. I also pray and desire to grow with my husband to old age and to bring up healthy, awesome and achieving children by the grace of God.
My life lessons
Life lessons!!! The biggest one is that people may not remember what you said, but they will always remember how you make them feel. Maya Angelou was spot on when she said this. Not all experiences will be positive, but strive not to make people feel belittled, and unworthy of anything. Another big life lesson of mine is that your talents will always make a way for you. You don't have to force anything, continue in your path and just be focused: the universe and God Almighty will always make a way for you.