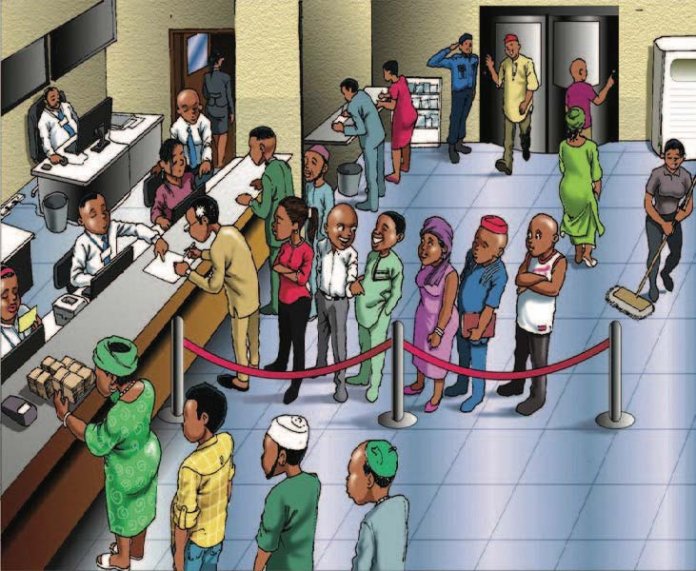 Nume Ekeghe writes on efforts towards promoting financial inclusion
The Governor of the Central Bank of Nigeria(CBN), Mr. Godwin Emefiele, at a recent financialliteracy stakeholders' conference, had expressed optimism that the central bank will achieve the 80 per cent financial inclusion target set by 2020. The CBN boss spoke at the stakeholders' conference held in Abuja with the theme: "Implementing financial literacy and consumer protection to advance financial inclusion in Nigeria."
The federal government had in 2012 launched the National Financial Inclusion Strategy aimed at reducing the number of eligible adult Nigerians that are excluded from the formal financial system from 46.3 per cent to 20 per cent by
the year 2020.
With less than two years to go, recent data released by Enhancing Financial Innovative
and Access (EFiNA) indicated that 36.6 million eligible Nigerian adults representing 36.8 per cent of Nigeria's population, still do not have access to financial services.
This development, according to Emefiele, underscores the need to work harder on the exclusion rate from this year.
To achieve the 2020 financial inclusion target, the CBN governor had unveiled four policy documents which were: the revised National
Financial Inclusion Strategy; the Financial Literacy Framework; the Consumer Protection Framework and the Consumer Education
Framework.
The revised document developed with the support of Bill and Melinda Gates Foundation was principally prepared for banks and other
financial institutions regulated by the CBN, but with extensive stakeholder consultation. It was the first of its kind, and it provides policy direction for the banking industry as well as serves as a guide for other sub-sectors of the financial system.
The performance of banks as the most important leg in the stakeholder map to achieve the financial inclusion target cannot be over
emphasised. Nigerian banks have been in the forefront supporting the central bank since 2012, jointly and individually, through various organs of mass communication.
The banks have also made available different credit and funding options to small scale entrepreneurs and business owners, operating in the informal sector, in order to bring them into mainstream financial system.
One area in which banks have made strides is in financial advocacy and literacy in which Promoting Financial Inclusion the general banking public and students are taught about rudiments of finance. The belief is that where you have knowledge of finance, it leads to empowerment thus helping to make the right financial choices.
In this aspect, Polaris Bank Limited, has been remarkable, strutting the length and breadth of Nigeria to promote financial inclusion.
The bank has also employed interactive financial literacy sessions as a platform to empower students with money management skills in schools across the country.
Giving an insight into the rationale behind the initiative, Managing Director/CEO of Polaris Bank, Mr. Tokunbo Abiru said; "This is one of our tactical approaches to entrench savings culture at an early age and ensuring an empowered life and a sustainable economy in line with CBN's financial inclusion mandate." "As a responsible corporate citizen, it behoves on us to do what is appropriate for
the betterment of individuals and the society at large," he added. Apart from the CEO, senior management and other categories of staff also take students through the rudiments of saving, budgeting, planning and preventing identity theft, among other things.
So far, the bank has organised interactive sessions on financial literacy in schools across seven states namely; Cross River, Akwa Ibom, Ebonyi, Zamfara, Oyo, Bauchi and Benue. The sessions were facilitated by 155 employees of the bank led by the Managing Director/CEO. At Offot Ukwa Secondary School, Calabar, Cross River State and four other schools in Akwa Ibom State namely; Uyo High School, Bright Future International School, Nigerian Christian Institute and Redemption Academy, the students took lessons on managing and saving money.
To underscore the importance of the initiative, Abiru taught the students ways to be thrifty and start saving for the future, urging them not to spend all monetary gifts they get buying things, but rather learn to keep a part of it
in the bank and watch it grow. In Ebonyi, the sessions with students held at Fountain of Knowledge International Schools, Jesus is Lord International School, Great Minds Academy International School, Success Impact
Academy and Our Lady Schools. In Zamfara State, students from Alhaq Academy, Gusau, SBMC Model School, Iman Global International Nursery/Primary School, Caliphate School and College of Education Staff School benefited. Students in Oyo State were not left out as
sessions held at Rosebud College, Valencia College, Seed of Life College, Ogunsanya Girls Science Academy and Frontliners Primary and
Secondary Schools. Overall, about 6,000 students have benefited from the training.
Speaking with the students of Uyo High School, Abiru emphasised the importance of thrift and imbibing the culture of saving for the future. He advised that they should endeavour to be frugal and do more of savings. "You are not too young to start saving. The time to start is now so that it can become a habit that will stand you in good stead in
the future.
"You also need to be financially literate to avoid making poor financial decisions and to curtail the development of poor financial
habits that can adversely affect you. "When visitors come to your house and give you money, don't spend it on snacks.
You should learn to save such monies," he counselled.
Explaining the bank's outreach to the schools, the Head, Sustainability and Consumer Protection, Polaris Bank, Bola Adesanoye, said
it was part of efforts of the bank to deepen financial literacy and inclusion, especially amongst students thus extending the frontiers of sustainability advocacy.
"For instance, some adults are not financially literate, and they have been living with the consequences of this. We shouldn't make the
same mistakes some of our parents made by failing to inculcate the habit of saving in our young ones from an early age.
"We want you to grow and become fully rounded adults with minimal financial issues, hence the decision by the bank to take on this responsibility of deepening financial literacy in you, our pupils," she said.
Aptly, it wasn't just about talk; students that attended the sessions especially those that gave correct answers to quiz questions
received educational gifts and cash incentives. "Happily, a sizeable number of the students joined the ranks of financially literate persons in the country at the end of the outreach."