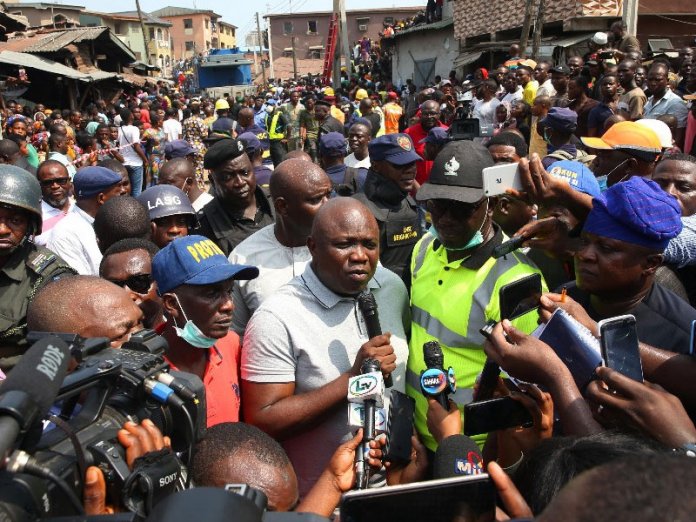 Chiemelie Ezeobi and Sunday Ehigiator who for three days covered the rescue operations at the collapsed three-storey building in Lagos, write that poor crowd control management, lack of willpower on part of government and lackadaisical attitude of landlords of the structurally-defective houses are to be blamed for the disaster 
What do you tell a mother who had just lost her 10-year-old son? How do you remain stoic as a man who lost his brilliant six-year-old son breaks down? How do you assuage the guilt of a couple who scrapped to gather their children's school fees only for them to end up dead in school? How do you look the families that recorded 20 casualties in the face and assure them that all will be well?
An impossible task you might say but these were the burning questions while talking to the bereaved parents of the school pupils and other families who died last week Wednesday, March 13, after a three-storey residential building located at Itafaji caved in and buried both the residents and some pupils of the primary school located at the pent house.
Almost a week after, the shock is yet to wear off for the affected families, expectedly so. They keep hoping against hope that they will wake up from the  nightmare. That was not to be so, as the government on Friday released the bodies of the 20 fatalities to the bereaved families, while medical practitioners battle against time to save those who are still fighting for their lives in the hospital.
The Collapse
When the sun rose that fateful day, the residents of Itafaji prepared for the day with no inkling of the impending danger at hand. As usual, they sent their kids to school while they went about their daily business. But that day, the outcome of that decision had a different ending; death, pains and tears unending.
By 10.am, disaster struck. The target was a three-storey residential building with a school; Ohen Primary School on its pent house. THISDAY checks had revealed that the school occupied the third floor while tenants occupied the second floor and block of shops made sales on the ground floor.
Prior to the disaster, some of the pupils were outside observing  their Physical Exercises (PE) in batches, while others were in the class waiting for their turn.
Suddenly, without giving any sign, the building caved in, burying both the pupils upstairs and the residents who were in their respective homes.
Thankfully, the first responders at the scene who  immediately rallied round initially rescued some of the pupils and rushed them to the General Hospital, Marina. The first day of the rescue operations, nine were confirmed dead and about 30 persons rescued. The second day which saw the rescue team reach ground zero, the death rate rose to 14 and the survivors at 40. However, present figures by the ministry of health put the fatality rate at 20. The rate was on the high side because the building had over 20 rooms and had about eight persons living in a room.
After confusion about the casualty and fatality rate, the state ministry of health were on Friday finally able to harmonise the figures. According to the  Commissioner for Health, Dr. Jide Idris, 20 corpses were brought to Lagos state mortuaries from the site, while 45 survivors  were received  and  were managed by  government Health facilities, notably Lagos Island General Hospital, Massey Street Children Hospital, Onikan Health Centre., Gbagada General Hospital, LASUTH, National Orthopedic Hospital, Igbobi and LUTH.
He said that as at Friday morning, 14 persons (10 children and four adults) are still receiving  medical attention at Lagos Island General Hospital for various levels of injury.  According to the Medical Director of Lagos Island General hospital, Dr Ismail Ganikale, more survivors  will still be discharged from this hospital to their families.
Causative Factors 
Preliminary investigation at the time of the collapse has pointed out some issues like old foundation, weak structure and a terrain that is prone to collapse.
But a thorough investigation afterwards had revealed that the cause of the collapse could be traced to the ongoing construction of a drainage around the old building, which they had just recently dug round the building few days ago and might have likely weakened the foundation.
Checks also revealed that the collapsed building wasn't the only with weak foundations and structurally deficit structures. A lot of houses had been marked by the Lagos State Building Control Agency (LASBCA), but they never got around to demolishing those marked until the incident happened.
Poor Crowd Control Management 
According to Wikipedia's definition of crowd control, "it is the act of controlling in order to prevent the outbreak of disorder." But for the umpteenth time, disasters of this magnitude again highlighted the nation's poor crowd control management, which is a crucial factor in any emergency. With each disaster, the underbelly of poor control management keeps being exposed. And with each disaster, a clarion call keeps being made about ensuring crash courses and enlightenment campaigns for security personnel's in handling large crowds. At the last count, many have carelessly lost their lives through poor crowd control in Nigeria.
It was no different at Itafaji. The crowd were triple of the emergency teams on ground. From every nook and cranny they trooped to the site, thus hampering rescue operation. For each person rescued, another died because of the lack of air. All in the guise of trying to help, they posed more danger to the victims.
Emergency services had to resort to pumping oxygen into the cracks to sustain those trapped. But did that send a message to the crowd to thin out? Certainly not, rather they kept swelling in their ranks.  Some were there to while others swirled to make away with whatever loot they could lay their hands on. Some simply pickpocketed rescue workers and others in the crowd.
Therefore, such incidents question the role of emergency management agencies in managing  such situations, because in cases of disaster, crowd management must take into account all the elements of planning, organising, directing and evaluating. Thus, experts posit that for such to work, considerable  emphasis, they noted, should be placed on continuous sensitisation campaigns.
The Bereaved
For Abdul-Fatai Ayo-Ola, who lost his six-year-old son, Abdul-Fawas Ayola, the pain is like a gaping wound. His decision to send him to the school was because of its sound educational system. Ayo-Ola did not just loose his son, he also lost three of his nephews in one fell swoop.  The pain he felt when his son was brought out dead will forever be etched in his heart.
Ayo-Ola is not alone in his pains, there are tons of others who suffered similar loss. Iya Idris, was one of such people. Her son Maleek Soetan Akanbi died in the collapsed building. Her loss is more painful given that her son would have been safe if she didn't send him back to school when he came home twice during the day.
More pathetic was the fact that he died on his 10th birthday. When Maleek woke up happy on that fateful day with all hopes to clock his 10th birthday, he had no inkling that death was around the corner.
Lamenting she said: "My son Maleek clocked 10 on the day of the incident. Few days before his birthday, he told me that he wants to give his teacher a gift on his birthday and also his classmates in school. And I assured him I will give him all he wants to take to school when the day comes. When he first went to school that  morning, he forgot the things I had bought for his birthday and what he was supposed to take to his teacher in school, so he returned back home for it.
"After taking that to school, he came back home again for the second time to pick another thing. I don't know what it was but I cautioned him to return to school as soon as he is done. After a while that I noticed that he didn't return home again, I left for shop in Idumota. I opened my store for business with the mindset that he was already in school. Then I got a call that his school had collapsed to the ground. That was when I immediately picked a bike to the school from my shop.
"On getting there, I met the situation on ground and those in charge of the ambulance told me to go and check for my son at the Marina General Hospital. So I went there with other parents with hopes that as they bringing them, we would  see our children alive. I saw some injured on the head and those with broken limbs that they used oxygen on to enable them breath. But when they brought my son, it was his corpse they brought together with corpses of children between ages one and two; those in the creche.
"My heart is heavy. He started the school from creche and was supposed to finish primary school in few months time. He was in primary six. The government has done me bad. Bad in the sense that when he was rescued out of the wreck alive, he was still breathing. But as at when they placed Maleek in the ambulance, there was no oxygen. They just left him in the ambulance without attending to him. He was still breathing. The government has done me bad and I hand them over to God. He died in the ambulance as they were moving him to the hospital."
Maria Adeyemo is the mother of the twins, Taiwo and Kehinde, who were both victims of the collapse. While the eldest of the twin-a boy-died in the hospital from injuries sustained, the youngest is still fighting for her life in the intensive care unit. Having lived in the building for just two years, they saw no indication that the building would collapse anytime soon.
She said, "we were blessed with twins-Taiwo and Kehinde Adeyemo and both attended the school located on the third floor of the building. Unfortunately, they were both involved in the accident and even though they were both rescued, we lost Taiwo shortly after. We burried him yesterday, while Kehinde is still receiving treatment at the hospital."
Also recounting their ordeal when the news filtered in she said: "Both their father (Sunday Adeyemo) and I had both left for work. I have a shop at Idumota and that's where I was when the  phonecall came in that our house had collapsed. I got there and two of them were rescued alive. I was so happy until one of them died. They were just seven years. Their father is so devastated. He has just been taken to one of his friends place so to change his clothes which he has had on since yesterday."
Blame Game
While the government was quick to blame the residents of the area for preventing the demolition of marked buildings in the area, which resulted to the collapse, the affected families beg to differ.
Governor Akinwumni Ambode, who visited the site on the day of the collapse, said most of the buildings were previously marked for demolition but the team met stiff resistance from the residents.
He said: "Most of the buildings in the area had been marked for demolition, but some property owners in the area defy such notices. Going forward, structural defective buildings would be demolished. The first observation is that this is an old building. The building is not technically a school, it is a residential building that was actually accommodating an illegal school so to speak on the second floor.
"Like we have said, we have been carrying out a lot of integrity tests on the buildings in this neighborhood and as you can see, some of them have been marked for demolition but we get resistance from landlords. But we must continue to save lives and we would intensify our efforts to see that those have failed our integrity test, we would ensure that they are quickly evacuated and we bring the structures down."
Ambode had also said that a full scale investigation would be carried out immediately rescue operations are concluded, vowing that those found culpable would be severely dealt with in accordance with the relevant laws.
In response to  the government's accusations, Ayo-Ola had this to say: "This is a big tragedy in Lagos Island but the main blame is on government because the school is very sound academically. Let's  forget about the government tagging it as an illegal school of the environment it was located in. They are very okay, academically."
Debunking claims that the affected building had been marked thrice for demolition he said: "I can show you the picture of the building, it wasn't marked at all. It was painted. Except it was marked before the building was renovated because my son just spent two years in the school, but I wasn't aware before I took my son there."
Another area he faulted the government agencies that carried out rescue operations was the lack of adequate oxygen to go round the trapped children.
He said: "I must note here that most of the rescue team came without oxygen; which is very very bad. This is part of the reason why I blamed the government. They should have realised that based on the fact that most of the victims are children, they won't have much strength as an adult and would need oxygen to aid their survival at the point of rescue before they get to hospital."
Damning Allegations 
Iya Idris on her own part made some grievous allegations about the said marked buildings. She alleged that the agency in charge just arbitrarily marked buildings without conducting any tests.
She said: "In the days of Governor Babatunde Fashola, there used to be machine that they place on houses to test their fitness and if the houses isn't safe, it is immediately demolished. But it all stopped during Ambode's time. Ambode stopped it. And instead what they do now is just come and mark any house without testing it and force the owners to settle them with bribe.
"And even when they genuinely mark an unsafe house, the owner goes and settle them with money and they give him permission for renovation. This is bad. Government must look into this before we all die in this area. We tenants are innocent but we suffer the brunt most because the landlords don't live in the house but collect rent as high as N500,000 for a room self-contain here in Lagos Island. Now my son is dead and I blame his death on government. As you saw when Ambode came here, they threw pure water at him and didn't want to see him. This is because the people are angry with what they are doing to us here. Now my son is no more."
Adeyemo also debunked claims that their building was marked for demolition and they refused to move. According to her, "we had no idea because the house was just renovated when we moved in. The landlord and agents never mentioned to us anything of such."
Medicine After Death 
While many were quick to lay blame on the footsteps of the developer for poor workmanship and the landlord of the building who allegedly ignored the evacuation order, LASBCA's culpability cannot  be ignored, having marked the building for demolition but failed to do it.
Lending his voice to the call for the demolition of  structurally deficit buildings, the National Leader of All Progressives Congress (APC), Bola Tinubu, had also urged the Lagos State Government to fast-track the demolition. Tinubu who said the children who died in Wednesday's building collapse on Lagos Island did not deserve to die the way they did, described the incident as tragic.
In a condolence message made available by his Media Adviser, Mr Tunde Rahman, the chairman commiserated with the families of the victims, praying that God would comfort them and grant repose of the souls of the young ones.
Tinubu said, "If after the collapsed building had been found to be weak and marked for demolition and everybody had done what was required of them, perhaps this terrible incident would have been averted. On its part, the government must fast-track demolition arrangements once a building is discovered to be weak and deserving of being pulled down to save lives."
Thus last Friday, two days after the collapse occurred, LASBCA finally did the needful, a move many have termed medicine after death. But the agency would rather shift the blame. According to them, they had already secured approval to demolish over 80 cases of defective buildings in Lagos Island alone prior to the collapse.
THISDAY had earlier quoted LASBCA acting General Manager, Mr. Omotayo Fakolujo, who said that they are going to remove the 80 buildings in phases and systematically so that life will be comfortable for Lagosians. Thus on Friday, they mowed down three structures in Lagos Island at Smith street, Massy, and Palm Jot.
 As for other ones that are still occupied, Fakolujo said that they are going to evict the occupants of those structures because their lives are more important, adding that the Lagos Island, they have marked over 150 buildings for demolition.
He said: "We have removed over 30 in the last one year. Scientifically, these buildings must be subjected to test through Lagos State Materials Testing and it agencies and that is how we identify them so that we sure that nobody is malicious about bringing down these structures.
 "In the past three years, you can see that no structure had gone down in Lagos, because of Materials Testing that is doing its due diligence and LASBCA's certification department is also building with them, but for these old structures we need to do foundation probing for over 70 per cent of these old structures that are over 75 years old to ensure that they are still structurally sound."
He said their demolition action was not prompted by the collapse of the school building at Ita-Faji area of Lagos Island. "We have started with over 30 removed in the last one year. We just secured the clearance from the court because most of the prolonged marking that we are not bringing structures down in Lagos is not that we don't have the will to do it but what we are trying to avoid is litigation from the court.
The lessons in this recent disaster is inherent and that is the fact that the government needs to be proactive instead of reactive. The delay in demolishing already marked structurally deficit houses came at a great cost; 20 lives including school pupils whose quest for learning led to their end.