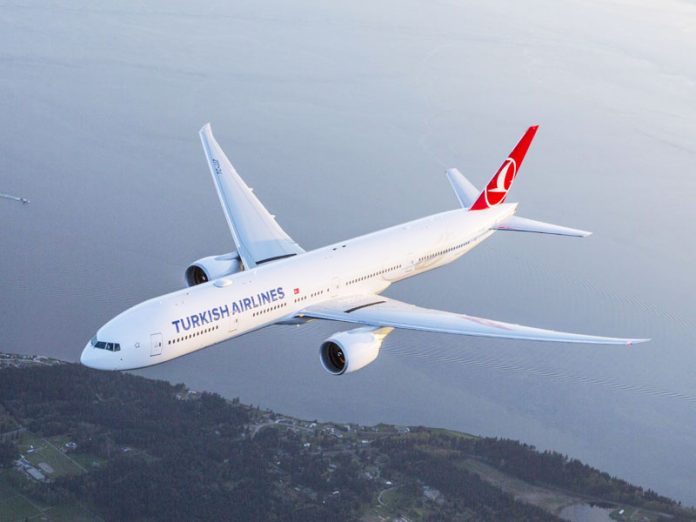 Nigeria's airfreight subsector is set for a major boost as Peacock Aviation and Allied Services Limited teams up with Turkish Airlines Cargo to deliver efficient and on time cargo services.
The strategic partnership with the Turkish mega carrier follows yearlong negotiations, which culminated in the appointment of Peacock Aviation as its Sole Appointed Cargo Sales Agent (SACSA) across the Nigerian territory.
The deal guarantees shippers in Nigeria the lowest possible air freight rates on a wide range of general and special goods on the airline's vast global route network.
Peacock Aviation is a part of the Peacock Group, Nigeria's leading travel and logistics management business, with a presence in 10 Nigerian commercial cities and the UK. It holds licenses from IATA, NCAA, Nigerian Customs, NPA and NIPOST as Cargo Agent and Agents of Foreign Airlines while Turkish Airlines is the fourth largest carrier in the world by destinations.
The partnership was unveiled March 12 during a luncheon at Spice Route Restaurant on Victoria Island, Lagos by representatives of Peacock Aviation, Turkish Airlines and Wema Bank Plc, which are the financial partners in the deal.
Peacock Aviation was led by its Executive Chairman, S. P. Phillips while the Turkish Airlines team was led by the General Manager, Lagos, Mr. YunusOzbek, who was accompanied by the Cargo Manager, Mr. SevketBattal. Wema Bank Plc was represented by Mr. WoleAjimisinmi, its Regional Director.
Announcing the partnership, Phillips said: "This partnership was made in Heaven specifically with our customers in mind; we want to enhance their airfreight experience in a consistent and sustainable way. Peacock Aviation and Turkish Airlines bring immense strategic values to the table: we have a large customer base and a strong presence across Nigeria while Turkish Airlines boasts a vast global route network and high technology equipment, and huge capacity all sizes, nature and types of cargo worldwide.  This deal is a win-win for everyone, particularly our customers."
Turkish Airlines General Manager, Lagos Mr. Yunus  Ozbek, said: "We have a longstanding relationship with Peacock, which is a very professional company. That's very important for us because Turkish Airlines is the flag carrier of Turkish Republic, with 40 per cent  owned by the Turkish government for the Turkish people while 50 per cent is in the open market for everybody."
We also have a lot of investors from all over the world. That gives us a lot of responsibilities."
Ozbek said Peacock was a natural choice in the airfreight partnership because the airline needed a dependable company that would meet its aspirations and status as a global player in the industry.
He said: "We believe Peacock is the best here, they're real professionals. They have been in the industry for a long time and they know what they're doing. We have a lot of responsibilities for our investors and customers; we want to do the best for them and we can only achieve that by working with the best in Nigeria."
But Peacock is looking at the wider implications of the partnership for the Nigerian economy.
 Phillips explained: "The timing of this deal is perfect: the Nigerian Government is diversifying the economy into agriculture, and is actively promoting export. It means our customers with perishable and nonperishable goods now have access to over 300 destinations at competitive rates and with incomparable ease."
Peacock is also looking to translate its winning formula in travel and logistics into another level of success in the airfreight venture.
Again Aare Phillips: "At Peacock Group, we are already a leader in the travel and logistics business. Together with Turkish Airlines, we will not only sustain but strengthen that position as we launch our airfreight services portfolio. We are making a strategic contribution to drive export and help boost growth, especially at a time the country is diversifying the economy. Partnering with Turkish Airlines gives us an edge to achieve that goal by moving your cargo from Nigeria to any part of the world with ease."
Turkish Airlines has noticed the trend. Thanks to its partnership with Peacock, it has repositioned to take full advantage of the emerging export boom.
Cargo Manager, Battal explained: "There's harsh competition in the Nigerian market. In the past, there were no vegetable products but these days, I see vegetable products from Nigeria to London and other countries. It is a good development. I see kola nuts, which are good products going to the Middle East – Bahrain, Kuwait and others. There's very high volume of business to Shanghai, Hong Kong and Hanoi. These are the basic things in the Nigerian market, particularly from Lagos. We need a reliable partner to access these markets. That's why we chose Peacock "
The Turkish carrier has the capacity, and is throwing all of it behind Peacock. Again, Battal: "Turkish Airlines specializes in all-size cargo. For that purpose, we have three freighters with 60-tons capacity each coming in weekly. We also have a wide body jet coming into Lagos daily. Aircraft engine parts are our specialty. We are in touch with shippers and they are all happy to start working with Peacock Aviation, which understands the passenger as well as the cargo side of the business."
Peacock said its offerings cover a wide array of airfreight such as dangerous and non-dangerous goods, aircraft parts and spares, perishable and nonperishable, and general air cargo such as textile, retail or consumer gods, machinery and hardware, electronics. It said customers could also ship special air cargo such as temperature-controlled, heavy weight, over dimensional freight, high value and fragile goods.
Aare Phillips assured customers that every single cargo under the company's care would be "delicately handled by our well trained and experienced professionals." He said Peacock's presence in the nation's six geopolitical zones and the United Kingdom would ensure seamless movement of consignments.
The logistics firm currently operates from its offices in Lagos Island, Lagos Mainland, Murtala Mohammed International Airport, Ibadan, Onitsha, Port Harcourt, Aba, Abuja, Kano, and Benin City.