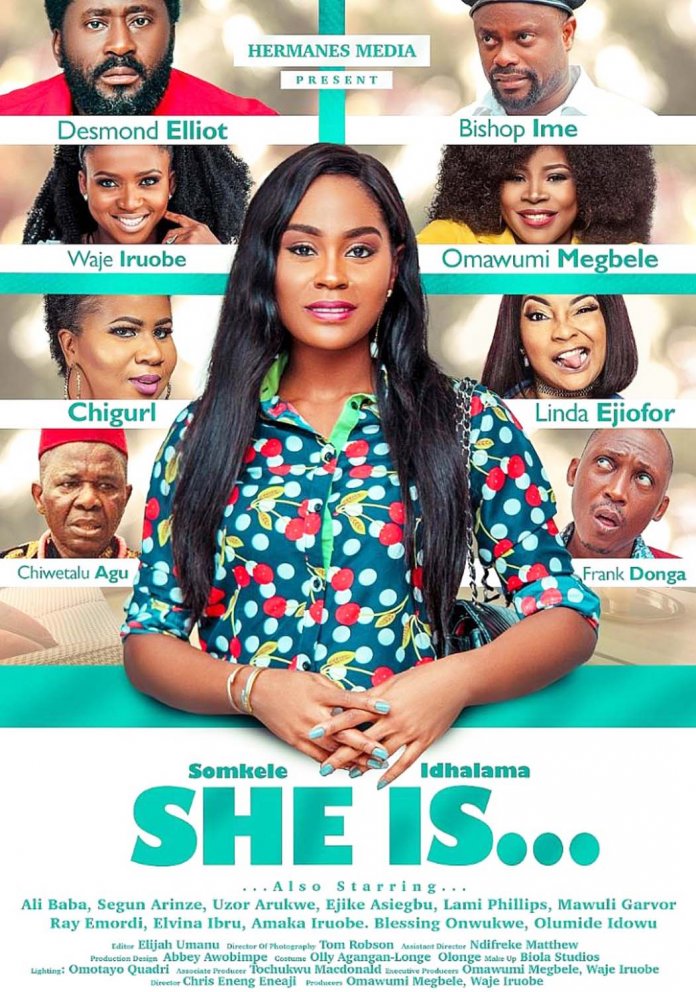 With 'She is', a collaborative effort of Aituaje Iruobe (Waje) and Omawumi Megbele (Omawumi), enters a new set of female producers in Nollywood, writes Ferdinand Ekechukwu
"When you meet someone who you share the same tastes and reasons with you, then you have every reason to be close to the person. We have both been through a lot together and she has proved to be a true friend time and again. Apart from music, we do a lot of things together and we understand each other so well. She is someone I can call a true friend. I actually have a media company that is into movies, and it is in partnership with her. You will hear more about it as time goes by." 
That was Aituaje Iruobe on her relationship and partnership with co-songstress, Omawumi Megbele. Waje as you know her and her best friend Omawumi are like Siamese twins. Both artistes in their own rights are successful in their music careers.
Their success ranges beyond their vocal range put in three octaves. The strength of their success has inspired them to great heights.  Drawn from the influence, the vocal powerhouses and best friends Omawumi and Waje came together to establish Hermanes Media, a company set up to provide services such as film/TV production, TV adverts, content creation and curation services, brand event activation, and creative digital marketing.
The best friends, singers-songwriters cum actresses and now co-founders of a media company have released their first full body of work, a movie titled 'She is'. The movie was on Sunday, March 10, 2019, premiered at the IMAX FilmHouse Cinema, Lekki Lagos and will be showing at various cinemas across the country. As expected, the premiere was attended by a number of A-list celebrities, friends, and fans who all came out to support the singers.
The red carpet was lit with all the glitz and glamour as celebrities came looking their best for the movie night in their 'Modern Day Fairytale' dress code. Prior to the start of the movie premiere proper, Waje and Omawumi thrilled the guests to what they know how to do best with a very beautiful performance. This was one of the biggest highlights of the night. 
The movie, which is the first collaboration of the singers as movie producers, was directed by Chris Eneng Enaji. Starring actress Somkele Idhalama in the lead role and seasoned Nollywood actors Segun Arinze and Desmond Elliot. She is, a captivating drama with noticeable comedic elements tells the story of Frances Anyaoku (Somkele Idhalama), a beautiful Nigerian woman in her late 30s and a successful realtor. 
Frances' life changes when she's told by her gynecologist that she has a fibroid which adversely affects her ability to conceive and is presented with various options that aren't favorable to her. Undeterred, Frances takes her destiny into her own hands as she tries to rewrite her script through the emotions and resulting decisions – some funny and others devastating.
Also featuring Waje, Omawumi, Chiwetalu Agu, Frank Donga, Mawuli Gavor, Bishop Okon, Ali Baba and a host of others, 'She is' portrays the story of the average Nigerian woman who after attaining a level of success career-wise and has also come of age, is expected to get married. Prior to the new project, both business partners have had stints in Nollywood.
Waje made an acting debut in the movie Tunnel, a 2014 Nigerian movie directed by Stanlee Ohikhuare which tells the story of a young pastor's life, his journey and his fulfillments. On her part, Omawumi had played a minor role in the 2009 edition of the V-Monolugues, a play that reflects the negative issues affecting women in Nigeria. She also starred in the musical play "Olurombi."
She had a minor role in the movie Inale, a Hollywood/Nollywood Bongos-Ikwe Production. In 2011, she starred in Funke Akindele's Return of Jenifa, and also starred in Yvonne Nelson's House of Gold (2013). Currently in Nollywood, women comprise just a minute percentage of directors and producers working in the industry. With 'She is', a collaborative effort of both talented music stars enters a new set of female producers in the industry.
A list of some of the most inspiring female directors and producers in Nollywood shows more than their numbers can tell. Nevertheless, their contributions are no less significant as the industry boasts quite a number of women who have continued to push, set records, inspire, and tell refreshing kinds of stories.
In the same vein, 'She is' tackles a number of personal and societal issues women have to deal with in today's world and cuts across all ages. Today's woman is constantly switching roles, resilient and fragile yet the strength and vigor she possesses cannot be denied. There are sad realities of her existence and health is the major topic in this movie but reading in between the lines of the script and looking deep into the lesson of the storyteller.
She is thrown into the depth of society's pressure and what it expects of her like being married before a certain age, staying successful, having kids and loved by everyone. Noting their years of experience and success in navigating the media world, the women at the birth of their new venture had noted that they want to tell their stories of hard work, consistency and collaboration while navigating the media industry.