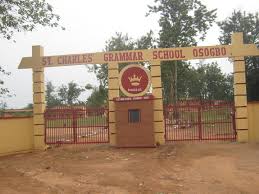 By Sunday Ehigiator
The old students of St. Charles Grammar School-Oshogbo 1978/1979 set, a.k.a. 'Stanza 789', has pledged to commence renovation of the dilapidated structures of their Alma mater.
Chairman of the 1978/1979 set, Mr. Olufemi Olusola, during a press conference in Lagos said educational facilities contribute to academic achievement in the school system.
He said, "Infrastructural facilities are the physical and special provisions made to enhance teaching and learning in schools. The importance, need and relevance of physical resources towards the success of every educational programme can never be over-emphasised.
"The availability of adequate school buildings, classrooms, chairs desk and other facilities are necessary for the attainment of educational objectives. Educational facilities are major factors contributing to academic achievement in the school system. These include the school building, classrooms, furniture, libraries, laboratories, recreational equipment, apparatus and other instructional materials.
"It is necessary that efforts should be made to renovate the dilapidated school buildings in the country as experience has shown that bad educational system and structure would inherently lead to the bad academic performance of students in national examinations, encourage truancy, immoral conducts and behaviours."
According to him, "Today in Nigeria, few if any, of the public schools, can't boast of good infrastructure. Most of the public schools are full of decay infrastructure.
"In Nigeria, there seems to be no culture of facilities maintenance. Once a school building or other physical structure has been commissioned, every other thing about the structure is usually  forgotten."
Thus, it is not unusual to find that most schools built over several decades ago have had no renovation, even when it was obvious that such structures have dilapidated or become obsolete," he lamented.
In an analysis of the results of the West African School certificate examinations (WASSCE), the Assistant Registrar, West African Examination Council, Mr. Collins Uduh revealed that the candidates who obtained credit passes in at least five subjects including English Language and Mathematics within 2005 to 2009.
"The above distressing statistics capture the fears of parents, governments and employers of labour about the enormity of the problem at hand. Though the situation has not always been this bad, things got progressively worse when societal values began to be eroded by crass materialism, corruption, bad leadership and abdication of responsibility by political jobbers, posing as political leaders. More worrisome is the virtual neglect of the educational sector by all the stakeholders."
Olusola added that "in time past, we have sponsored the WASCE of final year students, but the efforts most times have gone down the drain because the majority of the recipients were not serious academically. The scholarship would only be offered to outstanding indigent students. Some of the students who are academically qualified to further their education, most times fall short because of poverty. This would be an opportunity for them as well.
"Stanza 789 Old Boys Association have earmarked a Sum of N15 million for the projects and also other activities that would take place like awarding scholarships and payment of WASCE fees. We appeal to associates, family members and people of goodwill for support in cash and kind as the case may be. The project embarked upon is a capital project and not a recurrent project. Our hopes are that the project would be ready by May when we would be celebrating our anniversary and class reunion."