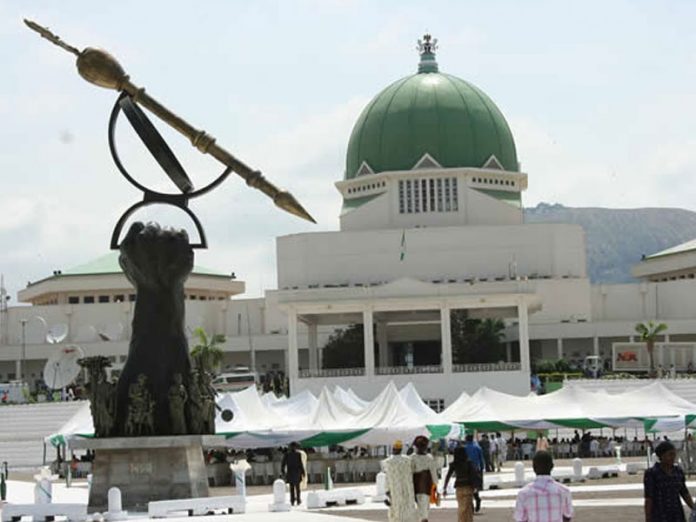 Deji Elumoye in Abuja
The National Assembly, which adjourned plenary on Tuesday, February 26, will reconvene today but may suspend sitting immediately due to the death of a member of House of Representatives.
The Senate and the House of Representatives, which will reconvene by 10 a.m after the governorship election break, are expected to adjourn immediately till next legislative day as a mark of respect for the late member of the House of Representatives, Hon.Temitope Olatoye.
Olatoye, representing Lagelu/Akinyele Federal Constitutency in the House, was killed in Ibadan in the violence that characterised last Saturday's gubernatorial and House of Assembly elections in Oyo State.
The suspension of plenary which will come in form of motion to be moved by the Senate Leader, Senator Ahmad Lawan and properly seconded while the House Leader, Hon. Femi Gbajabiamila , will move similar motion on the floor of the House.
The two chambers will then adjourn to the next legislative day which is tomorrow to consider pressing legislative matters before the federal legislators.
At the Senate, two major bills namely the National Minimum Wage Bill and the 2019 Appropriation Bill that were scheduled for discussion will wait till tomorrow for discussion by the senators.
The Senate President, Dr. Bukola Saraki, had at the last Senate sitting on February 26 mandated the eight-man senate ad-hoc committee on national minimum wage headed by Senate Chief Whip, Senator Sola Adeyeye, up till today to get its report ready.
The report which THISDAY learnt is recommending N30,000 as new minimum wage will now be debated by senators at plenary tomorrow.
It is expected that the Senate will at tomorrow's plenary pass the national minimum wage bill after it might have passed the Third Reading.
The House had on January 29 passed N30,000 as national minimum wage and N5,000 higher than the N25,000 proposed in the bill sent to the national assembly by President Muhammadu Buhari.
The Senate will also at tomorrow's plenary commence debate on the 2019 Appropriation Bill presented before the National Assembly on December 19, 2018 by President Buhari.
Almost three months after the 2019 budget proposal by the presidency the Senate never listed the matter on its Order Paper; whereas the House had commenced deliberations on the appropriation bill.
Sources told THISDAY that the Chairman of the Senate committee on Appropriation, Senator Danjuma Goje, is expected tomorrow to formally present the appropriation bill before the Senate for senators to deliberate upon.
The bill, which may pass First Reading tomorrow before being referred to committee stage, where ministers and heads of ministerial departments will be expected to defend the 2019 budget estimates of their Ministries, Departments and Agencies (MDA).