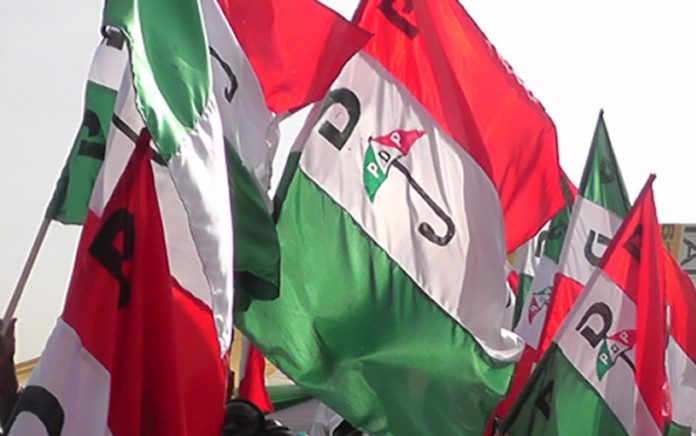 By John Shiklam in Kaduna
The Peoples Democratic Party (PDP) in Kaduna State has raised the alarm over alleged manipulation of the governorship and House of Assembly election results in the state.
Addressing a news conference yesterday in Kaduna, the state Chairman of the party, Mr. Felix Hassan Hyet alleged that the results were being doctored at the Government House Kaduna.
Of the governorship result announced in 11 out of the 23 Local Government Areas of the state, the APC won in seven with a total of 359,757 votes while the PDP won in four Local Government Areas, with a total of 309, 330 votes.
Results in 12 council areas were yet to be announced at the time of this report.
Hyet alleged that the elections in Kaduna  were marred by intimidation by security agencies, vote buying, ballot box snatching, ballot box stuffing and laying of siege on Kagarko and Sanga LGAs by security agencies to favour the ruling All Progressives Congress (APC).
Hyet said: "There was public vote buying in Zaria LGA by government officials, snatching of ballot boxes in Chikun LGA.
"The worst case was in Birnin Gwari where there was no voting. Ballot boxes were snatched and returned the next day, stuffed with results. Kagarko and Sanga LGAs are currently under siege by security agencies in an effort to change the results in favour of the ruling party.
"Results were forcibly changed in Rigasa, Igabi LGA. The EO (Electoral Officers) are summoned to Government House to present the results to the governor for him to see and approve before authorising it. We have our results with our agents.
"Based on all these irregularities, we would not accept any doctored results that are announced by INEC because we have the original results from our agents on ground.
"INEC should be the umpire that everybody expects them to be. The will of the people have been pushed to the background by the activities of security agencies.
"Our people should remain calm; we would not accept any adulterated result from INEC.
 If anything comes out contrary to the mandate of the people we would not take it".
Samuel Aruwan, spokesman of the Governor Nasir el-Rufai and the APC campaign organisation in the state, could not be reached for his reaction on the allegations as his telephone was not connecting