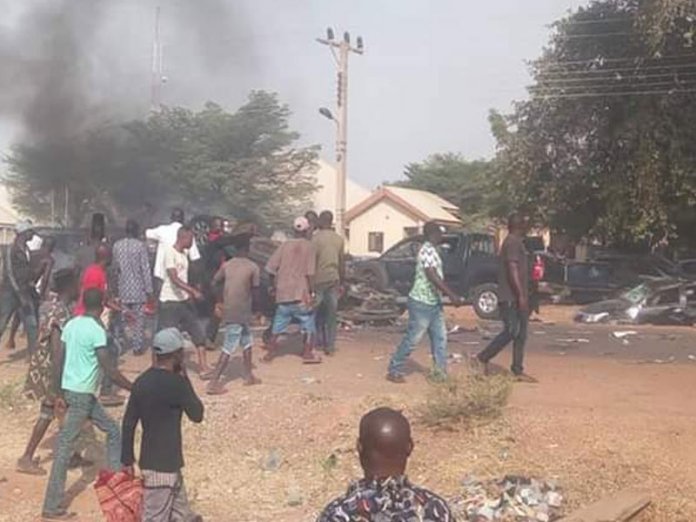 Destroys six gun trucks, recover arms, ammunition
Kingsley Nwezeh in Abuja
With air strikes and attacks from ground troops, the Multinational Joint Task Force (MNJTF) weekend decimated 56 terrorists in different operations in continuation of Operation Yancin Tafki,  which was launched last month.
Chief Military Public Information Officer, MNJTF, Colonel Timothy Antigha said in a statement yesterday that troops  comprising air and land components from Chad, Cameroon, Niger Republic and Nigeria engaged terrorists operating along the Kamadougou River, between Niger and Nigeria, who attacked troops location in Gueskerou, about 30 kilometres from Diffa in Niger Republic.
He said in the first attack, troops  killed  27 terrorists, destroyed six  gun trucks and captured several equipment, arms and ammunition.
According to him, a few terrorists, who escaped the fire-fight, ran towards Gashigar in Nigerian territory while troops followed in hot pursuit.
Antigha added that in the second confrontation with terrorist group, Boko Haram,  around Abadam, in the general area of Mallam Fatori, the troops killed 23 insurgents and recovered  several arms and ammunition.
The captured arms and ammunition include three gun trucks, having destroyed another four gun trucks.
The multinational task force also recovered 47 AK 47 rifles, three General Purpose Machine Guns (GPMG), five motocycles, three hand genades among others while one terrorist was captured alive.
"It would be recalled that about ten days ago, MNJTF troops also struck Boko Haram terrorists in Dorou in Niger Republic, neutralising many of them in the process. The MNJTF is therefore determined to intensify subsidiary operations such as raids, ambushes and fighting patrols among others until the last strong hold of Boko Haram in the Lake Chad Basin is neutralised", a statement  issued in N'jamena, Chad,"Antigha, said.
In a related development, troops of the 122 Task Force Battalion located in Ngwom Community in Borno State, weekend, killed six terrorists when the military base was attacked by terrorist group, Boko Haram.
The insurgents attacked the troops in four gun trucks mounted on anti-aircraft guns, prompting a fire-fight  that lasted for hours.
Similarly, troops deployed in Gulak engaged another set of terrorists in Kubu Village
while responding to a distress call.
In the fierce encounter that ensued in Ngwom, the terrorists were outgunned, leading to the death of five of the insurgents while others escaped with gunshot wounds.
The troops recovered two  trucks mounted with anti-aircraft guns, two rocket-propelled grenades and five AK 47 rifles.
The fierce encounter in Kubu Village of Shani Local Government Area of the state  also led to the death of one terrorist and the recovery of one AK 47 rifle.
According to a statement by the army, the Acting General Officer Commanding (GOC) 7 Division Nigerian Army and Commander Sector 1, Operation Lafiya Dole, Brigadier General Abdulmalik Bulama Biu, has commended the troops.
 "He conveyed the Chief of Army Staff Lieutenant General Tukur Yusuf Buratai's commendation and  continued support in the war against terrorism and insurgency. He urged them to maintain the momentum at all times," the statement added.
Meanwhile, the Adamawa State Emergency Management Agency (ADSEMA) has stated that two suspected Boko Haram suicide bombers were killed yewsterday after a botched attack on Gulak, headquarters of Madagali LGA in the state.
The Executive Secretary of the agency, Dr. Muhammed Suleiman, disclosed this in an interview with News Agency of Nigeria (NAN) in Yola yesterday.
Suleiman said three suspected bombers had targeted the Seminary Church in Gulak for attack, but the Improvised Explosive Device (IED) on them exploded midway killing two, while the third ran into the bush.
"We received a report that three suspected Boko Haram members targeted Seminary Church in Gulak for attack around 8:30 a.m., yesterday.
"Two of them detonated their IEDs and turned into pieces while the third one ran into the bush," Sulaiman said.
He said their remains had been buried.
He said no other person was killed or injured during the attack, adding that only a small girl was hit by the debris and she is still alive.
When contacted, spokesperson, of the state Police Command, SP Othman Abubakar, confirmed the attack.