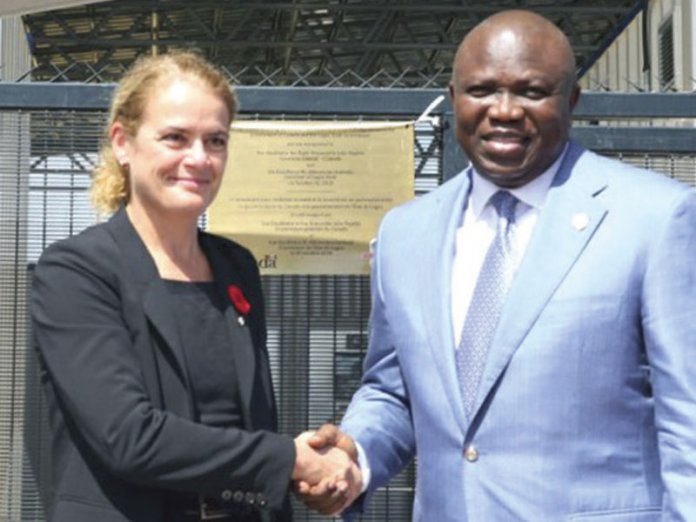 Charles Ajunwa writes that the donation of $3.25 million worth of medical laboratory equipment to Lagos State by the Canadian government will boost healthcare in the state
While Lagos State is referred to as the economic hub of Nigeria with over 22 million residents, stakeholders believe its huge population size could either be a blessing or a challenge.
First, the huge population portends more economic opportunities for both the government and the people. On the other hand, experts fear that in situations of infectious outbreaks, it may pose a bit of a challenge to curtailing it due to the population.
This argument has somewhat been punctured with the speedy containment of the 2014 Ebola outbreak where all hands were on deck until the outbreak was finally contained. This therefore gave the notion that the state is ready to tackle disease outbreaks irrespective of the nature of the threat.
To reinforce this, the Canadian government decided to support the state in ensuring it is fortified against any form of infectious disease outbreaks that night be of concern, hence its desire to donate biomedical facility worth $3.25 million to the state government. It has also, on a number of occasions donated or supported various healthcare interventions in the state with the establishment of bio-banks and training of professionals.
One of such laboratories is located within the premises of Mainland Hospital, Yaba, which was designed to ensure effective management of outbreak of infectious diseases with special focus on containment and strengthening of capacity to prevent, detect and respond to all manner of threats.
Sharing his thoughts, Governor Akinwumni Ambode lauded the Canadian government for donating the bio safety laboratory worth $3.25million (about N951.3million) to the state government, saying that the gesture deserved to be commended.
Speaking at Epe while receiving the High Commissioner of Canada to Nigeria, Mr Christopher Thornley on a courtesy visit, the governor also commended the Canadian government for partnering the state government in area of capacity building especially after the historic victory against Ebola outbreak in the state in 2014.
He said: "On behalf of the people of Lagos State, we like to say a big thank you to the Canadian government for being a very good partner to the course of Lagos State. People might not know but we need to say this clearly. Even though we came out of the Ebola crisis, ever since that success story, the Canadian government has decided to partner Lagos State to donate to us a new laboratory that deals with bio safety and issues that relate to bio healthcare.
"As we speak, in another few weeks, the Canadian government will be shipping in equipment for the laboratory at the cost of over $3.25m Canadian dollar.
"That laboratory will be situated at the General Hospital in Mainland and that is part of the capacity building that the Canadian government is implementing to partner with us and we are very appreciative of this."
While expressing optimism that the renewed partnership would be of mutual benefits to Nigeria and Canada, Ambode expressed his readiness to partner with the Canadian government in key areas such as health, transport, investment and Public Private Partnership (PPP), among others,
According to him, "we also know that there are whole lot of issues in the health sector and the Canadian government is willing to build capacity for us and with this partnership that we are having, this will extend to other areas and there are so much expertise that we can actually take away from Canada in terms of capacity building for PPP projects and also things that relate to transport.
"So, we believe strongly that with this visit, the partnership between us will be more strengthened and also will be of mutual benefits to Canada and Nigeria by way of investment in Lagos."
He assured that the state government would continue to scale up issues relating to judicial and security sector reforms to ensure safety of lives and property and create an enabling environment for investors to come into Lagos which ultimately would bring about the growth of the economy.
Besides, Ambode said his administration would take advantage of the Canadian Trade Office situated in Lagos to scale up investment opportunities and ensure easier business relationship.
Earlier, Thornley, who was accompanied by the Deputy High Commissioner in charge of Canadian Embassy in Lagos, Mr James Chrisoff, said the visit was to strengthen relationship between the Canadian government and Lagos State, especially to start dialogue on how to work together in key areas. He also commended Ambode for the solid infrastructures put in place in Epe and other parts of Lagos.