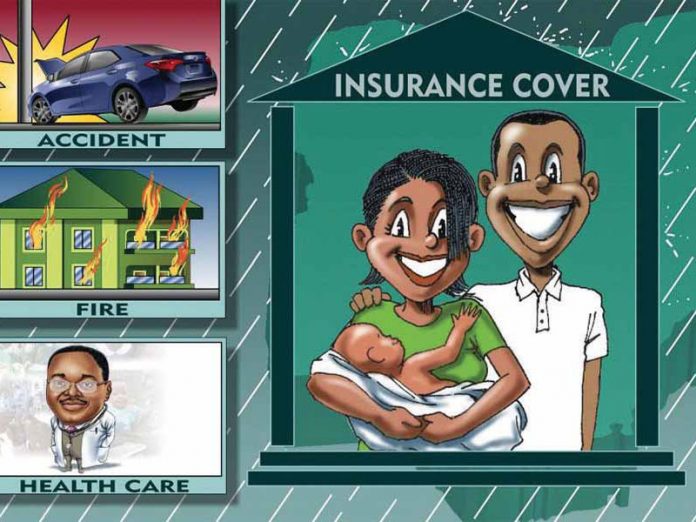 In this report, Ebere Nwoji takes a look at the relevance of Life insurance in Nigeria, which is still at its developmental stage in the country
Life insurance according to insurance experts unarguably holds the future of the growth of the insurance sector in Nigeria, due to its nature as a line of business that affects every body.
But despite its importance, not many Nigerians have life insurance, not even the group life insurance which aside its compulsory status as stipulated by the Pension Reform Act 2004 (amended in 2014), through which different work groups can on their own gather together to secure group life or group accident insurance policy for their members.
Findings showed that one of the factors that scare members of the insuring public away from life policies is the fact that most of the policies mature at death. That is, after a policy holder has spent his or her money to pay the premium for several years, such a person hardly benefits anything while alive, rather the dependents benefit from it.
With this in mind, many people shun life insurance policies.
Another factor that scares people away from purchasing life policy is lack of trust in the insurance operators, that at the maturity of the policy, the insured would get exactly the benefit stipulated in the policy statement.
The common story is that the insured often complain that at the maturity of the policy, the insurance agents that comes to collect his premium would stop coming even before the policy matures either because he or she got another job, which may affect contact with the customer.
Owing to these concerns, some insurers have pledged to redefine life insurance policies by pushing to the market policies that give benefits to the insured while he or she is still existing.
Indeed, some have developed policies that beside benefitting from the policy while still alive, it would help improve their financial well-being especially at during times of economic difficulties.
The insurers have also digitalised their operations in such a way that insurance buyers need not pay any cash to insurance agents. With this, insurers have to a reasonable extent built confidence in that the insured now deals with the company directly and once his or her policy matures, with the available documents he has, he would go directly to the company for claims.
Efforts to Grow Life Insurance
Custodian Life Insurance Limited recently came up with one of such life policies that offer the insured the opportunity of benefiting from the policy while still alive. The company launched a product that would enable the insured conveniently seek for adequate medical treatment at home or abroad without turning himself and his household into public beggars in order to get funds for medical treatment.
The product is known as 'Custodian Critical Illness Insurance Policy (CCIP).'
The policy is for those suffering from critical and terminal illnesses such as stroke, cancer, heart attack and Renal failures.
The company, which described the product as a stand-alone policy said launching the product was informed by the present economic, health difficulties in Nigeria to assist millions of Nigerians who are victims of the above illnesses address their health challenges.
Currently, the trend in Nigeria is to see people affected by these terminal illnesses write to philanthropists, governments at all levels, civil society and humanitarian organisations through agents or non-governmental organisations, for financial assistance to seek for medical attention outside Nigeria.
The amount often sought for by these unfortunate victims range from N10 million to N20 million. But sad enough, many of them give up the ghost before the money is made available.
For instance, veteran comic-actor Moses Olaiya, better known as Baba Sala, reportedly suffered a stroke and sought help from Nigerians.
Another veteran actor, Sadiq Daba, was also ill went through same situation.
But the Managing Director Custodian Life Insurance, Larry Ademeso said: "Custodian Life Insurance, in developing the critical illness insurance policy said: "We are well aware of the current economic, health difficulties in our country today for us at custodian insurance, tough times are for us to get tougher and not use the current climate as a negative block but rather an energising spring-board for new ideas.
"It is on the back of this that we have launched the critical illness insurance cover which we are confident will assist millions of Nigerians to address their health challenges."
He quoted the World Health Organisation as saying that Nigeria has the highest cancer rate in Africa, while there is increasing precedence of stroke, just as about 10 per cent of adult Nigerian population is liable to have heart attack.
Similarly, Anchor Insurance Company Limited, recently launched its life insurance product tagged: 'Anchor Loss of Employment Insurance scheme,' popularly refers to as AnchorLoEIS.
The Chairman, Board of Directors, Anchor Insurance Company Limited, Dr. Elijah Akpan, revealed that in launching the product, the company was focused on addressing issues for families all across Nigeria.
"We have an opportunity and a responsibility to innovate and create an insurance scheme to protect employees' employment income and in doing so to provide a measure of financial stability to millions of Nigerians who may be laid off in the most difficult economic time.
"We have the opportunity and the responsibility as an organisation to provide peace of mind to families who may be left in the ditch without a job and nowhere else to turn to," he stated.
Also Wapic Insurance Plc, recently championed the course of encouraging Nigerians to cultivate good savings culture with its array of SMART Products targeted at not only giving competitive interest rate to consumers but also offering free life insurance cover to savers.
The Managing Director of Wapic Life Insurance, Yinka Adekoya, , explained how savings through the company's various smart products work .
"So here's how it works; you want to save towards a short term goal, you choose the plan that works for you depending on your need. An account is then created for you and you save monthly. Now for the period of your plan you have life insurance cover!"
Speaking in a chat with THISDAY, former General Manager Marketing, African Alliance Insurance Plc, Mr Ikechukwu Emezi, said among all classes of insurance business, life insurance has the brightest future. He, however, said operators are only scratching the surface in terms of product marketing and distribution among Nigerians.
Emezi, who said there are lots of potential in life insurance business in Nigeria, noted that the level of awareness has remained low. This, according to him, accounts for the underdeveloped nature of the business.
He said if Nigerians are aware of what insurance can do in their day to day living and what they stand to gain, they would include insurance expenses especially life insurance in their daily budget.
"Awareness, is a major problem, if people are aware of what insurance can do, and the succor insurance can give to them, they will not hesitate to buy insurance.
"There are three things involved when one takes life insurance policy: one is either the person dies and the sum assured is given to the beneficiaries, or the policy matures and he takes his benefit.
"People should be educated not to look at life insurance from the perspective of death. The benefit can come at maturity, there is also investment element in it as well as financial protection.
"If you take a life insurance cover and you live up to maturity period, it will be given to you to carry on with your life. So is not only on death, is one product that offers three things in one, there is investment element, there is financial protection opportunity ", he explained.
Given the importance of life insurance and the level of ignorance on the policy, the Executive Director Leadway Assurance, Adetola Adegbayi, recently charged Nigerians to subscribe to what she described as Term Life Assurance products advising that people should form the habit of buying what they cannot save, through term assurance policy.'
Adegbayi stressed that with little premium, people can buy this unique product that has a minimum sum assured of N1 million, urging the middle and low income earners to see the package as an opportunity to enrich their lives.
Using Leadway Term Assurance product, as an example, she said, the plan is a simple but flexible life insurance product that pays out a lump sum if death occurs during the period of cover.
"You choose the amount of that lump sum and the length of cover, and your premium is calculated accordingly," she said.
For an additional sum, she said, intending subscriber can extend cover to apply to critical illnesses or becomes permanently disabled because of an accident anywhere in the world.
"You can choose to pay your premiums in a way that suits you best: you can pay a single one-off premium, or you can pay monthly, quarterly, half-yearly or annually. The premiums you pay qualifies for tax relief and can therefore, reduce your tax bill," she noted.
According to her, a policyholder has the right to cancel his or her policy and receive a full refund of premiums paid if done within 30 days of receipt of the full policy documentation.
Encouraging Nigerians to key into Term Life Insurance policy, Adegbayi said," "Take a little money to buy a N10 to N15 million. If anything should happen, your family has about N10 Million to fall back to. It takes care of school fees of your children and other financial needs. May be, you can buy N10 Million with N50,000 premium, for example.", she advised.