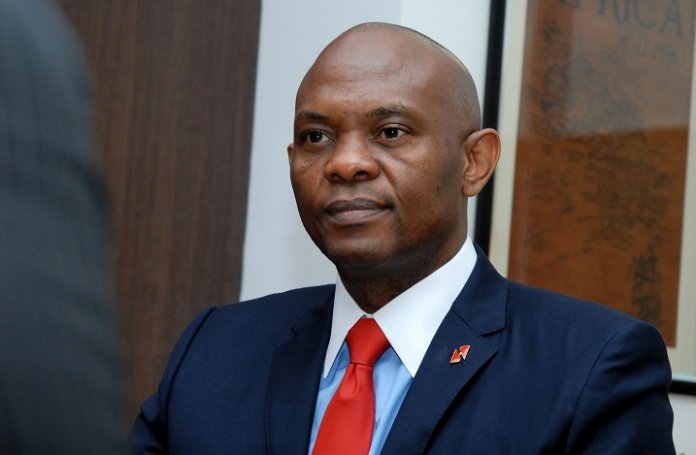 The United Bank for Africa Group is not only progressively increasing its geographic footprint, but is positioning itself to continue to tap from the swelling flow of trade between Africa and other continents, writes Obinna Chima
For banks in Africa, expanding within the continent provides little or no proof against economic shocks that are associated with commodity prices.
This is because almost all countries in the continent are majorly producers of primary products.
This is one of the reasons why financial institutions with eyes on the future, such as the United Bank for Africa Group (UBA) have continued to expand into advanced markets.
For the UBA Group, three weeks after it launched its operations in Mali, the financial institution formally opened its United Kingdom subsidiary in London last weekend.
At the opening ceremony, the bank hosted a high level gathering of business and public sector leaders, where the new subsidiary was introduced to business leaders across Europe and Africa, with a commitment from the UBA Group of its readiness to galvanise trade and commerce between Europe and Africa.
The launch was sequel to the authorisation of the Prudential Regulation Authority(PRA) and the Financial Conduct Authority(FCA) for UBA UK Limited to carry out full scale wholesale banking across the United Kingdom.
With the unveiling of the UK subsidiary, the UBA Group further consolidated its position as the first and only Sub-Saharan African financial institution with banking operations in both the UK and the United States, Facilitating trade and capital flows between Africa and the world.
Deepening Africa-Europe Relations
Commenting on the feat, the Group Chairman, UBA, Mr. Tony Elumelu, said the Group was excited by the authorisation of the relevant regulatory authorities in the United Kingdom for UBA to upgrade its operation and further fulfil its aspiration of deepening trade and investments flows between Africa and Europe.
Elumelu explained: "We call UBA, Africa's global bank and we operate in 20 African countries and it is the only African bank that operates and is regulated in the United States of America.
"So, a natural and logical place to berth next is London. So, we are happy to have launched UBA in the UK, to support wholesale banking transactions.
"There is so much historically that happened between Nigeria and the UK, between Africa and the UK and between Africa and Europe. So, we want to take advantage of our spread across Africa, serving over 70 million customers, to link them up with the rest of the world through our operation in the New York, and now, through our operation in London.
"So, as New York is going to sleep, London is waking up and as London is going to sleep, New York is waking up, all to make sure that we continue to support our customers across the globe."
According to him, the enhancement the UBA Group's business in the UK was timely and mutually beneficial for African and European corporates as well as both governments.
He noted that with the British and other European governments seeking new and improved measures to grow trade relations with Africa, the UBA Group was enthusiastic about its positioning and capabilities in supporting corporates and government institutions to fulfil the lofty aspirations, which he stressed was pertinent for sustainable growth of both continents.
Elumelu, said he was also pleased that UBA was living up to its mantra of being Africa's global bank and positioning itself to support investors in key financial centres across the world.
"One thing that is important to us is helping to link our customers to the financial centers of the world.
London, traditionally is the financial center of the world. To us, we are not just another Nigerian bank operating in the UK, we are Africa's global bank. It is important that we support our customers.
"To us at UBA, our service aligns with our customers' aspirations and customers' needs to grow. As SMEs need to do well, they want to succeed, they want to do their business and pass it in the right direction. We are here to support.
"UBA is about Africa's heritage because in everything we do, it is about how to further help develop our countries. African countries, both francophone, Anglophone and african countries, whatever, we support the business, we support infrastructure, SMEs and now, we are setting up a global financial movement, so, UBA UK is not just a bank," he added.
He pointed out the drive behind the expansion, "is to follow our customers and to continue to support our customers and Africans."
"We have been in New York for quite some years. let's see what happens in /china, and other European countries, let's see what happens in other African countries.
"We want to help our customers. We want to be around our customers, and we need to help support our customers," he added.
Also, the Group Managing Director/CEO, Mr. Kennedy Uzoka, said the UBA Group is the most efficient gateway for European corporates and institutions to access Africa, given the bank's expansive network across most impact markets on the continent and its deep knowledge of the business terrains in Africa.
According to him, "Simultaneously, we are serving the trade and capital needs of our African customers, who are seeking exposure to the European markets.
"With the upgrade of UBA UK Limited, we are excited to deepen our support to existing customers whilst also providing the leverage for new customers to effectively fulfil their cross-border transactions through UBA Group's network."
According to Uzoka, with its current UK licence, "the bank is like a bird that has been in a cage been disposed."
"Our market is defined. We have had customers we have been dealing with for decades and we know them very well. As we say, we know Africa very well like the palm of our hands.
"With this expanded licence, those restrictions, frictions that Africa had must be eliminated, so UBA has come to change the landscape right now."
On his part, the CEO, UBA UK, Mr. Patrick Gutmann, said the financial institution is now on a stronger footing, saying the authorisation of the PRA and FCA for an enhanced business model affords the Group the opportunity to swell its capital and balance sheet as well as the broader UBA Group's network across Africa.
"We welcome our existing and new customers to this new world of borderless opportunities, as we creatively serve our customers in meeting their international transaction needs," he added.
The President of the Republic of Mali, Mr Ibrahim Aboubacar Keita, recently praised the UBA Group for its vision to continue to expand the bank's footprint to Mali. He also commended the tenacity and commitment of UBA and its Group Chairman to the development of the continent, calling African financial institutions to follow the developmental philosophy of the bank and its chairman in growing infrastructure, deepening financial inclusion and being catalysts for eradicating poverty in Africa.
Winning Tip for Global Banks
For banks wishing to expand into markets across the globe, Deloitte, one of the leading professional services has listed strategy, execution, talent, regulation and capital as factors that must be consider.
For instance, Deloitte which stated this in a report, pointed out that in the area of strategy, the financial institution must understand what market segment it wants to pursue, adding that banks with its eyes on global expansion need to be focused, yet agile enough to adjust their strategies to access and capitalise on anticipated opportunities.
After defining a clear strategy for international expansion, in terms of execution, banks should focus on how they intend to implement their plans.
In the area of infrastructure, it pointed out that having adequate technology and business system remains an essential ingredient for international expansion.
The Deloitte report described talent as one of the most critical resources that such banks would need when expanding into developed countries.
"The war of talent that many organisations face in their home markets is even fiercer abroad, where companies for many industries – not just financial services – are vying for people who understand the culture, language and business practices," it added.
It also stressed the need to understand the nuances of local regulatory regimes, which is described as another key element for effective international expansion.
Finally, having adequate capital to operate is another condition for international expansion.