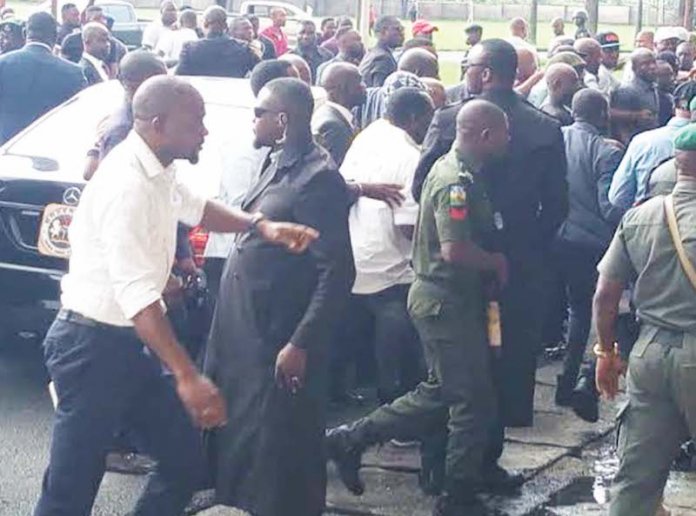 Okon Bassey in Uyo
The Senior Special Assistant (SSA) to the Akwa Ibom State Governor on Security, Capt. Iniobong Ekong (rtd), is yet to gain freedom 11 days after his abduction.
Ekong was abducted on February 22, by yet-to-be-known group thereby raising tension that it could be political as no ransom has been placed for his release.
Family members and friends alleged that Ekong was invited by the GOC 6 Division, Major General Jamil Sarham, to Port Harcourt, Rivers State, before the presidential and National Assembly elections based on petition against him, but since then, his whereabouts is still unknown.
Worried by the development, his family and friends have therefore appealed to President Muhamadu Buhari to intervene in the matter.
The senior brother of Ekong, Mr. Abasiekong Ekong, told journalists yesterday that the call for the president to mediate became necessary as family members are worried.
The brother said the last they heard from him was on the evening of February 22, and that all efforts to trace his whereabouts had proved abortive, hence the decision to call on the authorities concerned to come to the aid of the family by releasing their brothers who is their bread winner.
"Ekong has been missing since the evening of February 22, 2019, and the last contact we had with him was a phone call to his office by 5p.m. on that day. We are yet to receive a formal arrest warrant of legal summons concerning this matter.
"This gentleman has a wife and children, aged parents and siblings, friends and business associates who are highly distressed about his whereabouts since February 22, 2019. That is 11 days since he has been last seen.
"We also call on President Buhari, the acting Inspector General of Police (IG), Mohammed Adamu; the Chief of Army Staff, Lt. General Tukur Yusuf Burutai; the Nigerian Bar Association (NBA), Amnesty International, Human Rights Monitor and the international community to assist in upholding the fundamental human rights of our son, brother and friend, Captain Iniobong Ekong (rtd)."
Ekong, the brother said, is a law-abiding citizen and had always performed his assigned responsibility creditabily within the ambits of the law and on the principle of equity and justice for the progress of the state.
Human Rights group in the state has also petitioned Buratai and the Nigerian Army headquarters in Abuja over the abduction.
The Akwa Ibom State Human Rights Community Coordinator, Mr. Clifford Thomas, regretted that 11 days after, Ekong is still held in captivity by his abductors.
According to him, "To hold him beyond the statutorily required time is not only a violation of the constitution and other extant laws, it makes Nigeria an offending state actor in the international community having agreed to uphold, respect and implement these international human rights instruments."