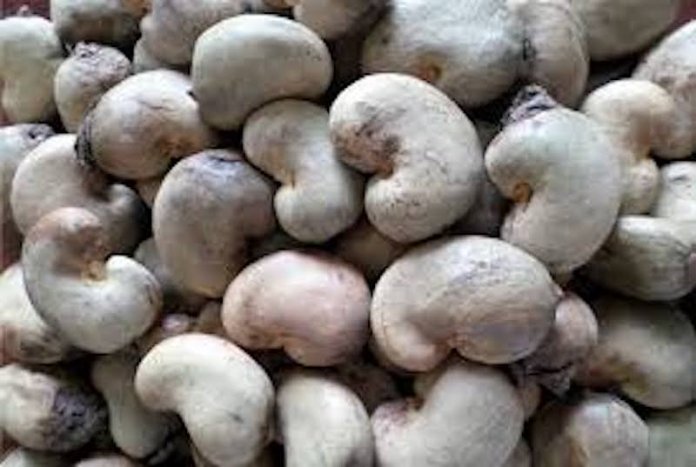 Jonathan Eze writes on the need to increase export of cashew kernels.
Nigeria currently exports raw cashew nuts to Vietnam, China and India. There are opportunities for increasing the export of cashew kernels to consumer markets like Germany and Netherlands.
Estimated potential might increase further when the processing of cashew increases in Nigeria.
This is against the backdrop of a recent revelation by the National Cashew Association of Nigeria, NCAN, that Nigeria earned N144.7 billion ($402 million) from the export of raw cashew nuts to Vietnam and other countries last year.
The spokesperson for the association, Mr. Sotonye Anga, said in an interview recently that 220,000 tonnes of raw cashew nuts were exported to Vietnam, India and China between February and December.
"The latest development has been interesting because just last week, we got Nigeria's final export position from Vietnam, which was quite revealing. Out of the 220,000 tonnes of exported raw cashew nuts, Vietnam accounted for 181,753 tonnes, while 38,247 tonnes went to India, China and other countries in the last 11 months," he said.
Anga, stressed that cashew is a consistent foreign exchange earner and an international crop with huge economic value.
"These figures have shown the potential of the cashew and with increased crop growing; we have seen a reverse trend of urban to rural migration. Many urban dwellers are now going back to villages to take up farming and a lot more jobs have been created," he added.
However, the challenge as pointed out by stakeholders is that Nigerian cashew processors are operating below 30 per cent of their combined installed capacity. This was attributed to high cost of procuring raw cashew nuts, among other factors.
A cashew trader, Wilberforce Kanu, said that the cost of cashew nuts now sells at between N170,000 to N200,000 per tonne, and that it has added to the problem of job loss and closing down of some processing plants.
According to him, "In the 2015 cashew season alone, many cashew processors in Nigeria operated below 30 per cent of a combined installed capacity of 48,000 tonnes due to high cost of raw nuts.
"Selling at between N170,000 and N200,000 per tonne, high cost of doing business and zero incentive, all these put together led to massive job losses and cashew factory shutdowns in the country. Cashew processors, at the moment, are endangered and there is need to protect and strengthen them," He said.
It is believed that the sub-sector needs government's support that would encourage competitiveness among the cashew processors.
According to him, "Strengthening cashew processing in Nigeria is a step that will contribute to the nation's economic development. We call on the Nigerian Government to approve an investment incentive of $260 per tonne for cashew processing in Nigeria. We need to understand that cashew farmers need guaranteed markets to remain in business.
"Whenever a cashew processor processes a metric tonne of raw cashew, it translates to over 200 jobs. In Nigeria, more than 70 per cent of workers in cashew processing facilities are women, who are trained to de-shell the cashew. They also delicately peel and pack the cashew kernels and get them ready for the export markets," he said.
Nigeria, presently has seven cashew processing plants. These are Olam, Foodpro, Esteema Diamond, Abod success, KD Foods, ACET Nigeria and Valency and they are members of the NCAN.
It was also reported that the association had privately invested N12 billion into cashew processing in Kwara, Kaduna, Ogun and Lagos, but the cashew processors were selling to the same markets, hence the need for government to protect cashew processors.
"There is need for the government to protect cashew processors and make them better competitors globally," Anga was quoted to have said, adding that 'irrespective of where you process your cashew from, we all sell under the same price regime and to the same markets in United Kingdom, Netherlands and Germany."
"United States of America, Canada, Australia, United Arab Emirate, Saudi Arabia, Japan, and most recently China. So, the countries that offer the best investment incentives, to cashew processors, rule in the cashew world," he said.
A former Managing Director of NEXIM, Mr. Robert Orya, had said the Nigerian cashew industry has continued to operate below its potential, explaining that the industry is challenged with a myriad of problems ranging from old/low yielding plantations to inadequate processing facilities and low level of access to finance.
He said the inability of Nigerian local producers to process their products meant that about 95 per cent of the annual production was exported as raw commodities with attendant low prices and inability of producers and exporters to receive commensurate reward for their efforts.
This, according to the former NEXIM boss has economy-wide implications for increased export revenue, development of the industry and increased job creation in line with the transformation agenda of the federal government.
To address some of these challenges, he said the African Cashew Alliance, and the USAID West African Trade Hub launched the Nigerian Cashew Cluster Finance Scheme in 2012, through which NEXIM disbursed about N150 million under the pilot scheme and cumulatively disbursed about N1billion to the sub-sector.
He challenged the stakeholders to present quality applications, supported by good business plans and off-take arrangements to facilitate increased funding intervention to the sector, especially towards enhancing value-added processing, reiterating commitment to grow and develop the cashew industry.
On his part, the Executive Director, Nigerian Export Promotion Council (NEPC), Mr. Olusegun Awolowo, said Nigeria lost more than $100 billion of national export revenues between 2015 to 2017 due to the crash in oil prices.
"The recent recession was due to a $30 to $40 billion annual deficits in Nigeria's foreign exchange earnings.
"Nigeria must replace these lost export revenues in order to sustain economic growth, stabilise the naira, sustain federal and state government income and boost employment,'' he said.
Awolowo, said the council's goal was to grow Nigeria's non-oil export revenues from N1.5 trillion per annum to N5 trillion within three to four years and more than N10 trillion over the longer term.
He said the council was collaborating with Centre for the Development of Imports (CBI) to stimulate Small and Medium Enterprises (SMEs) in low and middle-income countries to gain more access to the European market.
Awolowo said CBI Export Competency Development Programme (ECD) was also to offer SMEs the capacity to add value to their products to attract higher margins and ability for their supplies to be more in line with European demand.
According to him, adding value to raw materials does not only create higher margins but also generate more income and jobs.
He said that the collaboration started in 2016 after identifying three sectors – cocoa, cashew and sesame – as those with immense potential in the European market.