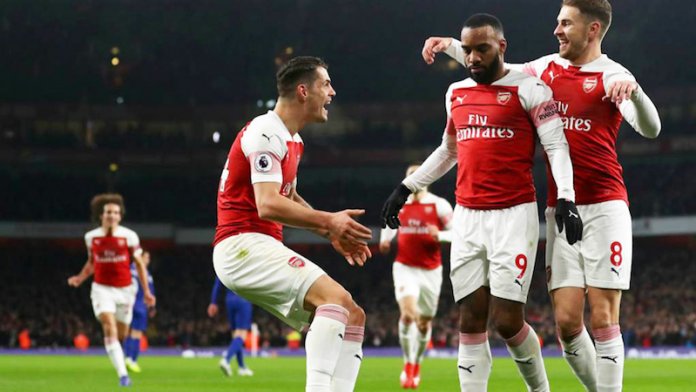 With two successive loses in less than one week, Tottenham Hotspurs' Premier League dream is now in ruin, therefore, hanging on to top-four position is now the ambition. That is why today's encounter between the two North London rivals will be more than a derby as Arsenal are not prepared to lose their grip on the fourth position
Wembley plays host to the 198th North London derby today lunchtime as Tottenham Hotspur take on Arsenal looking to arrest an alarming dip in form.
Back-to-back defeats have threatened to drag Spurs into the top-four race, and their fiercest rivals could inflict more misery on them by moving to within one point with victory at the national stadium.
Following last weekend's shock defeat to Burnley, Spurs boss Mauricio Pochettino claimed that it could be up to 10 years before his team are able to win the Premier League title.
If that seems like a lengthy wait the past seven days will have felt almost as long, with Tottenham following that Burnley loss up with a 2-0 defeat at the hands of London rivals Chelsea on Wednesday.
The only team Spurs dislike more than Chelsea is Arsenal, so the prospect of suffering three league defeats in a row for the first time since November 2012 at the hands of the Gunners – who were also responsible for the third defeat in that run, incidentally – will be a difficult one for them to stomach.
It is more than just their pride which could be damaged this weekend, though, as Spurs are in serious danger of being dragged into a tightly-contested top-four battle when just seven days ago they were regarded as outsiders for the title.
Victory over Burnley would have closed the gap to just two points at the top of the table, but Pochettino's side are now nine adrift of the leaders and very much looking over their shoulders with only five points separating them from in-form Manchester United in fifth.
Arsenal, United and Chelsea all gained three points on Tottenham in midweek and the big matches keep on coming for the Lilywhites with Borussia Dortmund to follow this derby next Tuesday.
Pochettino can afford to push that match to the back of his mind for now, although if the current slump continues beyond the visit of Arsenal then even their 3-0 first-leg lead in that Champions League last-16 tie may not be safe.
One of the more surprising elements of Tottenham's two recent defeats is that they have both come away from home, where Spurs had the best record in Europe's top five leagues beforehand. The return to Wembley may be a welcome one, then, despite having still picked up more points on the road than they have in front of their own fans.
Tottenham have won their last four home games across all competitions, and another victory on Saturday would see them become the first team to beat Arsenal on three separate occasions at Wembley.
Pochettino has also never lost a home Premier League game against the Gunners, and the pattern of home advantage proving important in this fixture continues in that only one of the last 16 league meetings have been won by the away team.
There are still plenty of signs pointing towards a Tottenham win, then, but they may not be relishing the visit of their closest enemies quite as much as they were just a week or so ago.
Unai Emery took over at Arsenal with top-four football as the number one objective, and as things stand he is on course to achieve it.
There have been questions throughout the campaign, but realistically breaking into those Champions League places in his first season at the helm was a big ask considering they finished sixth last season and needed to adapt to the end of the Arsene Wenger era.
The fact that Arsenal could move to within one point of a Spurs side that just a week ago were regarded as title challengers should be applauded, then, but there is plenty more work to be done.
Manchester United's form under Ole Gunnar Solskjaer has left little margin for error in the top-four race, while Chelsea's victory over Spurs has the feel of a turning point for the Blues and manager Maurizio Sarri too.
It is in Arsenal's hands at the moment, though, and it is up to them to keep clear of their rivals in a potentially season-defining run of fixtures which sees the Gunners face United in their next league game after this derby. 
Arsenal are certainly arriving into that decisive domestic double-header in the sort of form they require, having won five of their last six Premier League games – as many as they had managed in their previous 13.
It is a different story when solely looking at away form, though; Arsenal have lost three of their last four outings on the road across all competitions and their only two away wins since November have come against League One Blackpool and Premier League basement club Huddersfield Town.
Victory at Wembley would see Emery's side record back-to-back away league wins for the first time since October, but they have lost as many top-flight games as they have won on their travels so far this term and would sit eighth in the table if only away form counted.
Arsenal fans will be hoping that the old cliche of the formbook going out of the window for such matches is true to a certain extent this weekend, then, although they will also feel that this is a good time to be playing a stuttering Spurs off the back of their joint-biggest win under Emery.
Emery believes the opportunity to inch close to within a point of Tottenham Hotspur in the Premier League will be a "big motivation" for his players ahead of today's north London derby.