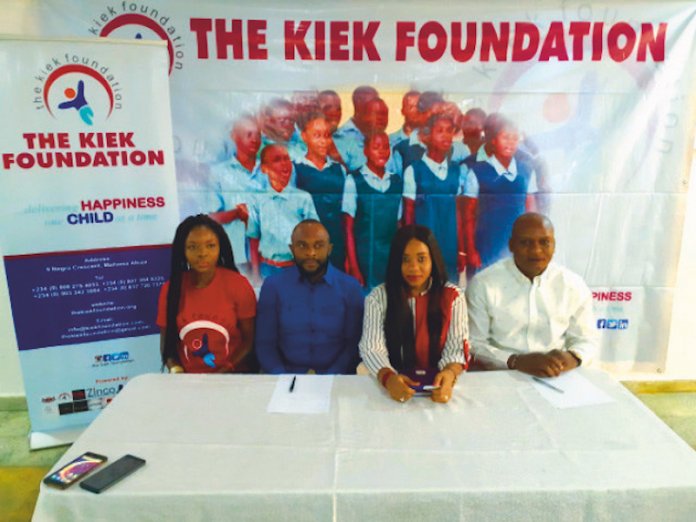 The Chief Executive Officer and Founder of the KIEK Foundation, a Non-Government Organisation (NGO), Mrs Ebele Iyiegbu, has revealed that her foundation is set to send 1,000 children who have been out of school for one reason or the other, back to school to encourage the less privileged children get education.
Iyiegbu, a mother of four and legal practitioner, who said this recently during a briefing with newsmen in Abuja, noted that the aim of the NGO was to improve the lives of the less privileged in the society. She explained that the initiative was birthed out of passion for the less privileged children and the need to become all that God has called them to become.
"Our aim and project for this year is to put 1,000 out of school students back to school in the Northern, Southern Eastern and Western part of the country.
"From January to date, we have enrolled about 20 children on our scholarship schemes and have also paid the 2019 WAEC fees for 10 candidates and 2019 JAMB fees for 20 candidates. We are hoping to do more for the less privileged children in the year 2019,'' she said.
Oyiegbu who said the four months old NGO has achieved a lot in carrying out its mandate to ensure better lives for the less privileged in the society, added, "so far, we have done a lot in terms of outreaches; we have been able to touch the lives of over 2000 children.
"The first one was a compassionate outreach where we visited the IDP camps in Durumi and gave them relief materials, clothing, baby beds, school bags, stationery etc.
"We lectured them on hygiene and their mothers too, as well as the need to send the children to school than sending their children to hawk.
"In December we did "one gift a child'; we gave materials to over six orphanages across the county that touched over 500 children".
The organisation also visited schools in Kuje and Nyanya and donated books to their libraries and over 500 students to encourage reading culture among the children.
"Our major focus is education because when you are educated, you will be able to eradicate poverty and be all that you want to become," she posited.
According to Iyiegbu, other projects lined up for this year by the NGO includes skill acquisition, talent hunt, and sports competition between IDP Camps in Abuja adding that "we want to see the children celebrate their childhood".