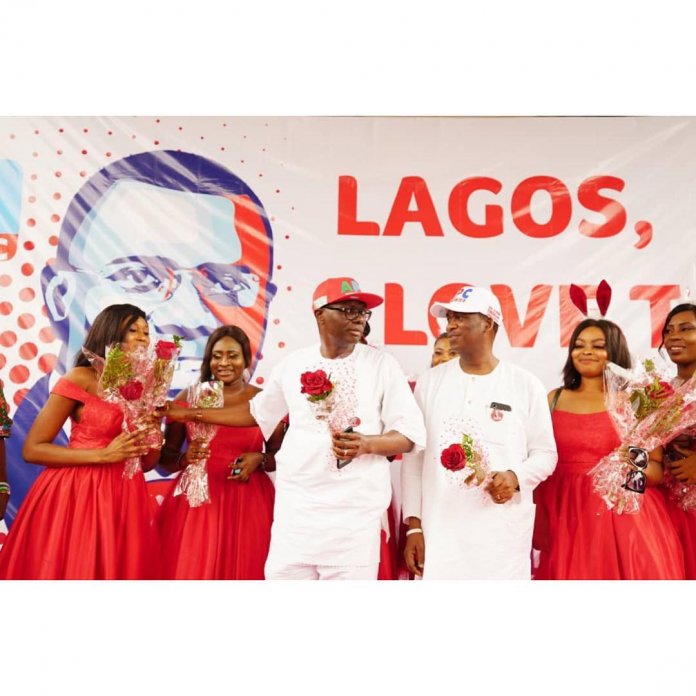 Iwonume Ekeghe writes that the recently celebrated St Valentine's Day afforded the All Progressives Congress governorship candidate in Lagos, Babajide Sanwo-Olu, the opportunity to propagate the concept of a 'Greater Lagos' at five different concerts held across the state simultaneously Every February 14, the world celebrates St. Valentine's Day; a day set aside to celebrate the liturgy and sacrifice of an early Christian saint named Valentinus. This celebration comes with lots of activities speaking to people, expressing love, showing affection, exchanging cards, candies, flowers or gifts with loved ones and well-wishers.
This year, the concept of love-sharing took a significant trajectory in Lagos, Nigeria's commercial nerve centre, when the All Progressives Congress (APC) governorship candidate for Lagos State, Babajide Olusola Sanwo-Olu (BOS), on February 14, 2019, celebrated the Valentine's Day with Lagosians in a grand style involving a special multi-venue activation tagged "Passion To Serve A Greater Lagos."
This first-of-its kind political activation set the city of Lagos agog simultaneously in five locations namely: Tafawa Balewa Square (TBS) on Lagos Island; The Festival Mall in FESTAC; Adeniran Ogunsanya Mall in Surulere; Abule-Egba LASPARK Gardens; and Awolowo Way – Under Bridge, Ikeja; with throng of Lagosians of all social strata coming out to celebrate the lovers' day with Babajide Sanwo-Olu.
Riding on the hashtag: #SanwoLovesLagos, the Valentine's Day celebration at these venues were full of fun and excitement: lots of music, mock pageants, dance-drama presentations, quiz, and 50 damsels called 'Sanwo Angels' in stunning red dresses and white sneakers sharing red roses and 'postcards from Sanwo-Olu' to the teeming Lagos public.
While the postcards came in five variants with each addressing one of the five campaign pillars of the APC governorship candidate, the dance-drama performances were deployed as an instrument to highlight his campaign manifesto under the acronym T.H.E.M.E, depicting Transportation; Health and Environment; Education; Making Lagos a mega city; and Entertainment and Tourism.
The action-filled occasions were full of intrigues, which took the crowd by surprise as dancers traced the democratic history of Lagos from 1999 to the present; highlighting the indelible achievements of successive Lagos APC governments of Asiwaju Bola Tinubu, Babatunde Raji Fashola, and Akinwumi Ambode, with an aspirational look into what the anticipated government of Babajide Olusola Sanwo-Olu holds and plans for Lagos State to sustain the legacy of excellenceand still make Lagos, the number one centre of true governance and model for economic advancement in Nigeria.
Worthy of note, precisely at the TBS location, was the crowd's demand for the re-rendition of the dance-drama which depicts the THEME and campaign message of Sanwo-Olu for Lagos, as it connects easily to the emotions and appeal of the residents with majority confessing that they have a better understanding of the benefits of electing APC andSanwo-Olu in Lagos. A Lagosian and trader at CMS, who simply identified himself as Ayotunde, said, "now, I got the message of Sanwo-Olu campaign better from this short drama, I am sure he will continue the good works in Lagos if he is elected as governor."
At the Surulere location, a middle-aged woman and civil servant expressed her excitement about this special Valentine celebration and wished that Sanwo-Olu could make it a yearly project even in more locations. Interestingly, it was a rather exhilarating atmosphere at the Abule-Egba location as another woman spoke in her native Igbo dialect praising the resourceful spirit of the Igbos and urging them to support Sanwo-Olu and vote him in as the next governor of Lagos State. The FESTAC location was a potpourri of activities with residents and shoppers at the popular Festival Mall expressing their love and happiness seeing Valentines celebration in Lagos by Sanwo-Olu from a not too generic perspective.
The highpoint of the multi-location "Passion For A Greater Lagos" event came to bear when the APC candidate himself, Babajide Olusola Sanwo-Olu, surprisingly showed up at the Ikeja venue, along with his running mate, Dr. Obafemi Hamzat. This further drew a bigger crowd who scampered to get a good glance and to hear their soon-to-be governor of Lagos State celebrate the Valentine's Day in an unusual manner with them.
While addressing the crowd, Sanwo-Olu promised a better Lagos, saying, "I am persuaded, a greater Lagos is possible. There could not have been a better day for me to tell you of my love to serve you than today".
Sanwo-Olu, also reassured Lagosians that his administration will be devoted to reducing to the barest, the horror of trafficas well as increase the per-capita productivity for Lagos residents by improving and leveraging on infrastructures such as road, rail and water transportation.
On health and environment, Sanwo-Olu said "Our major healthcare plan is to improve access and affordability through comprehensive health insurance and improved primary and secondary health facilities". And for our environment, which is obviously a huge challenge, he said the operations of the Lagos State Waste Management Authority (LAWMA) will be upgraded for better service delivery while implementingmeasures to turn waste to wealth and ensure a clean and healthy environment in Lagos.
Importantly, credit must be accorded Sanwo-Olu's strategy team for this special Valentine'' Day celebration which in a unique manner, displayed his genuine love to serve Lagos andbetter communicated the pillars of his developmental policies for a greater Lagos in a fun and exciting manner.
This is truly remarkable and surely memorable.
Furthermore, the momentum of this laudable initiative must be sustained yearly all through the tenure of the incoming governor of Lagos State, Babajide Olusola Sanwo-Olu, and embedded in the calendar of the state. This will help reaffirmthe culture of love, as well as advance loving the masses not just as manifesto sound bites like other political pretenders dobut, truly propagated as a legacy reflected in the core of the operations and service delivery of the Lagos State Governor to the people of Lagos.