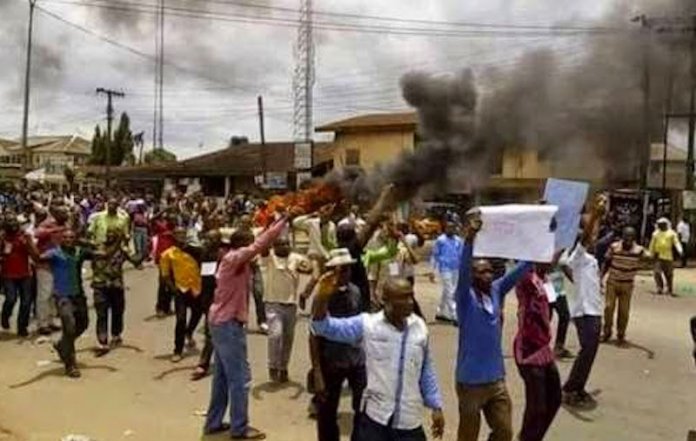 There is need to make political offices less attractive, argues Adewale Kupoluyi
In spite of the initial disappointment and anxiety, the presidential and national assembly elections have finally been held across the nation. A major feature of the elections is that cases of violence and electoral malpractices were reported. Past elections across the country had recorded one crisis or another before, during and after the polls leading to colossal loss of lives and property. Preliminary assessment of the just-concluded elections shows that electoral violence was prevalent as was the case with previous editions.
Electoral violence is ignited when politicians and their supporters foist their inordinate will on others or when there is resistance to such imposition. Such violence is associated with rigging, ballot-snatching/stuffing, disenfranchisement, shooting to scare away voters, rewriting of results, falsification, vote-buying, kidnapping and outright killing. For now, it appears that is almost impossible to completely wipe away electoral violence from our polity. According to Human Rights Watch, the 2011 general elections had no fewer than 800 people that lost their lives, just as the National Human Rights Commission, its pre-election report, stated that 58 people died between December 2014 and January 2015.
This year's general elections have been keenly-contested between the ruling All Progressives Congress (APC) and the main opposition Peoples Democratic Party (PDP), most especially because the presidential candidates of the dominant parties are from the northern part of the country and are also Muslims. Hence, split votes are expected. It is worthy of mention that APC and PDP consist of recycled members that had once moved from one party to another, suggesting that both parties are two sides of a coin. Media tracking of the elections so far indicate that supporters of the main parties in some states such as Abia, Bayelsa, Borno, Kogi, Kano, Lagos, Oyo and Rivers perpetrated bloody electoral violence.
For instance, in a polling unit in Aguda, Surulere, Lagos State, thugs allegedly pummeled voters out of queues while at the Okota polling unit, miscreants set ablaze already thumb-printed ballot papers and in Mushin, street urchins or 'area boys' stormed a polling booth and carted away ballot boxes. In Lekki, four young men allegedly beat up a younger man that was ferreted out of a polling unit. One Demola, suspected to be local head of the Oodua People's Congress (OPC), was attacked at Okota and beaten to a pulp before fumes of fire were seen at the spot where he was attacked, as another victim was allegedly shot and stabbed to death. Nine suspected thugs were arrested at Somolu for allegedly molesting voters with charms, just as six suspects were apprehended at Epe and another three at Ajao Estate, respectively.
In Anambra State, many ballot boxes and papers were said to be burnt to ashes and in Rivers State, two brothers and a soldier became victims while 15 persons were said to be shot dead during a violence that erupted at the Akuku-Toru council area of the state where soldiers allegedly unleashed violence on party members and killed their agents in the Emohua council area while 10 youths were arrested for allegedly attempting to snatch ballot boxes in Abia State. Two persons were said to have been murdered in Amukpe, near Sapele, Delta State when gunmen stormed the polling unit while voting was ongoing. Similarly, one person was killed by suspected hoodlums in a bid to snatch ballot box in Ibadan, Oyo State, as counting of votes was ongoing.
Similarly, rampaging armed men in military uniform allegedly murdered a photographer and another victim at Oweikorogha in Bayelsa State alongside a ward chairman of a major party in the area while awaiting the counting of votes. In Borno State, terrorists group allegedly claimed responsibility for a rocket attack on Maiduguri, as another explosion occurred at the headquarters of the Nigerian Army 7th Division when troops were preparing for operations in which soldiers were killed and 20 civilians were injured. In Lokoja, Kogi State, a police inspector, Mohammed Hammani and two others lost their lives to electoral violence. In Kano State, the police have 'invited' a member of the House of Representatives, Abdulmumin Jibrin, over his alleged role in a bloody clash that occurred in the Bebeji council area of the state, among other cases.
No doubt, electoral violence promotes jungle justice and discourages eligible voters from voting, making their level of participation to be greatly inhibited. The emergence of candidates becomes questionable when the political turf is left to hooligans and trouble-makers. This invariably affects the quality of leadership that would emerge at the end of the day. Good governance is only possible when truly democratically-elected representatives are given daunting state responsibilities. Bad leadership has been the lot of Nigeria, as many citizens continue to wallow in abject poverty and suffer in the midst of plenty, despite the nation's rich endowments. National security is seriously being threatened by the prevailing acts of religious extremism, official brigandage and terrorism.
The role of local and international election observers are greatly whittled-down whenever violence is unleashed, thus creating credibility and integrity problems for election outcomes. This should not be. As a way forward, there is need for attitudinal change on why people should play decent politics, if we are ever going to get it right as a nation and get many decent people into politics, as obtainable in saner climes. Political parties and contestants should always realise that the ultimate decision of the people is what matters. Politicians should desist from lording their wills over the electorate. Law enforcement agencies should be more proactive in nipping in the bud, potential crises that may snowball into electoral violence. The practice of signing peace accord by party contestants should not be limited to presidential candidates alone but it should be extended to other contestants, to get their commitments to shun violence.
To ensure that justice is done and seen to have been done, the Socio-Economic Rights and Accountability Project (SERAP), has requested the Nigerian government to immediately refer to the International Criminal Court (ICC), pursuant to article 13 of the Rome Statute, to which Nigeria is a state party and that all cases of election-related violence, intimidation and killings between 1999 and 2019, are initiated for proper investigation and prosecution. The Independent National Electoral Commission (INEC) should intensify its awareness, enlightenment and public education programmes on the dangers of electoral violence and sanctions to be meted out to perpetrators.
Political parties should allow internal democracy to flourish and caution their members against hate speech. More importantly, there is need to make political offices less attractive, to discourage the current penchant for do-or-die politics, god-fatherism and neopatrimonialism. Sponsors and those caught engaging in electoral violence should be severely punished in line with the Electoral Act, 2010 (as amended). Being a civil offence, executive immunity does not cover election petitions and electoral offences, as per the case of Turaki v. Dalhaltu (2003) 38 WRN 54 at 168, hence, no one should be shielded from prosecution.
Drivers unions that are usually patronised as thugs and miscreants by politicians should resist such illegality. The union members are usually used as kingpins and miscreants, to unleash trouble on the people. It is common knowledge that politicians often recruit, pay and arm them to victimise people and achieve their selfish or personal agenda. Innocent victims of violence should be adequately rehabilitated and compensated. More employment opportunities should be created to keep hundreds of thousand restive youths and young persons out of the streets towards a more productive life for themselves and the society. With the announcement of the presidential and national assembly elections, it is hoped that every stakeholder would do its part to ensure that violence is greatly minimised and that votes count in the forthcoming polls.
Kupoluyi wrote from Federal University of Agriculture, Abeokuta