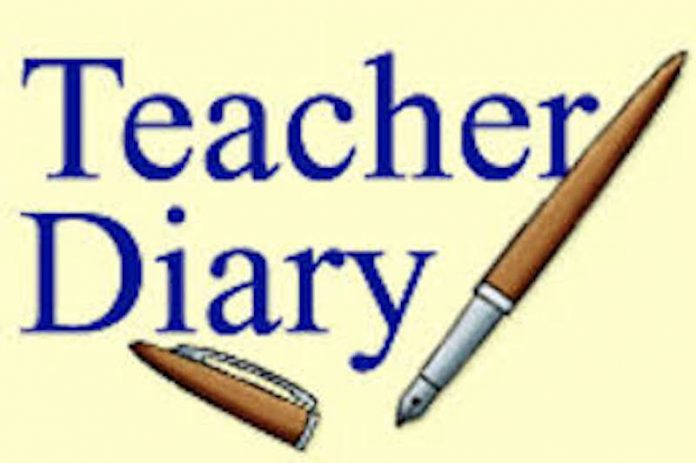 Teacher's Diary
"Teachers of all ages, it all invariably falls back on you!" "What does?" You might ask. "It's never too early to imbue your lessons with opportunities to teach or pass across those core values and skills that would much later form essential professional behaviours". I witnessed a 'show' of insensitivity a few days ago, in one of Lagos's eye-brow hospitals, whilst I accompanied someone to their medical appointment.
We arrived at 2.30pm but were not seen until 5.15pm. The patient seating area of this hospital is situated directly opposite the reception station and we took our seats. Patients were being seen on a first-come; first serve basis and they just had to eye-gauge whom they were ahead of. May I quickly clarify that although this was a long wait, the waiting time was not my bone of contention. The professional we were seeing was only the one health-practitioner on duty, so the wait was understandable.
Fortunately so, the wait gave me the opportunities to see poor hospital staff behaviour played out as: shabby reception-area behaviour; lack of respect for patients' sufferings – anxiety, pain, discomforts, fears etc; and in my opinion a lack of respect for their employer whose struggle and lobbying for clients gave them their jobs in the first place. At a point, a lady in an arm-sling repeatedly hissed and muffled verbal abuses as hospital staff shamefully played out loud nonchalance as well as disrespect.
It came to a point where I couldn't help but wonder if there were any compassionate and tactful members of staff left in this hospital when its morning staff members, bags in hand, began to noisily empty into the reception area from 4.17pm (their closing time was 5pm). The appalling vices were their individual raucous laughters, high pitched shrilly voices and loud pronouncements to the effect that they were not prepared to over-stretch themselves or risk missing their transports. People wouldn't behave so shoddily abroad, so why can't we curb these types of excesses at home?
As these staffs' jibes landed in my ears, I couldn't help but recall the many times, we had been called off our breaks to go and attend to emergencies, or return onto the floor because another nurse was dashing off to save a life! I couldn't help but recall the many times a seizure was prolonged or an injury had occurred a few minutes to closing time and we had to remain on shift until the service-user was recovered or stabilized by the ambulance service and all post recovery protocols were duly completed and handed over. I as well as my colleagues respond readily and positively with patient-care being topmost in our hearts. UK schools of nursing and NVQ studies in health and social care ensure that core non-practical professional behaviours are acquired and demonstrated at pre-registration level or during NVQ studies.
Teachers, let's go back to the basics – to teach: temperance, confidentiality, empathy, discretion, respect and reciprocated respect, self-control, courtesy, calmness, dedication, Are you playing out your role as tutor, trainer, mentor, instructor and educator within and outside the classroom? Please check out the list below.
Unsurprisingly, core reception-area behaviours are behaviours every good teacher can inculcate in students from pre-school years to tertiary education. These behaviours include: courtesy, great listening skills, calmness, friendliness, great questioning skills, being proactive, making great first impressions, being approachable, tactfulness, and self-awareness of one's body language, discussing anger, using the voice effectively, assertiveness and properly projecting a positive image of the employer.
Omoru writes from the UK