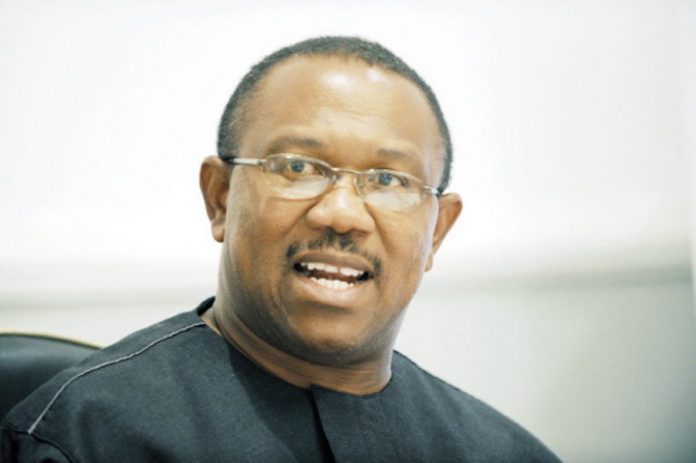 By David-Chyddy Eleke in Awka
The vice-presidential candidate of Peoples Democratic Party (PDP), Mr. Peter Obi, has said that there was a clear orchestrated plan to disfranchise people of the South-east region of the country in last Saturday's presidential and National Assembly elections.
Obi, who spoke to journalists in his home in Onitsha, Anambra State, said it was still a worry to him that states like Anambra with 2.4 million registered voters could only boast of more than 600,000 votes, despite the huge turnout on election say, while states in 'war-torn' north with 1.2 million voters could achieve as much as one million votes.
He said a situation where the Independent National Electoral Commission (INEC) adopted different measures for the conduct of election for different parts of the country is not acceptable.
Obi was referring to the alleged use of manual accreditation in most northern states during the conduct of the presidential and National Assembly elections.
He observed that the card readers were used in conducting elections, especially in PDP strongholds even when they (card readers) did not work, while accreditation was done manually in its opponent's areas and the results were accepted.
"I noticed on the day of the election that several card readers were not working. I also noticed that during the voting, the process was clumsy because card readers were not functioning and where they worked they were slow.
"They did not work in highly concentrated areas. This is why in Anambra of the over 2.4 million registered voters only 600,000 voted.
"Yet in some parts of this country, people voted without card readers, yet all votes counted," he said.
Obi also said that votes were inflated in some states where the All Progressives Congress (APC) won and wondered how many states in the north with low population density returned votes more than what they registered.
He lamented that ordinarily, Nigeria should be building on the success achieved in the 2015 general election but this has not been the case, as last Saturday's election was nothing short of a sham.
Obi said what was witnessed in the 2019 general election is not different from the demand of many Nigerians for a level playing field.
Obi again reiterated the level of intimidation witnessed by members of his party during the run up to the election, adding that the burning of the card readers in Anambra INEC was part of it.