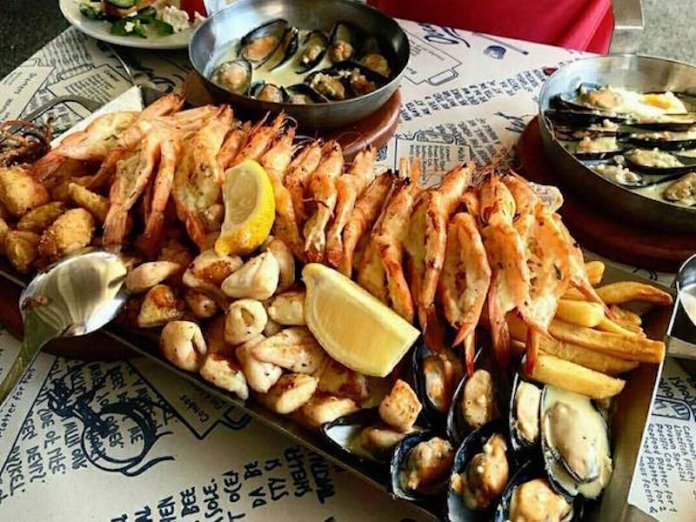 Ugo Aliogo
Ocean Basket has launched a new store in Ikeja GRA, Lagos as part of its commitment to continue serving its esteemed customers, while also using the opportunity to launch its sushi menu.
Speaking at the launch of the new store recently, the Executive Chairman, Ocean Basket Nigeria, Mr. Kayode Olumartins, said the restaurant was traditionally known for its value for money concept, stating that they ensure that customers patronises the restaurant get value for their money.
He also noted that they are not in business to make money overnight; but to ensure they provide affordable and good quality sea food for customers within their budget.
Martins, explained that since they started the restaurant in Nigeria, patronage has been fantastic, noting that Nigerians have responded well to the Ocean basket brand.
"Ocean basket doesn't have what is called foreign recipe, the initial stores of ocean basket opened as Mediterranean Sea food restaurant touting the Mediterranean brand," he noted.
He remarked that over the years, they have put in a bit of flavour into their menu, stating that they have menu items that are not traditionally European or Western.
He added that in Nigeria, they are actually allowed to sell local sea food dishes, which he noted that they have been doing that since 2014.
According to him, "We sell fish pepper soup and sea food pepper soup, spicy sea food pasta which are spicy sea food pasta, and stuffs. They are basically special within the Nigeria market.
"You will not go to any of the stores and find those menu items, but in Nigeria you will find them because what ocean basket does is that they allow you to take in the local flavour into your restaurant so that the local people would actually appreciate ocean basket diverse menu.
"Having said that the reception of the ocean basket brand has been great in Nigeria, people have received it well, they are coming and they are actually happy about it the menu item that we sell right.
"We have a roll out map plan of about 10 stores nationally and we had to do a lot of research about where we will place our stores. Our first store being in Victoria Island, then we decided to come to the mainland.
"Globally, Ocean basket core menu are the same in the world, so in any of the 200 stores you go, you will see the same menu items in every store."