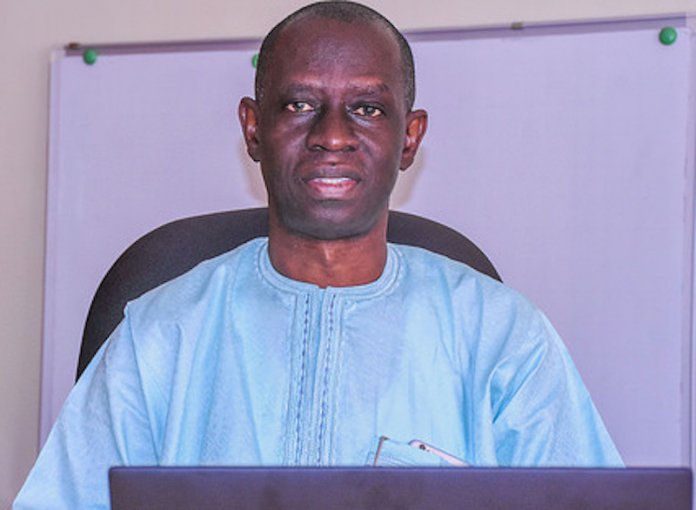 His analyses are always impeccable. His ingenuity and modesty make his arguments often irresistible. His elocution and conviction are driven by an understated sense of brilliance. As he sits with hands on the shiny glass table in the British Broadcasting Corporation's (BBC) studio in London, he delves into a running issue regarding African affairs. His choice as a commentator on African matters is unmistakable. He is also a choice analyst on African issues for the Cable Network News (CNN), Sky Television and Bloomberg TV. Please meet Abiodun Alao, the first black African professor of African Studies at King's College, London. Funke Olaode, who had a rare encounter with the erudite scholar at his London office, writes about Prof. Alao's life's episodes and plots
The imposing structure that houses some of the best scholars in the world is noticeable on the busy Strand Street. King's College, London situated at Bush House in Strand, Charring Cross, London, United Kingdom was once occupied by the British Broadcasting Corporation (BBC) in the early 18th century before its current occupant. Imposing and magnificent, it leads to where Prof. Abiodun Alao can usually be found.
Alao is the first black African professor to be appointed by the prestigious institution founded in 1829. His recent award plaque as the Most Outstanding Academic Scholar on African Studies presented to him during the 70th anniversary of the University of Ibadan, a few artefacts and some of his books are elegantly on display in his modest office.
Unique in many ways, the erudite Nigerian always exudes an enduring sense of modesty.
"Honestly, I don't think there is anything unique about me. Well, I may consider every of my step all the way to good luck. In terms of me, there is nothing about me that is worthy of attention. If the onlookers look very carefully, they will see and agree with me that there is nothing special about me because there are other people who are more accomplished and there are other people that deserve all the accolades and attention they can get," he explained.
Even when pushed further to admit he must have been unique given the feats he has achieved in life, he fought back saying, "As I said, there is nothing exceptional about me. As a matter of fact, this school had produced great men as far back as 1858 when the college was less than 30 years old. Two Creoles of Nigerian descent – James Horton and Williams Davies – graduated as medical doctors from this college. Horton was exceptionally remarkable student, so much that the principal of the King's College London in 1858, Richard Jeff, wrote a special testimonial on 3rd of November 1858, in which he commended the young African for winning the College prize for surgery and for collecting five additional certificates of distinction in different branches of medical education."
Born less than seven months after Nigeria's independence in 1960 – April 1, 1961 –, Alao grew up under the watchful and loving shadows of his parents. His father – a headmaster – and his mother – a teacher – both combined their mental, emotional and intellectual resources to raise him during his obscure years. The parents were from Olupona, Osun State.
"I had my education all over the place because my father was constantly being transferred. I started my primary school at Ayipate Baptist Day Primary School, Iwo in 1966. Unfortunately, I lost my mother when I was about five years old. It was left to my father to look after the children. With very modest income of a primary school headmaster, he was able to see me and siblings through school.
"By 1969, my father was transferred to Ogbomoso where I re-enrolled again at Ijeru Baptist School in Ogbomoso where I eventually completed my primary education. I started my secondary school at Baptist High School, Iwo in 1972. But I wasn't doing very well and my father felt that the background wasn't strong enough. He removed me from the school and took me to Fiditi Grammar School, Fiditi near Oyo Town where I started Form One again. I was there till I finished in 1977," the professor narrated.
Alao is passionate about education but he constantly admits that there is an element of luck or an unseen hands meddling in his affairs. After his secondary education, consciously or unconsciously, he has begun to carve a niche for himself by taking an appointment as a teacher at Holy Michael Primary School, Ikirun also in Osun State at 16.
"I did that because as at the time I finished school," he explained, "three of my siblings were to enter the university at the same year. The financial burden was a bit much on our father and I just decided to work for a year and save money."
Then at what stage did he develop passion for academic? Was he influenced by his father?
Continuing, Alao recounted: "Ever since my childhood I believed I would have achieved a life's ambition the day I'd be a professor. I have wanted to be into academic. As to the extent of the impact of my father I don't think it is that direct because I don't have any recollection of my father sitting me down or my siblings and say this what I wanted you to do. It just happened. Today, I am a professor and two of my siblings are professors. My older brother, Prof. Kayode Alao is a professor of Counselling and my younger brother, a medical doctor is also a professor at the Benue State University."
After his Advanced Level at the Federal Government College, Ilorin in Kwara State where he graduated in 1980, he proceeded to University of Ibadan to study History.
"University of Ibadan made me who I am today. Studying history at Ibadan changed a lot of things because I was a beneficiary of contemporary geniuses of that era. I was taught by the best brains such as Ade Ajayi, Atanda, Gabriel Akinola, Tom Adam, and Omoniyi Adewoye. These were wonderful teachers who moulded our lives. I did my national service at Ahmadu Bello University, Advanced Teachers College, Kano. I started university as a teenager in 1980 and to date I've never spent a day outside the university. In a way, I consider myself as a university person in the last 38 years," he disclosed.
Though Ibadan may have moulded Alao to become a man he is today, his height to greatness began at Ife during his foray in academic pursuit. "After my youth service I went to the university of Ife for my master's degree in International Relations where I met the former spokesperson for the late President Umaru Yar'Adua, now Chairman Editorial Board of THISDAY, Segun Adeniyi. In fact, I used to say to him (Segun) jokingly that he was my student before he became famous. When I finished my master's at Ife, I had the best result in my class. I got a job as an assistant lecturer and that was when I taught Segun Adeniyi. I was extremely fortunate at Ife too to be taught and supervised by the late Prof. Olajide Aluko, the Africa's first Professor of International Relations. He was my teacher, my benefactor and my friend. If there would be anybody who majored at whatever my success today, it would be Prof. Olajide Aluko and a few people that I owe the gratitude. They did a lot. I taught at Ife for two years and got a Ford Foundation Scholarship to King's College, University of London in 1987 for a doctorate degree in War Studies.
"I was on study leave at Ife, department of International Relations. I finished the PhD in 1991 and wanted to come back to Nigeria. In fact, I had shipped all my things to Nigeria but just out of the blues, the Head of the Department at the King's College here in London asked me whether I would want to stay back and I said yes. To me, I believe that there is a hand of providence pushing me. One thing I have always said is that I have been favoured by the extra ordinary. I can say categorically that I know of hundreds of people if they have the opportunity I had in life, they would have excelled far more than me," Alao recalled.
He was once a Visiting Research Associate, Department of History, University of Zimbabwe in Harare, and later lectured at the Department of War Studies, King's College in London. He expended his time as a research fellow at the Centre for Defence Studies at the College. Soon he rose to senior research fellow and senior lecturer.
It was not too long when the ingenious and indefatigable scholar became a professor of African Studies and the first black African to be appointed. The author of "Brother at War", Alao is the programme director at African Leadership Centre and the chairman of Africa Community of Practice all at King's College, London.
He is also a commentator on African affairs on radio and television including BBC, CNN, Sky television and Bloomberg Television. He has been connected with virtually all the international organisations such AU, ECOWAS, World Bank, United Nations, UNDP, etc.
On being the first black African to be made a professor at the institution, he admitted that it was an overwhelming experience.
He shared more thoughts on that, pointing out: "I had always wanted to be a professor and now that it has come, it is like, what next. I am happy that it marked another phase in my life. What I can say is to be at the right place at the right time. I will not cease to say the importance of luck. You know when you are in a place like a university and you keep writing, one day you will become a professor."
What is his experience like working in a white-dominated setting?
"My experience here has been fantastic otherwise I won't be here for 31 years. I have never really experienced anything to make me look at the colour of my skin. My colleagues have been extremely wonderful both students and staff. I have always seen myself as part of the system."
Commenting on the Nigerian education system and what can be done to fix it, he said, "The universities have to generate ways of making money to fund their activities. I can boldly say that the problem hasn't reduced the strength of Nigerian researchers who are still sought after globally. For me, the solution lies in commitment on the part of the government and internally generated funds to run the university."