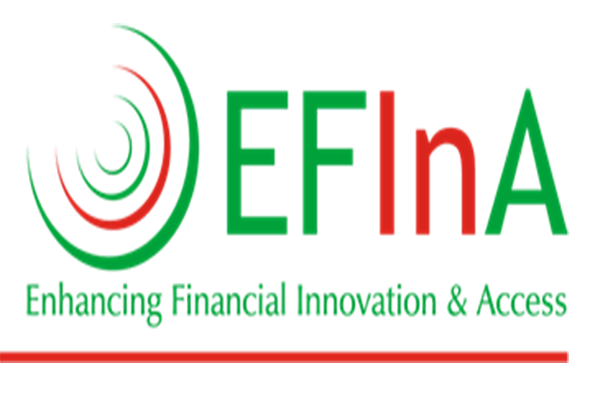 A financial literacy firm, Enhancing Financial Innovation & Access (EFInA), has said that the Access to Finance (A2F) 2018 Survey data is ready and will be disseminated on December 11, 2018 in Lagos.
EFInA's biannual flagship A2F Survey provides credible information on the state of financial inclusion in Nigeria by mapping the access to and demand for financial services in Nigeria.
According to a statement by the firm, the A2F is a nationwide survey which has been conducted by EFInA for 10 years. Previous surveys were held in 2008, 2010, 2012, 2014 and 2016.
It said that EFInA's Board Chair, Mr Segun Akerele, in providing some background to the event, said that the survey was a nationally representative sample of all Nigerian adults, aged 18 years and above, which was conducted across all 36 states and the Federal Capital Territory (FCT) through administered questionnaires in English, Hausa, Yoruba, Igbo and Pidgin English.
The statement quoted Akerele as saying that the findings from the survey would highlight the state of access to financial services in Nigeria and also sets out the opportunities to extend financial services to the un(der)banked and low income segments in the country.
"The main objective of the survey is to measure, benchmark, and profile levels of access to financial services by all Nigerian adults," he was quoted as saying.
It said the A2F Survey also does the following: establish credible benchmarks and indicators of financial services penetration in Nigeria; document usage of financial products across both formal and informal sectors from an urban and rural perspective; provide insights into regulatory and market obstacles to growth and innovation in the financial sector; identify the financial needs of the adult population and thereby give service providers the opportunity to develop innovative products to serve them; improve understanding of the use of and demand for financial services in Nigeria; provide credible data that highlight opportunities for policy reform and support evidence-based financial inclusion policies, and monitor the potential impact of new financial sector policies on enhancing access to finance.
Financial inclusion means providing individuals and businesses access to useful and affordable financial products and services that meet their needs and are delivered in a responsible and sustainable way, it said.
The statement said financial inclusion aids inclusive growth, economic development, and financial deepening. More practically, it can increase poor people's access to financial services, reducing poverty and lowering income inequality.
EFInA's A2F Survey provides a strong established framework to measure levels of access to and usage of financial services in Nigeria. It tracks progress, assesses impact, identifies challenges, and suggests policy direction that provides an enabling environment for financial inclusion, it added.
According to the statement, the EFInA A2F Survey was leveraged heavily for the National Financial Inclusion Strategy in 2012 and to develop targets for financial inclusion by 2020, which is to reduce financial exclusion to 20 per cent in 2020.
The purpose of defining a Financial Inclusion (FI) strategy for Nigeria, it stated, is to ensure that a clear agenda is set for increasing both access to and use of financial services within the defined timeline — 2020.