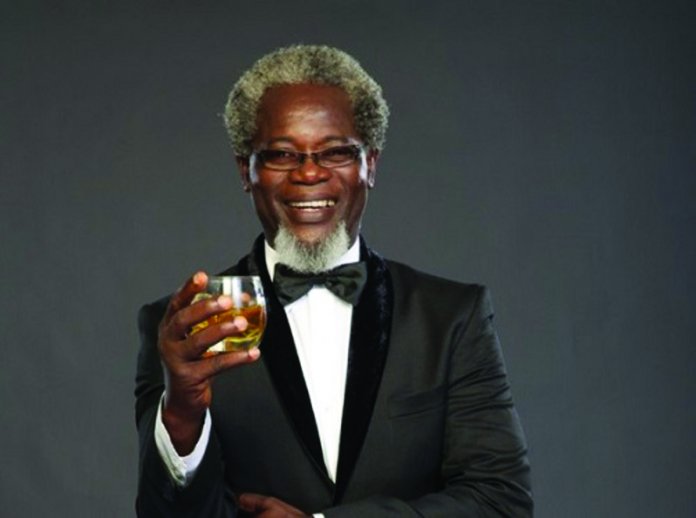 Ferdinand Ekechukwu reports on the campaign to raise fund and save the legs of veteran thespian, Victor Olaotan, one of the stars ofTinsel, a long-running television drama series
The 66-year-old Victor Olaotan is best known for his role as Fred Ade-Williams in the long-running television drama series "Tinsel" where he warmed his way into the consciousness of television viewers. The veteran thespian has been completely off the scene for the past two years after a ghastly accident cost him the use of his legs.
According to a Gofundme page created by one Emmanuel Ajibade that went live on Sunday 2nd December, the actor is appealing for financial aid to seek medical treatment abroad. After the ghastly accident in 2016, the actor was placed in a medically induced coma as he was treated for months. He has been facing the possibility of his two legs being amputated to save his life and his family has been working to prevent this as best as they could in the last two years. Right now, Olaotan needs $50,000 to seek treatment abroad.
The message on his Gofundme page reads: Victor Toye Olaotan has brought Joy to teeming viewers on stage, television and the big screen through his solid work as a professional actor. For the last two years, he has been incapacitated following an accident. Victor is still fighting and he has been advised to seek medical attention outside our Nigerian shores; we implore your help in raising the funds."
This is needed to enable him urgently undergo neuro-rehabilitation; a medical procedure designed to aid recovery from nervous system injury or disorders of the nervous system.
The good news is that billionaire businessman, Femi Otedola responded wholehearted by promising to take up the ailing actor's medical bills. Announcing the cheery news via his Instagram post on Tuesday morning, veteran actor Richard Mofe-Damijo wrote: "So, a few days ago, I reached out to @femiotedola asking for help for my friend and brother Victor and just this morning, Femi calls to tell me that he would take care of all of Victor's bills. He told me that he is already on it and that his people are already talking with Victor's wife. Is God not awesome????? I can't even contain my joy and gratitude. Thank you Femi @femiotedola . . . ."
Born in Lagos in the early 50s, Olaotan studied Drama at the University of Ibadan, Obafemi Awolowo University and Rockets University in the United States of America.
In 1981, Olaotan joined a group of eight Nigerian performers who accompanied former Nigerian president Shehu Shagari to the United States to have a meeting with Ronald Regan. "I traveled abroad in 1978 and came back in 1980. They were selecting eight and good performing artistes in Nigeria and I happened to be one of them. Others were Tunji Oyelana, Yemi Remi, Joe Adigwe, Demola Onibon-Okuta, Tayo Taiwo and others.
"We went to five states in United States and the president of the US at that time gave us a brooch each. It is called presidential medal. If you are giving that brooch, no matter what you do in America, you will be forgiving because it shows that you have been pardoned by the president. I don't know where I put mine till today. I lost it may be out of youthful exuberance. I went to three different universities in the United States to study acting."
A well-groomed stage and screen actor, Uncle Victor, as younger colleagues call him, began his career as an actor at a very young age. An accomplished actor who cut his teeth on stage featuring in Ola Rotimi's epic play, God's Are Not to Blame. Olaotan, who learnt under the feet of theatre greats, like Professors Adedeji, Wole Soyinka, Jimi Solanke and Dapo Adelugba, had a stint as a footballer.
But as he was at that, the urge to act crept up. A chance meeting with ace television producer, Laolu Ogunniyi, and Olaotan was on the television screen in Ibadan. He recalled: "I used to go Nigeria Television Authority (NTA), Ibadan to do some acting back then. It was on one of those days that I encountered a producer named Laolu Ogunniyi. He was in charge of a soap opera on television titled, Candle in the Wind. He later produced Wind Against My Soul and gave me a role to play in it.
"That is from where I started acting on screen and I was at that until I left the country for the US as soon as I lost my dad."
Olaotan lived abroad for over 20 years and returned in 2002. He also had opportunities to take part in a couple of stage productions, including touring with the epic play, Sizwe Bansi is Dead and playing Othello in Shakespeare's play of same title at the Shakespeare Festival.
Ordinarily, the person of Olaotan would want to be seen active and very well engaged in his acting profession, but for the unfortunate incident which has threatened to end his career. An actor's actor of vast credit, Olaotan last appeared on the screen in the movies Lotanna and The Three Wise Men which were shot before the accident.