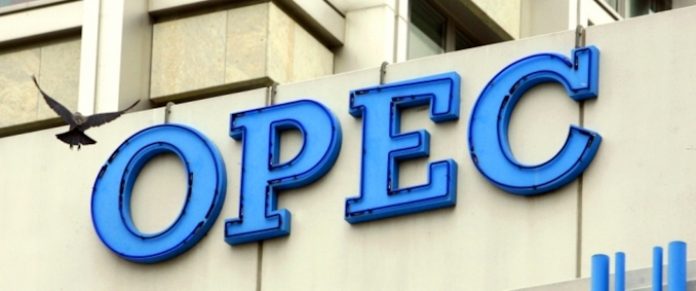 Kachikwu: Nigeria will reduce production by 40,000bd
FG proposes N8.6trn Budget for 2018
By Chika Amanze-Nwachuku in Lagos, Chineme Okafor in Vienna, Austria and Shola Oyeyipo in Abuja with agency report
The Organisation of Petroleum Exporting Countries (OPEC) and its allies agreed yesterday to cut oil production by 1.2 million barrels per day, owing to a record global crude glut and the need to halt the price slump.
This is coming on the heels of the approval of a budget proposal of N8.6 trillion for 2019 by President Muhammadu Buhari.
OPEC and allies ended their meetings in Vienna yesterday with an agreement for member countries to reduce output by 800,000 barrels a day and allied producers to cut by 400,000 barrels a day, with Russia contributing as much as 230,000bd of this.
The group will collectively curb production by 1.2 million barrels a day, higher than the 1 million barrel-a-day scenario that was earlier floated, Bloomberg reported.
The larger-than-expected deal to reduce output saw the Brent crude, the global oil benchmark, jump 4.5% to $62.76 a barrel on London's Intercontinental Exchange. West Texas Intemediate futures, the U.S. oil standard, were up 3.8% to $53.42 a barrel on New York's Mercantile Exchange. Both benchmarks were near their highest points in two weeks.
Crude oil has steadily dropped since early October amid concern over growing supplies and as the U.S. issued waivers exempting some nations from adhering to imposed sanctions on Iranian crude.
Minister of State for Petroleum, Dr. Ibe Kachikwu, told THISDAY that Nigeria could contribute up to 40,000b/d out of the 800,000b/d, representing about 2.5 per cent of her 1.7million barrels per day mb/d current production level.
Kachikwu, explained that the output cut was as a matter of fact in the best interest of Nigeria, adding that with larger oil volumes in the market weakening prices, Nigeria would have found it difficult to implement its budget for 2019.
The minister, who had initially indicated Nigeria will not seek an exemption but will commit to the cut, explained that the group did the right thing and avoided a potential catastrophe that would have hit producers and the oil industry.
He said: "There were a lot of difficulties in getting all the parties together whilst everybody were willing to cut, we knew the market fundamentals ensured we had to, we had excess of 1.3 million barrels, we need to take that off the market.
"As long as Russia would match us, there was the willingness to do that but the issue was some countries were not willing to do that, Nigeria like you know got exemption three times and the natural thing was this time nobody should get an exemption and we had to navigate that because there were countries who had genuine reasons."
On what Nigeria would give up, he said: "The average is about 2.5 per cent flat reduction for every production and so if you take (that) out from 1.7 million barrels that probably translate to 40,000 barrels per day."
Asked if the cut had any impact on Nigeria's budget with regards to production volume, he said: "It has but has the potential of saving your budget matter of fact, because if we don't, prices were already sliding, yesterday prices dropped by five per cent and were about $58 or $59 and if we don't reach a resolution, it could be down to $40.
"If you look at the value of 40,000 barrels versus the gap of earning $70 per barrel – I would imagine that prices would hover around $65 or more, and if we didn't do that, the budget will be dead. This was a savings mechanism to hold the money than holding the barrels. Technically, Nigeria is not affected; it is a win for Nigeria."
Further details of the agreement as stated by the President of the OPEC Conference and Minister of Energy and Industry of the United Arabs Emirate, Mr. Suhail Mohamed Al Mazrouei, and Russian Energy Minister, Alexander Novak, at a press conference after their joint meeting showed that Iran; Venezuela; and Libya were granted exemptions from the cuts because they either suffered sanctions or production disruptions, and would not be able to participate in the cut.
Mazrouei explained that the meeting discussed the increasing market volatility and the broad consensus on the prospects for 2019 that suggest higher supply growth than global requirements, taking into account prevailing uncertainties.
"In view of the current fundamentals and the consensus view of a growing imbalance in 2019, the Conference decided to adjust OPEC overall production by 0.8mbd from October 2018 levels, effective as of January 2019, for an initial period of six months, with a review in April 2019," said Mazrouei.
He further stated that the Joint Ministerial Monitoring Committee (JMMC) of the parties will monitor timely and fair implementation of the production cuts resolution and report back on a regular basis.
FG Proposes N8.6trn Budget for 2018
Meanwhile, President Muhammadu Buhari has approved a budget proposal of N8.6 trillion for 2019.
The approval was granted yesterday during a special Federal Executive Council (FEC) meeting presided over by the President, which lasted almost three hours.
The Minister of Budget and Planning, Mr. Udoma Udoma had in November announced that the federal government was considering a leaner 2019 budget of N8.6 trillion, which is thinner than the N9.1 trillion approved by lawmakers for 2018.
Recall that the minister who spoke during a consultative forum on the medium term expenditure framework and fiscal strategy paper 2019-2021, said the decision to adopt a leaner 2019 budget was due to reduced government revenue projection for the year.
He also said government planned to cut down the level of borrowing from N1.6 trillion in 2018 to N1.5 trillion in 2019, while the deficit component would be reduced from N1.9 trillion in 2018 to N1.6 trillion in 2019.
"The N8.6 trillion Budget 2019 presented by the Ministry of Budget and Planning was approved by FEC," said a source at the meeting.
Udoma, who spoke with state house correspondents after the special FEC meeting yesterday, said the council would liaise with the National Assembly to fix a date when the president will present the draft budget for the consideration of the Senate and the House of Representatives.
"The federal executive council has approved the 2019 budget proposal and the details will be presented to a joint session of the national assembly on a date to be fixed by the lawmakers," Udoma said.
Udo-Udoma stated that the next stage was to liaise with the National Assembly to pick a date for the presentation of the estimates by Buhari.
He said: "It will be presented to the National Assembly; we will have to consult them in terms of the date of that presentation. The budget is the President's budget; it is the President that presents it; I would be usurping his authority if I gave further details. We are hoping to be in touch with the National Assembly as soon as possible.
"They have to agree to the date they will receive the budget. We are going to be in touch with them immediately; but the budget is ready. If I speculate on that, I will be encroaching on the role of the National Assembly.''