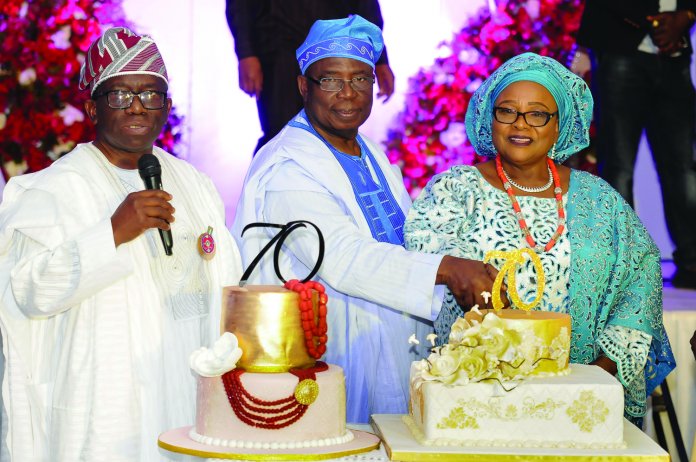 SATURDAY VINTAGE 
Dignitaries from far and near assembled in Abuja as former Health Minister, Professor Eyitayo Lambo hosts high octane event to mark wife's birthday, writes Tunde Ipinmisho
Former Minister of Health, Professor Eyitayo Lambo and his wife, Esther, run a home that best exemplifies the Christian standards of a marriage where the husband leads the wife and their children in love and the wife submits totally to the husband. Although they have been married for over 47 years, their home is like that of young teenagers falling in love with each other for the first time.
It is not surprising therefore that the Lambos are leading marriage counselors at the Family Worship Centre, their church in Abuja and they would readily inform you that they derive great pleasure watching marriages grow in form and in content. To them, the only way the society can truly flourish is for the individual homes to be established on a solid foundation of love.
Professor Lambo spares no words in expressing how blessed he feels to have Esther, a doctor of philosophy (PhD) in her own right as his wife and the mother of their four successful children. In Basking in God's Favour, his academic autobiography published in 2014, he says of her:
"She has been very supportive of my interests from the beginning of our marriage to date. I would normally consult her to find out her opinion about most of the things that I would like to do and she knows that I value her opinion very much. She has always demonstrated deep understanding of me and my personality – always focusing more on my strengths than my weaknesses. She has adapted very well to all aspects of my lifestyle she cannot change, and I appreciate that."
Saturday, November 24, 2018 offered a most auspicious opportunity for Lambo and members of his clan (as he often refers to his family) to put on public display that appreciation for the decades of love, care and attention that their matriarch had given them. Mrs. Esther Olufunmilayo Lambo had turned 70 on September 23, 2018 but the birthday celebrations had to be put forward because the celebrant and her husband were away in the United States and in the United Kingdom.
As with the other times he had put the Lambo brand on public display, the former Minister did not leave out any detail in the planning of the birthday event. More than six weeks ahead of the day, he had sent out the initial messages to his friends, relations, associates, mentees and other personalities to put them on notice about the event. The messages were subsequently followed by updates at regular intervals.
The ultra-modern new event hall of Chida Hotel, Jabi, Abuja, was the venue and as early as 9am, personalities had started arriving at the venue for the event slated to commence an hour later. There was hardly enough space in the hall to accommodate the large number of invitees from the various groups to which the Lambo are affiliaed.
When the event was flagged off at exactly 10am, serving and former Ministers were there in enough numbers to hold a mini session of the Federal Executive Council, should they have chosen to. Apart from Lambo himself, a prominent member of the Obasanjo cabinet, there were three of his successors in the Federal Ministry of Health, including Professor Onyebuchi Chukwu as well as the current Minister, Professor Isaac Adewole and the Minister of State, Dr. Ehosa Ehanire. Other former Ministers present were Chief Cornelius Adebayo (Communications), Chief Bayo Ojo (Attorney-General), Professor Tunde Adeniran (Education), Mr. Solomon Ewuga (FCT) and Mrs. Sarah Ochekpe (Water Resources), Dr. Rowland Oritsejafor (Defence) and a former Inspector-General of Police, Mr. Sunday Ehindero. Former Federal Capital Territory Commissioner of Police, Mr. Lawrence Alobi, President of the Nigerian Labour Congress (NLC), Comrade Ayuba Wabba and Professor Lovett Lawson of Zankli Hospital, Abuja were also on hand to honour the Lambos.
As if taking a cue from their Ministers, staff of the Federal Ministry of Health also turned up in hordes and across their cadres, so much so that had the event taken place on a working day and a health emergency had developed, it would have been difficult to contain it as virtually all who mattered in the Ministry were out with the Lambos. Members of the Okun Think Thank, the research and policy arm of the Okun Developmen Association and of which Lambo is the Convener were led to the event by their Deputy Convener, Major General Julius Oshanupin (rtd), a former General Officer Commanding, 3 Armoured Division, Nigerian Army.
The event kicked off with the opening remarks of the Chairman of the Day, Chief Bayo Ojo, who said Mrs. Lambo, resplendent in a blue lace material, had demonstrated that indeed life began at 70 and not 40 as is often put in popular parlance. He described the celebrant as a dutiful wife and mother as well as an accomplished and distinguished personality in her own right. He assured Mrs. Lambo, that many good things were still ahead of her.
The masters of ceremony, quite professional in their handling of the show, ensured that there was no dull moment and that the event moved with the clockwork precision. Former schoolmates of Mrs. Lambo at St. Anne's School, Ibadan, were next on stage to honour a fellow old girl. The women, who are now successful mothers and grandmothers, stood out in their colourful head gear as they were joined by Mrs. Lambo to sing their school anthem. Led by their President and a former Director in the Ministry of Defence, Mrs. Kemi Williams, the women moved the audience with the wordings of the song. Mrs. Williams, who stressed the godly heritage they took away from St. Anne's asked the audience to forgive them for their croaky voices with the explanation that they had over the years given some of their once sonorous voices to their husbands, children and grand children
The Lambos are very proud of their church, Family Worship Centre, Abuja. It was not surprising therefore that it was the Co-Founder and Senior Pastor of the Church, Pastor Sarah Omaku who was called upon to pray for the celebrant. After leading the gathering through a session of praise, worship and thanksgiving, Omaku told Mrs. Lambo that God was willing to answer any prayer she offered on that occasion. She therefore gave her the microphone and asked her to make whatever request she desired from God. Without hesitation, Mrs. Lambo said there was nothing she wanted that God had not given her and rather asked that the joy, grace and divine favour she and her family had enjoyed would be extended to all those who had gathered at the venue to honour her.
To mark the occasion, two books written by the Lambos were presented. First was Mrs. Lambo's autobiography – Shadows and Rainbows, a follow up to an earlier one, Estambai, which was published in 2002 and which dwelt largely on her childhood years. The book was presented by former Communications Minister, Chief Cornelius Adebayo. In his review, Dr. Noel Ihebuzor who supervised Mrs. Lambo's doctoral thesis at the University of Ilorin said although an autobiography was a genre notorious for falsehoods and self-praise, Mrs. Lambo's book was remarkably a balanced account of a life that God had blessed, full of facts and with its ups and downs. Dr. Ihebuzor noted that Mrs. Lambo in the book revealed some inconvenient truths. He said the desire for the truth ran through the entire book which he said resulted in a balance and engaging account, bereft of the temptations usually associated with biographies.
Professor Lambo's book Proactive Commitment to Purposeful Living: A Personalised Practical Guidebook, written in honour of his wife, was also presented to the public on the occasion. The book is the first in the Frank & Rebecca Lambo Memorial Series on Purposeful Living. In dedicating the new book to his wife, the writer praised her for having spent almost 70 per cent of her years on earth with him, as a dependable wife, partner, friend, confidant, "as well as my very effective Chief of Staff!"
Professor Lambo also acknowledged her for
• Giving him timely inspiration, encouragement and support, particularly on occasions when the challenges of life almost weighed him down
• Being a good mother and role model to their "four God-fearing adult children," particularly when they were in their formative years and he was not always around
• Always using a "magnifying glass" to focus on what she considered as his strengths and down playing his weaknesses
• Maximally contributing to creating a home environment that made all of them in the family to not just survive but to thrive and flourish as they continue to fulfill God's purpose for their lives.
The book was to have been presented by Lambo's former teacher and mentor, Professor Emmanuel Edozien who could not make it to the event but sent a moving and well written address, which was eloquently delivered by Lambo's academic colleague and close friend at the University of Ibadan, Professor Tunde Adeniran.
The book provides details of God's general and specific purposes for life, how an individual can plan every area of his or her life as well as how to set both short term and long term goals and how to achieve them.
Perhaps the most solemn point in the ceremony was when the microphone was passed to Lambo's daughter, Kehinde, who took the audience through her life threatening experience with an ailment and how, although some of the doctor's worst fears were confirmed, God stepped in and delivered her. Although still recuperating from a major medical procedure, Kehinde had waived aside all pressures to make the journey home from the United Kingdom and share in her mother's joy and have the opportunity to share her testimony of God's faithfulness and mercy.
Although the Masters of Ceremony may not have taken sides with Kehinde who insisted she was older than her twin brother Taiye, she got the chance to speak before him. So, when Taiye had his chance on the podium to render the vote of thanks, he hastened to remind the audience that he emerged first from the womb and so was the more elderly. That drew a loud applause from the audience.
Having secured the attention of the audience, Taiye made it known that dancing was not one of his favourable hobbies but that he had to make some movements to the good music that flowed at the International Conference Centre, Abuja, four years ago when Professor Lambo turned 70. Just as he said that, the band began to dish out irresistible music and Taiye had no choice but sway his frame to the vibrations from the music stand. Quickly, his mother joined him, followed by his father. Within minutes, the dance floor was filled with dignitaries who danced as if doing so was soon going to be out of fashion. It was indeed a glorious way for the audience to share the joy with the Lambos for Mummy Lambo who, 56 years ago, according to her bosom friend and classmate, Mrs. Titi Laoye-Tomori, immediate past deputy governor of Osun State, had only buttered Cabin biscuits to share with friends on her 14th birthday.