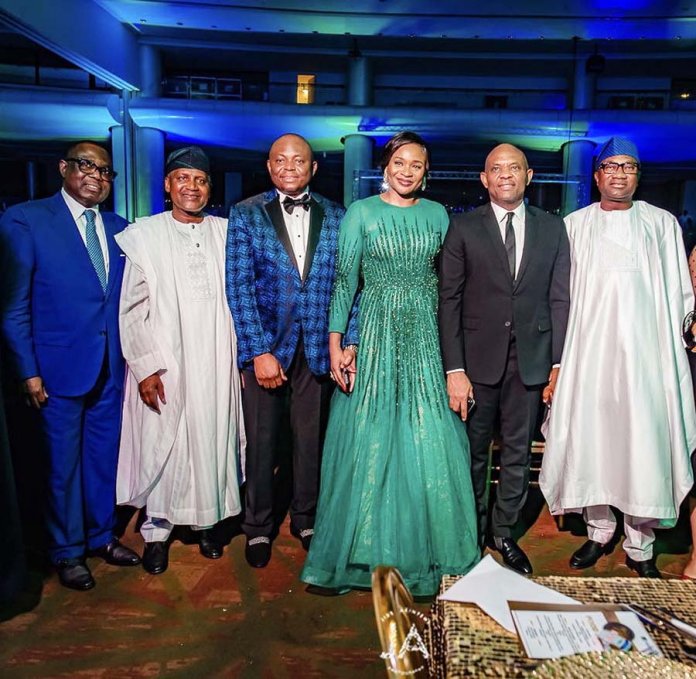 By Azuka Ogujiuba
Fidelity Bank Plc last Saturday, held its year end party themed "Doing Good" at the Eko Hotels in Lagos. The event, which was also used to celebrate a decade of pushing the envelope on corporate sustainability and social giving, marked the 10th year anniversary of its flagship Corporate Social Responsibility (CSR) initiative christened the Fidelity Helping Hands Programme (FHHP).
The event had in attendance stakeholders- customers, regulators, businessmen and captains of industry. It was a night of glitz and glamour as people stepped out in style to celebrate yet another successful year with Fidelity Bank.
Speaking during the event, Managing Director/CEO, Fidelity Bank Plc, Mr. Nnamdi Okonkwo said the bank was making great progress in the first year of the implementation of its five-year strategic plan, crafted last year. 
According to him, "the figures so far are panning out the way we envisaged and it was important to celebrate and thank all stakeholders for the support and patronage".
He explained that the party was themed 'Doing Good' in commemoration of 10 years of its flagship CSR initiative which has recorded numerous achievements in areas of health, environment, education and youth empowerment.
 Guests were entertained with good food and drinks including rib cracking jokes from Bovi, stalker and Okey Bakassi. The A-Class entertainment event also had performances from Tim Godfrey, Patoranking and Flavor. 
Various CSR projects undertaken by the bank in host communities, such as adoption of orphanages, building of schools, renovation of hospitals and training of over 1,000 youth were showcased during the event.
The highlight of the evening was the presentation of a university scholarship to the GirlsCoding prodigy, Miss Sharon Okpoe. The scholarship was awarded in recognition of her efforts at developing a digital solution to helping her father sell fish at the indigent Makoko fishing community in Lagos.
"We were moved by her story when we saw the CNN clip and decided to award her scholarship through university, thus giving her wings to fly", said Okonkwo.
Okpoe who was accompanied by her parents on the podium could hardly contain her delight as she promised to take advantage of the opportunity offered to her.
"I am very grateful for this opportunity and I will not disappoint you", she added.
Also in another demonstration of doing good the bank also donated the sum of N1.5m to the Ibadan based Xplicit Dancers; a group of orphaned dancers. They had thought the bank only contracted and paid them for a dance performance. The added donation came as a delightful surprise to their coordinator Mr. David Abraham and the group of young boys and girls. 
Fidelity Bank owes its growing reputation based on financial performance and customer service to its committed work force. "Service is a key differentiator in Banking and at Fidelity we pride ourselves to be a customer-centric bank. We will continue to innovate to serve you better" said Chairman of the Board of Directors of Fidelity Bank, Mr. Ernest Ebi. 
The year-end party was used to recognise some of the bank's outstanding performers both in CSR and financial targets. A total of nine award recipients for Best in FHHP, Deal of the year, Best support team in customer service, Most Valuable Performer (MVP) were honored during the night.