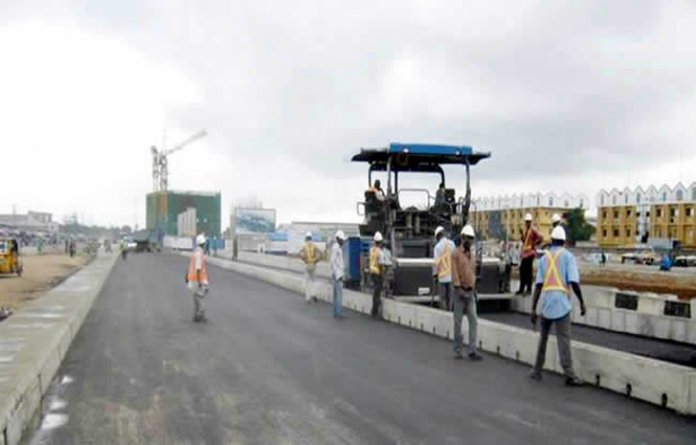 By Bennett Oghifo

The federal government, last night, reopened the Ijora-Wharf Road link bridge in Apapa, Lagos to vehicular traffic, after months of closure for repair of a short section of the outbound lane. The rehabilitated section is close to the takeoff point of the concrete road constructed by AG Dangote.
The job description states that it is "slab replacement work/rehabilitation of Apapa Wharf Road Rehabilitation of the failed section Ijora Apapa flyover and approach road by Leventis, Apapa-Ijora via Duct."
According to Mr. Haim Halle, the Managing Director and Chief Executive Officer of Hallekem Limited, the firm that handled the slab replacement, they completed the repair of the 325 metres stretch of the bridge in five months, instead of the one year contract period.
When the bridge was to be shut down for repairs, the Minister of Power, Works and Housing, Babatunde Fashola said the action was a difficult choice but that saving lives was a better choice than the inconvenience the closure of the bridge would cause.
"It is a sobering experience that the federal government is now dealing with many years of neglect and abuse of the bridge by traders. "There are many other bridges across the country that are begging for attention, maintenance and repairs."
The minister said the bridge had not received proper maintenance since it was constructed over 40 years ago, "yet it continued to take axle loads that exceeded its capacity due to the busy nature of the terrain. The bridge has really been battered and abused by us."
With the reopening of the bridge, it is expected that the traffic congestion experienced in the port city would ease, said some stakeholders during the brief reopening ceremony.
Also recently, the federal government performed a groundbreaking ceremony to begin the reconstruction of the 32-kilometre Apapa-Oshodi-Oworonshoki-Ojota in Lagos.
Fashola, who performed the task on behalf of President Muhammadu Buhari, said the reconstruction of the Apapa-Oshodi-Oworonshoki-Ojota expressway Section 1 Sub-section A would begin from Olorogun Michael Ibru Boulevard (former Creek Road)-end of Port Novo Bridge and Liverpool road to Coconut to Beachland Estate interchange bridge to Cele Bus Stop to Anthony Village to Old Lagos Toll Gate.
The whole length of the road will be paved with reinforced concrete by Dangote Industries Limited at a cost of N73 billion, using the Road Trust Fund policy, which is a form of public, private partnership, conceived to accelerate the provision of federal roads by allowing private sector operators to collectively fund road projects in exchange for tax credit.