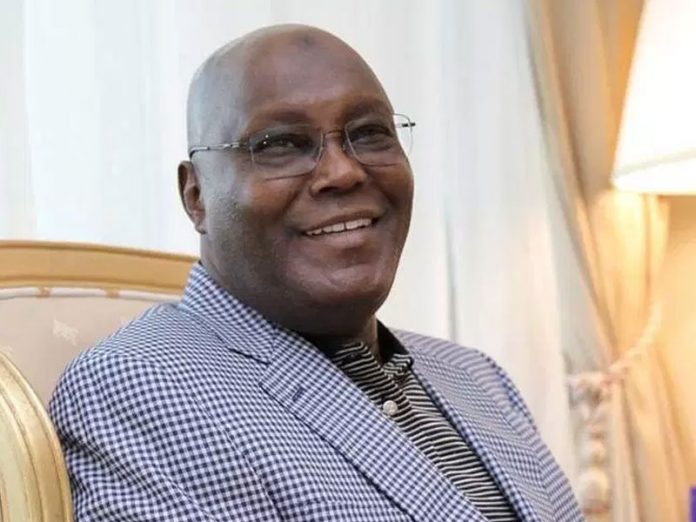 • PDP hands over party's flag to Lagos, Oyo, Ogun guber candidates
By Adedayo Akinwale in Abuja

Presidential candidate of the Peoples Democratic Party (PDP), Alhaji Atiku Abubakar Friday met with the leadership of the Coalition of United Political Parties (CUPP) where he promised to run a government of national unity if elected in 2019.
The CUPP, which comprise more than 45 major opposition parties had on Wednesday adopted Atiku as their presidential candidate.
The National Spokesperson of the Coalition, Ikenga Ugochinyere said that the decision was arrived at few hours after a closed door deliberation by members of the CUPP at Shehu Musa Yar'Adua Centre, Abuja.
He said, "Over 41 political parties in attendance endorsed the decision which enjoyed majority support. The coalition arrived at the choice of Abubakar after he towered high on the criteria used by the opposition in arriving at the decision."
The meeting which started by 11a.m. yesterday at Trancorp Hilton Hotel, Abuja, had Chairmen of over 43 political parties and over 15 Presidential Candidates in attendance.
Also in attendance were the Senate President and Director General of the Campaign Council, Dr. Bukola Saraki, Chairman of the CUPP, Prince Olagunsoye Onyinlola, Chief Tom Ikimi, Alhaji Kawu Baraje, Senator Dino Melaye, former Minister of Special Duties, Kabiru Tanimu Turaki, among others.
Speaking, Atiku described his endorsement by CUPP as historic endorsement, saying that it was historic because he believed it was the first time it would be done in this form. 
According to him, "You have not taken a wrong decision because the PDP since we formed it in 1998, is a party that believes in national government, the participation of many Nigerians irrespective of their political affiliation."
To this end, the former vice president said that he was committed to a government of national unity.
He stated, "We believe as a political party,  in national unity and there must be stability before you can do anything, implement your economic programme, before you can implement your healthcare programme."
Atiku said that the government of national unity should be essential, adding that when PDP  won elections on its own, it brought in opposition parties.
He noted, "I want to commit myself to the continuation of the doctrine of government of national unity. We have a lot of work to do together, we should not go back and rest and say we have endorsed. We have to deliberately take certain actions to make sure that we achieve our objectives.
"I want to assure you that as long as we are having a government of national unity,  there will not be a cabal. We need a public presentation of this decision so that Nigerians will be further enlightened, so that every nook and crannies of this country can be informed.
"Right from the beginning, I have been a member of the PDP and I know we have always believed in a government of national unity."
On the young and old argument, the former vice president said, "Democracy is not a process where one group replaces the other, but it is a process where all groups participate. It is not a process where one group young or old,  rich or poor exclude the other but a process where everybody participates.
"So, when I hear young men say we are coming to replace our fathers,  our uncles,  our elder brothers and so on,  I laugh," he added.
 The Chairman of CUPP said that Atiku  was endorsed by all parties that were members of the coalition because of his national acceptability.
He added that, other factor considered include, "access to financial resources, competitiveness of the candidate party, capacity to monitor the election in all the 120, 000 polling units in the country and the competent, capacity  capability and credibility of the candidate."
"After painstaking assessment of what we have across all the CUPP parties, after processing the candidates capability using these criteria the steering committee hereby submit that former vice president and candidate of the PDP, Atiku Abubakar is the best and his party is the most reliable of all options before us," Oyinlola concluded.
Meanwhile, the National Chairman of the PDP, Prince Uche Secondus, yesterday handed over the party's flag to the governorship candidates he gave the flag for Ogun State to Hon. Ladi Adebutu; Lagos State, Jimi Agbaje who was represented by his running mate, Mrs. Oluwayemisi Busari and Oyo State, Seyi Makinde.
He said that Buhari should order the Independent National Electoral Commission (INEC) and security agencies to be neutral ahead of the 2019 elections.
Secondus stated, "Nigerians are wise, this is  president that does not communicate, he only talks when he goes outside Nigeria. Nigerians are confused and cannot understand him and yet he said he's coming back, to do what?
He stressed that the present administration was a government of cabals, saying Nigerians would reject the ruling All Progressive Congress (APC) in 2019, because "They don't even know who is their president, who is in charge whether the cabal because the president seems to know nothing.
"Nigerians are dying in their numbers, yet the emperors of APC will be talking about integrity, more people are hungry. Nigerians will pass their judgment in 2019, you can no longer deceive Nigerians."
The chairman stressed that the handing over the party's flag to the candidates of the party had nothing to do with the court case.
He noted that the main opposition party would take over Lagos State from the 'emperor' in 2019.
Responding on behalf of other governorship candidates, Adebutu, said that the PDP as a rebranded party had been destined by God to deliver the nation from the problems it was currently going through.
He stressed, "The Bible say remove the mole from your eyes before you remove speck from another man's eye. For parties that are not capable of administering, then such a party cannot administer a nation."
Adebutu promised that all the party's governorship candidates especially from the zone would deliver dividends of democracy if elected into power.