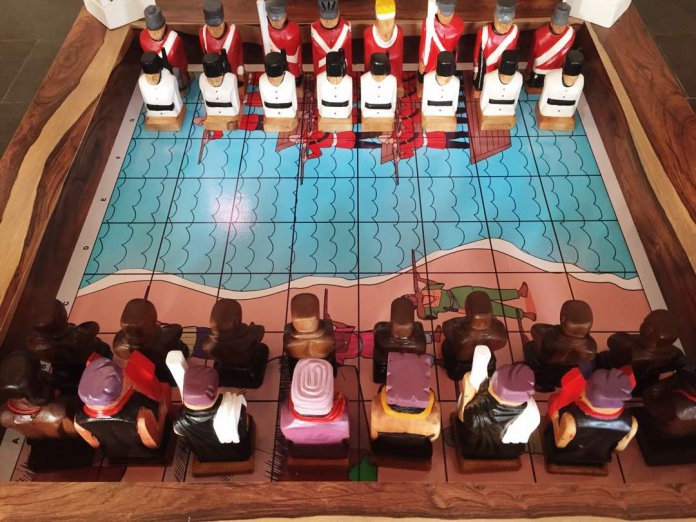 By Yinka Olatunbosun
The 1851 bombardment of Lagos and other stories formed the crust of the art exhibition by a conceptual artist and Founder, Asiri Magazine, Damola Adebowale at the just-concluded Lagos Book and Art Festival (LABAF) held at Freedom Park, Lagos. The exhibition which captured historical details featured mostly illustrations that documented the 1851 invasion of Lagos by the British Naval Forces; the invasion of Abeokuta by Dahomean Amazons; the Kiriji War (1877-1893) and the Rise of the Ekiti parapo army and well as the Life and Death of Madam Efunsetan Aniwura.
For some hours, the Lagos audience awaited the arrival of the monumental work-a chessboard installation with chess pawns with historical nomenclature. Made of plywood, mahogany and flex banner, the total process of execution took no fewer than six weeks. With help from the architect and carpenter, Bayo Ojoawo, the chess installation is designed to make the user get familiar with the story of Lagos through history using play method.
"The interior is four inches by four inches while the exterior is five inches by five inches,'' said Adebowale. In that game of chess, titled, "Invasion 1851 Game board,'' the Eyo served as Guardians and are capable of nullifying all the players in the game.
Adebowale revealed that the installation was created as a real time adventure for people to engage with while at the same time learn about history.
"There are plans to further modify the game into smaller boards and also create a game App from it.