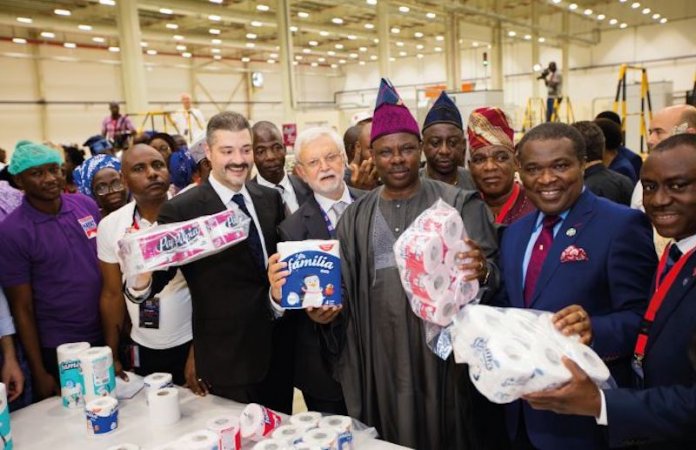 Raheem Akingbolu
MOLFIX, the flagship brand of Hayat Kimya, which was launched into the Nigerian market in 2015 has made some remarkable appearances in the last years with valued driven awards.
One of the successes was the recently held Advertisers Association of Nigeria Marketing Excellence Awards in Lagos, where the brand led the pack with priceless Brand of the Year and second position with its first ever corporate social responsibility "Happy Mums, Happy Families," CSR campaign.
Speaking on some of the milestones recorded in three years, the Marketing Manager, Hayat Kimya Nig, Mrs. Roseline Abaraonye, said "Amidst the highly cluttered and competitive environment, MOLFIX defied all odds and played against the already established brands in the category. The brand kept growing steadily year on year until it took over the Nigerian diaper market.
"Within these three years, MOLFIX has won multiple awards based on quality, innovation and execution".
According to Abaraonye, who spoke on the brand CSR initiative and the importance of the award, "Hayat Kimya as a global organisation is a firm believer in giving back to the society. Hence, in Nigeria, we identified the fact that unemployment is a key issue.
"In addition to the fact that a lot of women have become the bread winners of their families, the brand thought it wise to empower our mums and enable them earn a living through the brand. As a result, the brand launched the 'Happy Mums, Happy Families,' CSR campaign. With our first ever award entry on CSR, MOLFIX came 2nd place amidst all the established brands that have been doing this for many years. This has refueled our energy to do more knowing that we have taken the right step in the right direction," she said.
On the ADVAN awards, the Hayat Marketing Manager stated that ADVAN awards is unarguable one of the most credible awards used to celebrate the Marketing professionals for their hard work through the year under review.
Based on this, Abaraonye said "I will say what we did right was putting the square pegs in square holes basically. We got real insights about our consumers and we ensured we met the needs and bridged the identified gaps. This way MOLFIX delivered satisfaction to its consumers while living out the brand promise of keeping our Mums and babies happy today and happy tomorrow. The team challenged convention with well thought out strategies and tactics. Overall, the success was borne out of focus, diligence and hard work."