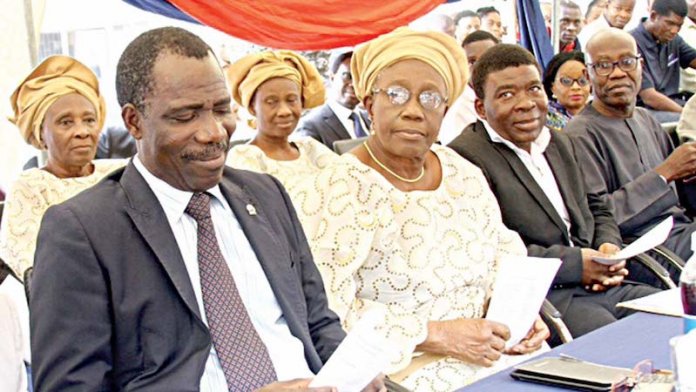 Funmi Ogundare
It was celebration all the way, weekend, as Baptist Academy Old Students' Association (BAOSA) 85 to 90' sets converged on the school hall in Lagos to mark its 2018 annual reunion.
In their 40s and 50s, the men turned out with their family members gaily dressed in their white 'agbada' with matching caps to reconnect with their old classmates and friends who they have not seen in a long while.
Apart from discussing the projects the sets would execute at the school, the programme was also designed to celebrate their old principals and teachers who had impacted their lives, as well as some current students who have been punctual in school and played leadership roles with integrity.
The Chairman of the association, Mr. Adedeji Popoola said: "We have decided to appreciate the grace of God upon our lives for making us to be alive. We understand that the journey of life has been treacherous, it is only those that are alive that can praise God. What we have come to do is to celebrate ourselves and friendship and also celebrate a lot of people that impacted our lives.
"We have known a lot of great people in our lives, but what I realize is that some of the best people we ever knew were the kids we grew up with and went through school with. In some fashion, we all helped shaped and influenced one another."
He expressed hope that celebrating their old teachers and principals will be a regular activity, adding that the sets have decided to take up projects which include improving the infrastructure of the school's pavilion, toilets and the hall.
Popoola added that the sets plan to assist indigent students that are brilliant over the course of the year through scholarships, as well as inaugurate a welfare scheme for members of the association who are financially challenged.
"As you have seen, it is not about age or colour, religion, social or financial status, we are all equal. We are boys. When we relate we don't relate on the basis of size, it doesn't really matter to us, but the truth is that when members are ill we help them. Some of them are back on their feet today. As we launch our welfare scheme, which we intend to make available to a lot of our classmates, who have one financial challenges or the other, then we can empower each other. These are some of the things that actually brought us together."
Asked how the school shaped them, he said, "I think the school is the most balanced school in terms of academics and sports. In my days, a lot of people knew me to play table tennis. For us, it is about social and financial equality. One of the things the school did was that it made us balanced academically, physically and mentally and at the end of the day, that is what we have been able to achieve. It is going to be a continuous exercise."
The National President of the association, Mr. Lanre Idowu highlighted some of the projects other sets had done for the school, while reminding the 85-90 sets to key into the project scheme to further impact the school.
"It is imperative to synergize to know what the national body is doing."