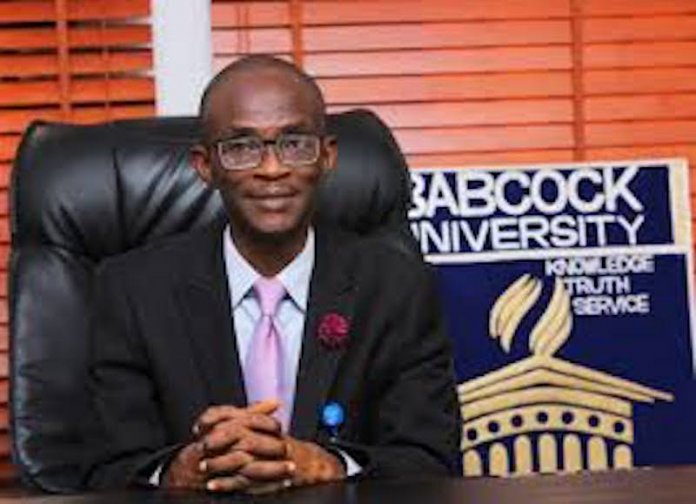 No fewer than 2,998 students comprising undergraduates and postgraduates filed out recently to take the oath of allegiance at the 20th matriculation ceremony of Babcock University, Ilishan-Remo, Ogun State.
The Vice-Chancellor, Professor Ademola Tayo said since its inception in 1999, the institution has become a pace-setter in university education in the country, earning a reputation as a global brand. According to him, since 2015 till date, it has consistently won the Global Brand Award (education category) at the World Branding Forum at Kensington Palace, London.
He welcomed the students to the institution, saying that their oath of allegiance marked the beginning of their journey of success in life, to become outstanding leaders of thought, professionals and distinguished professors in their chosen fields.
Tayo said he was seeing before him leaders with a difference that will turn the nation around for success, adding that the institution will give them the needed support to achieve this goal.
"Therefore, refuse to join others in the larger society who will always prefer to cut corners," he said, while admonishing parents to collaborate with the university to make the best out of their children both academically and spiritually.
The VC said Babcock University was founded on the golden principle of leadership through Christian education with the vision to transform lives, including absolute regard for excellence in teaching, research and service delivery.
"We are thankful to God for making us to be who we are, to achieve what we have so far achieved. We are equally thankful to our parents for your support and contributions," he said.
In the recently released Nigerian Bar result of the Nigerian Law School, he said the institution produced four first class students with 100 per cent pass, thus emerging one of the best universities in Nigeria running law programme having emerged the best in the Law School examinations in 2015, 2016 and third best in 2017.
According to him, the Cardiovascular Centre of Babcock University Teaching Hospital has offered opportunities to hundreds of Nigerians whose lives could have been cut short due to heart-related problems and has so far performed successful heart surgeries on over hundred patients referred to the centre within and outside the country.
He assured parents of the matriculants that the institution is determined to change the ill fortune of the education sector in Nigeria, adding that it is one of the reasons why products of the institution are occupying positions of prominence in the country and winning awards in internationally recognised institutions abroad.