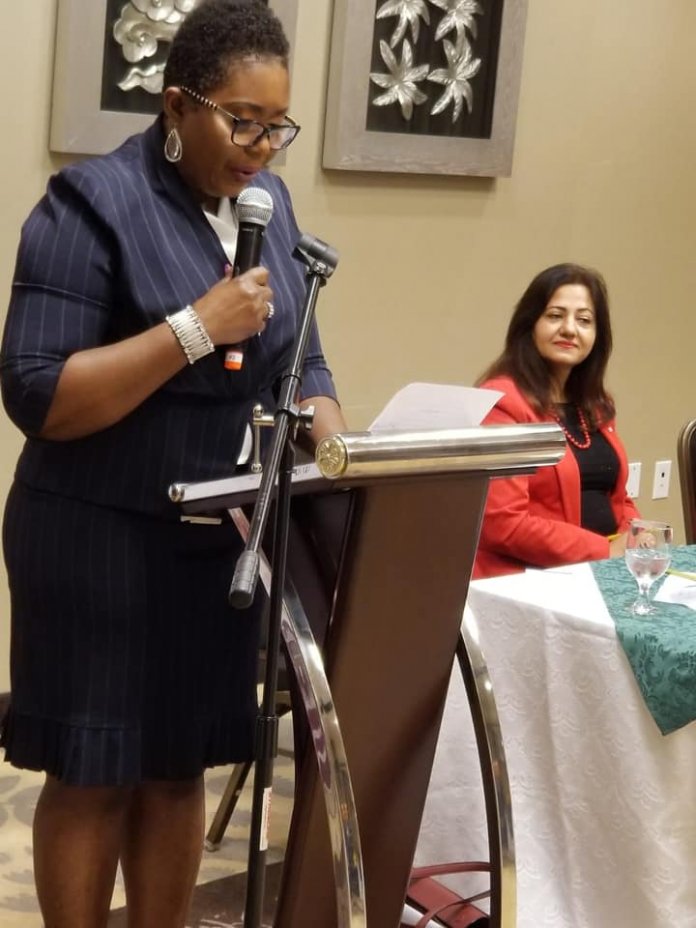 It was a great honour for Dr. Oluremi (Remi) Adewale, the President, CEO, and Founder of Women Focus Canada Inc. to present on "Health Care: Ensuring Functional Health Services Provision in Nigeria" in Abuja with other fabulous presenters from many countries at the 2018 Nigeria Diaspora Investment Summit which was held recently.
In her presentation, Dr. Adewale reminded Nigerian leaders of The Abuja Declaration of 2001 in which all the African Union countries met and pledged to set a target of allocating at least 15% of their annual budget to improve the health sector. Dr. Adewale indicated that over half of the population in Nigeria lives below the poverty line, on less than a dollar a day and is unable to afford the high cost of private health care.
 In addition, 55% of the population lives in rural areas making delivery of health services more challenging.  Collectively, health access in Nigeria is only at 43.3%.  Adequate funding is critical for improving the health of all citizens; however, funding alone will not rescue the Nigerian healthcare system.
She stated that Canada spends approximately 11.5% of its GDP on health. Canada's health indicators report a high life expectancy of 82.1 years and a low infant mortality rate of 4.5 per 1000 live births, which many attribute to its universally available health care system.  Nigeria health indicators compared with the average for African nations with life expectancy at only 47.7 years and an infant mortality rate at 69 per 1000 live births.
 Adewale recommended that certain aspects of Canadian healthcare system can serve as a model for improving Nigeria's health care.  She further states that, much like the Canadian system, healthcare should be decentralized to give local governments control over healthcare resources as they will be in a better position to assess the needs of the region.
Dr. Adewale highlighted key areas as contributing factors to the challenges with current Nigeria health care services and provided commendations to include the followings:aAdequately equipped community health centers to provide primary health care and health promotion programs for individuals, families, and communities; decentralized health care will give the local governments more control over health care resources as they will be in a better position to assess the needs of each region.
She also harped thattThe use of modern electronic health methods should be explored to deliver timely health care advice and treatments to rural areas where there are shortages in health care workers; a need to strengthen public health units for health promotion and disease prevention programs; functional designated psychiatric facilities for mental health services;   functional public health laboratories to provide clinical laboratory services; functional research centers to conduct specific research or education activities; to improve the efficiency of the infrastructure.
She also posited on the availability of medical devices and medicines with an improved distribution system; reliable and timely health data from all levels (including private sectors) to improve high-level decision-making and policy changes; and more resources for curing as well as preventative care to keep Nigerians healthy while reducing the cost of health care delivery.
Dr. Adewale concluded that proper implementation of these recommendations should improve health indicators, strengthen the economy, and positively influence Nigeria's future. Dr. Adewale believes that Nigeria health care services can be rejuvenated; stated "together we can do it, together we thrive".