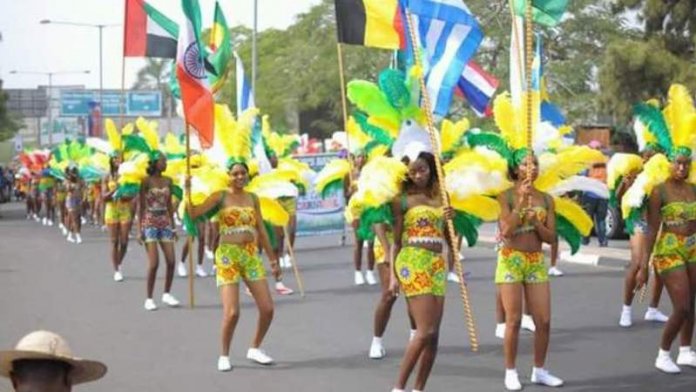 The Chairman Calabar Carnival Commission has revealed that the 2018 edition of the carnival will host more than 30 countries as well as 25 states from Nigeria.
According to Gabe Onah, the 32-day annual street party which kicked off yesterday will be an opportunity to tell the story of the African race in line with the carnivals theme, `Africanism'.
Some of the countries expected include Mexico, South Africa, Thailand, Greece, Kenya, Ghana, Senegal, Rwanda and the popular Brazilians, among others.
They will be joined by states which include Kano, Nasarawa, Anambra, Imo, Kaduna, Benue, Akwa Ibom, Kogi Enugu and more.
Onah revealed that the carnival has over the years brought tourists from all over the world to the state and has impacted positively on the state's economy.
According to him, Calabar has been the melting point of Africa's hospitality due to its diverse tourism events and sites, the green environment and the warm hospitality of the people.
December 29 has been scheduled as the International Carnival Day.
Onah assured tourists coming for the event of adequate security, stating that this aspect has been given topmost priority.
"Calabar carnival is a platform that has made itself a template to measure any beautiful art of festival or tourism product because all the ingredients that make for a tourism product are present here.
"The carnival is a pull factor that brings visitors and tourists alike to the clean and beautiful city of Calabar. The value of any event of this nature is seen through the socio-economic impact on the people," he said.
He pointed to the number of hotels that have sprung up in recent times and the local garment industry fuelled by costumes as testament of the carnival's impact.
The Cross River Government Garment Factory which is in partnership with Blue Ocean of India, is a new range of wears which include T-shirts, boxers, shirts and trousers.
Cross River State governor, Ben Ayade, had recently disclosed that they would be launched during this year's carnival. According to Ayade, the factory was established in line with its vision to produce clothing that can compete with the best designs in the world. He said they would go by the name, "Callyphina".
Ayade further said it was the dream of his administration that the factory would dominate the T-shirt market in the country.
According to the managing consultant of Blue Ocean, Mr Atul Kakkar, the samples shown to the public were made by indigenes of Cross River.